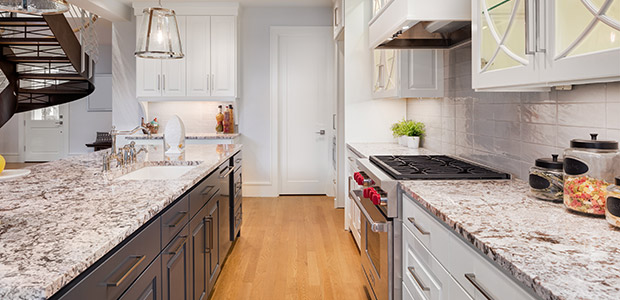 If you have granite countertops or are considering installing them, the latest hearsay may give you pause. Rumor has it granite isn't the in-demand material it used to be. But that doesn't mean that granite is suddenly "so last year." In fact, granite is still a strong choice for kitchens and bathrooms today. The simple truth of the matter is: The competition has gotten more fierce! Other options, such as quartz, butcher block and solid surface, are rising in the ranks – with quartz in the lead. So, with granite's popularity on the decline, should you follow the latest trends or stick with the tried-and-true?
What's Behind the Quartz Craze?
Quartz's increasing popularity can be attributed to a combination of durability and modern aesthetics. Quartz offers the hardiness and scratch resistance of granite with greater stain resistance and less maintenance required. Plus, it can imitate luxury stones like marble, and you can get a uniform look to achieve the clean, streamlined design that's been trending.
Of course, as Michael Bogucki, CEO of E5 Contracting Services in Buffalo, New York, points out, the streamlined look doesn't work for every person or every home. "If you're going to spend the type of money it takes to remodel a kitchen, my genuine recommendation is simply: Do not stick with 'this is in' or 'this is out,'" Bogucki says. "The best renovations are the ones where you take everything into account: your house, what you have, what you could highlight. Then, go from there and put your own personal stamp on it."
See our guide to quartz vs. granite for more insights on how these materials compare.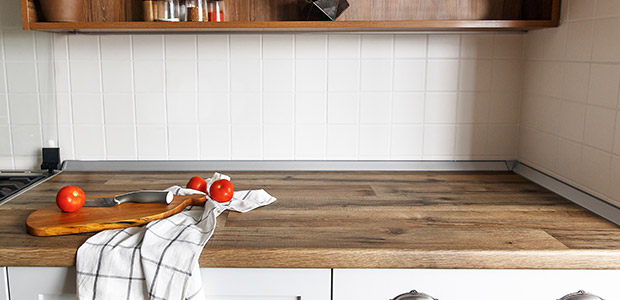 "Each individual material should be researched by the person putting it in their home to make sure it's going to be a good fit," Bogucki says. "The best place to get that information is the person who's supplying it to you. When you go to pick out your countertops at the stone place, talk to them and ask them."
How Do Other Contenders Measure Up?
Granite and quartz aside, there are several other materials that are popular in today's kitchens. Which is best for your space depends on your preference and lifestyle.
Marble: Light marble slabs fit into the current trend toward clean, open kitchens. The downside to marble is that it's typically more expensive than granite and prone to scratching and staining. See our guide to marble vs. granite for more insights.
Wood: Wood (non-butcher block) and butcher block surfaces can introduce warmth and nature into a kitchen and last a long time with proper care – though they do require more care than most materials.
Solid Surface: These materials are manufactured, so they come in a great variety of colors and styles. They're not heat resistant, but they're stain-resistant and easy to maintain. Corian is one of the most popular brands for this material.
Soapstone: Soapstone is a beautiful natural material that comes in mostly gray shades. It's non-porous and stain-resistant, though it is susceptible to scratches.
Concrete: You can get a very modern look with concrete countertops. They can be expensive and high-maintenance, but they offer more opportunities for customization than other materials.
Stainless Steel: Stainless steel countertops are easy to clean and maintain. And they give homeowners the opportunity to get an "industrial" feel in their kitchens.
Curious about costs? Take a look at our countertop installation cost guides for in-depth pricing information on each material.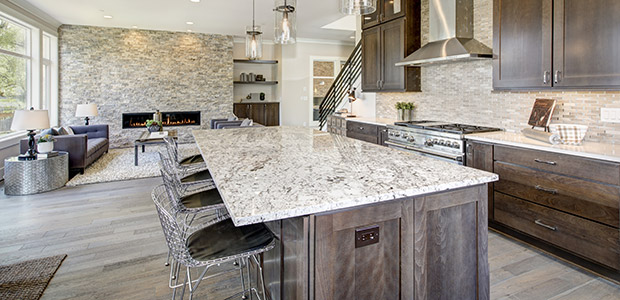 What Made Granite so Popular?
Despite its decreasing popularity, we can't forget granite's lengthy reign and the advantages that kept it at number one for so long. Granite is durable. It doesn't easily chip, crack or scratch. It's simple to repair. It's resistant to heat, moisture and stains with proper care. And, it doesn't require a lot of maintenance. There's also no denying granite's inherent beauty. Each slab is uniquely crafted by nature, resulting in stunning designs with great movement in a wide range of colors.
Bogucki is still a fan. "I just installed this beautiful imported Italian granite that had this amazing look to it; it was is gray and had a lot of black swirling patterns going through," he recalls. "It struck everyone who walked into the room. Like, wow, that really is the focal piece of the room."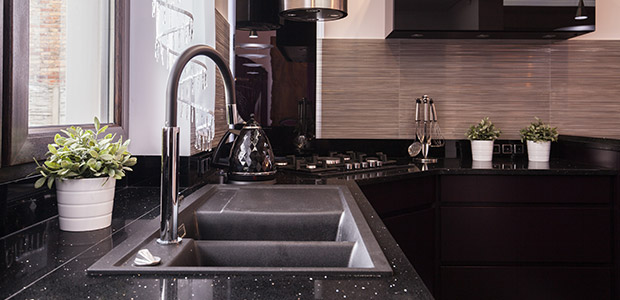 What's the Verdict?
So, how can you make a choice that will move with the times and never tire out? Bogucki says the key is to follow your instincts.
"Have confidence in yourself that you can pick out the things you like," Bogucki says. "If you wind up with a bunch of stuff in your kitchen and you don't like any of it, you really veered off course somewhere. Simply focus on building the kitchen you want and find a trustworthy contractor to bring that about for you."
And at the end of the day, if you fall in love with a slab of granite, trust your gut.
"Granite is as desirable today as it always has been," Bogucki says. "When you get something that is a good choice, is a quality product, and it suits your taste and your kitchen, then I don't think you can go wrong."