Backsplash Tile is Great for Kitchen Design
See if We Have Top-Rated
Tiling Contractors in Your Area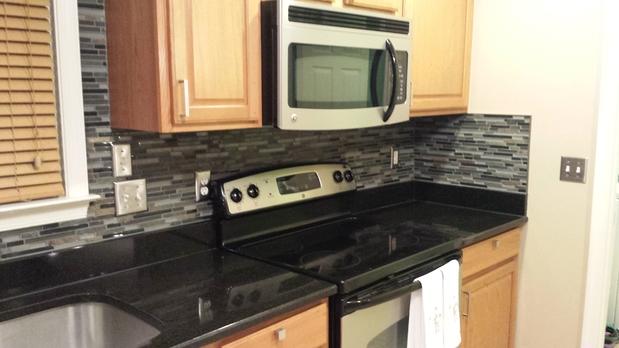 Backsplash tile is a unique little design function that caught hold a number of years ago and is a true nexus between design and function. While bathrooms are great places for just such a design, kitchen backsplash tile is a perfect way to keep water and foods off of your walls while also tying together the color pallet that carries the design flow between rooms.
Backsplash Tile: Color Options and Tie-Ins
Let's say that you have a painting that hangs above the fireplace in the living room that is full of deep reds and purples. In order to show off this piece of artwork, you have toned-down the colors in the living room, choosing khakis and creams. However, your living room flows right into the kitchen, and you don't want those warm, vibrant colors in the painting to be forgotten when people are in there.
The problem with the kitchen is that you have these awesome Maple cabinets, black granite counters, and black appliances. There is barely any wall to paint. This is the perfect spot for kitchen backsplash tile. Here you can find some tile that matches those great colors from the painting, which will maintain the flow of color and anchor the painting to the kitchen, despite it being a room away. This, of course, is a very specific example, but you get the point.
Kitchen Backsplash Tile
Once you have those colors and shapes selected, now you get to enjoy the function of your kitchen backsplash. If you have chosen a more expensive material for your countertops, like granite, solid surface, or engineered stone, you will find that it is much less expensive to forgo the backsplash with those materials and use tile for backsplash instead.
There are a few different designs that people have put to use that make this functional design even more design-centric. Many have stair-stepped the tile a few feet out from the sink. This way you do not have to tile the entire wall, and it makes for good closure to this effort. The other patterns we've seen are making this backsplash into a tile mosaic, and having the design itself flourish rather than be subdued.
Additional Tiling Options
It's easy to get caught up in a trendy backsplash, but there are several options to upgrade the visual appeal of your tile walls and floors. Instead of a simple backsplash, you can elect to take a bolder approach and use one of your kitchen walls for an artistic and visually stunning mosaic. For tiled floors, dynamic patterns, border tile, and tile inserts are just some of the most popular ways people go gangbusters on their tile. Many of these upgrades aren't cheap: Complicated tile inserts can add a thousand dollars or more to the cost of your tile, but the positive effects can be just as dramatic as the price tag suggests.
It's Really Up to You
Don't feel that this type of functional design is limited only to the kitchen. Use this in the bathroom, the laundry room, heck even around the hose outside if you like. Also, don't feel limited by what others have done. There are a great many fantastic tile contractors out there who can not only create the kind of design that you are looking for, they also have a few tricks of their own. In this way, it's comforting to know that you don't have to go it alone. Many people are reluctant to make bold decorating decisions without professional reassurance. Often, by talking through your tiling options at the beginning of a project, you can find the best solution for home, make the remodeling process more efficient, and determine the best local tiling contractor for the job.
Marcus Pickett is a professional freelance writer for the home remodeling industry. He has published more than 600 articles on both regional and national topics within the home improvement industry.
More Tips & Advice For Your Home
Related Articles
Recent Articles