Amazon's Alexa virtual assistant has emerged as a practical home appliance in recent years. Homeowners can use it to help build useful routines around the home to seamlessly automate tasks that streamline and improve your home life.
Although you can take advantage of pre-set Alexa Routines, you can customize them to fit your household's specific needs. Follow this guide to make creating Routines simple by covering the basics of how Alexa works and how to pair it with numerous budget-friendly smart home devices to make life easier around the house.
How to Set Up an Alexa Routine
Regardless of what routine you decide to build, you follow the same steps to set it up. The following sections will guide you through the basics you need to perform when setting up your Alexa Routine.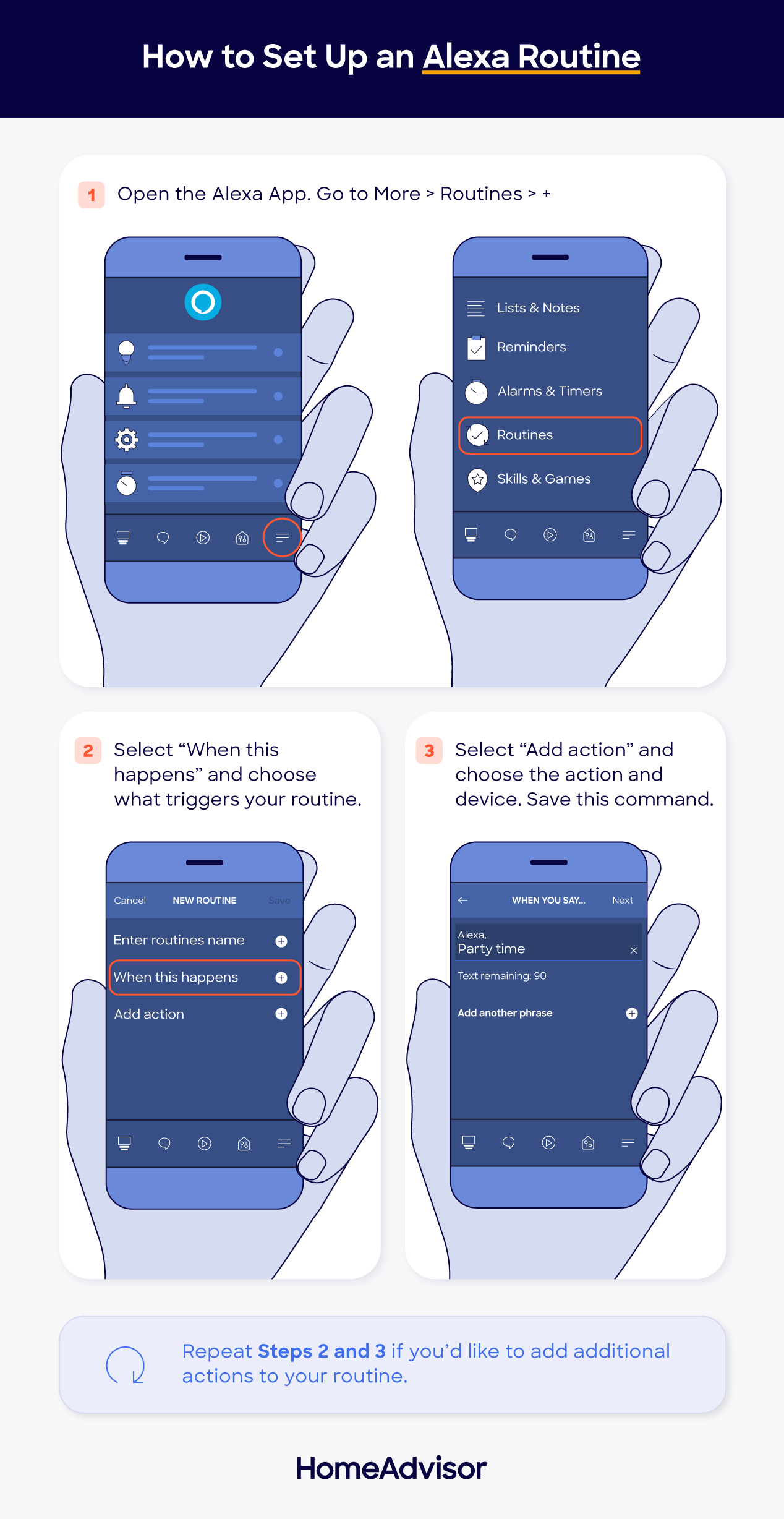 1. Open the Alexa App
The first step is to open up the Alexa App on your smartphone. If you don't have it, you can download it to your mobile device. Then, follow the prompts to set it up. Once in the app, open "More" and then "Routines."
2. Choose What Triggers Your Routine
Once Routines is open, start a new routine. There are sixways to trigger Alexa:
Voice: A voice prompt can start the routine. You can say something like, "Alexa, start my day."
Schedule: You can set a time when Alexa begins a routine. For example, you could program Alexa to give you the weather forecast at 6 a.m. every weekday morning.
Smart Home: If you have other smart devices, such as motion sensors, you can set these devices to trigger a routine.
Location: When you arrive somewhere or leave somewhere, Alexa can begin a routine.
Alarm: This method triggers a routine when you dismiss an alarm. For example, turning off the alarm that wakes you up in the morning can trigger a morning routine.
Echo button: You can also start a routine by simply pressing your Amazon Echo button.
3. Add an Action
You can add steps to your routine by using the "Add action" function and choosing from the preprogrammed list or creating a custom action by selecting "Custom."Action categories include Alexa says, Calendar, Date and Time, Device Settings, E-mail, Good News, and more.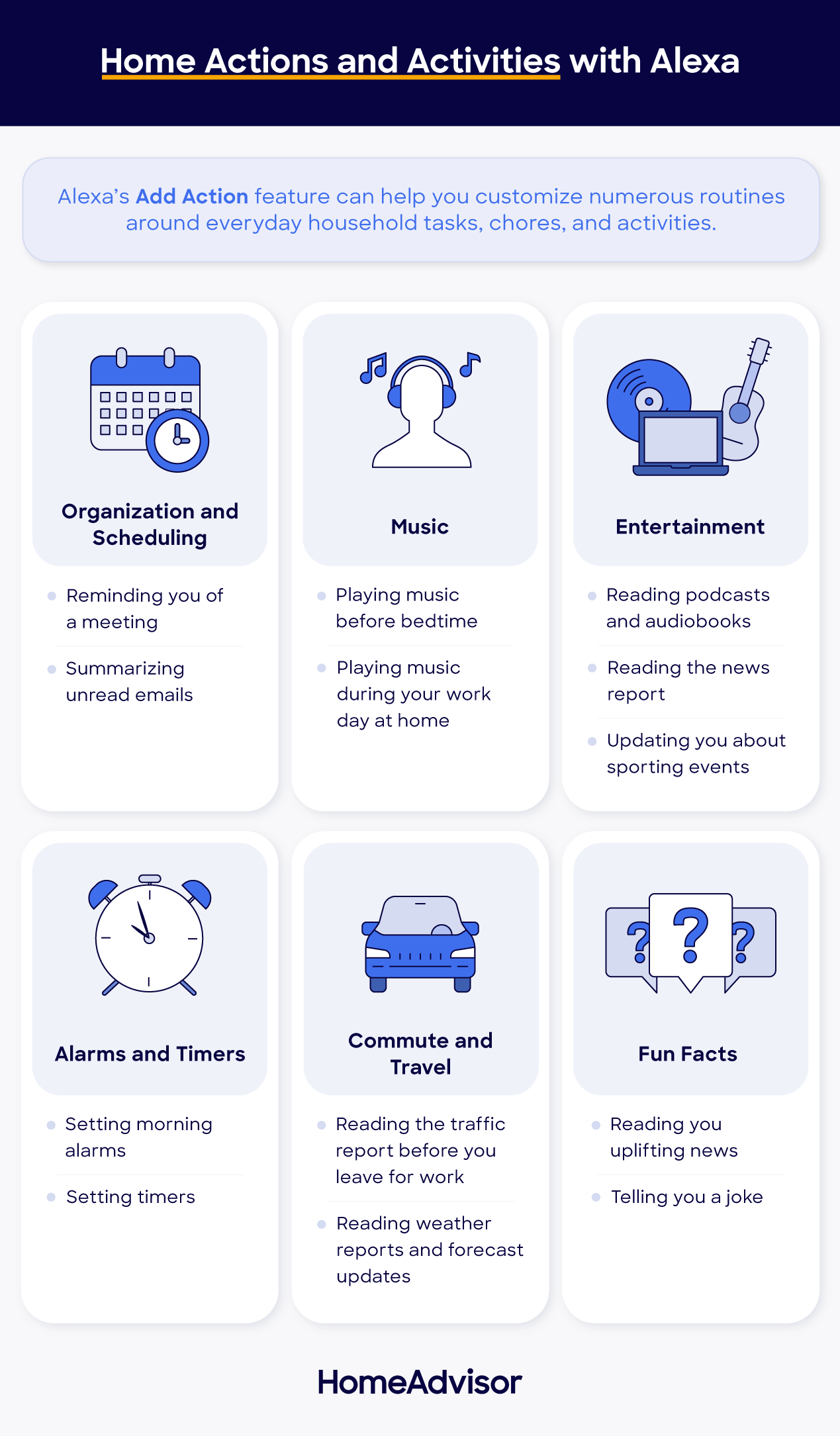 4. Choose a Device
Next, select the device you want the routine to originate from. For example, you may want to use the living room Echo for the routine instead of the bedroom Echo.
5. Save Your Routine
Once you are happy with the set-up, save your routine, and it should be ready to use. You can always make tweaks to your routine at a later date.
Ways to Use an Alexa Morning Routine
Check out these ideas for Alexa Routines you can establish to get your day started.
Wake Up Your Kids With Alexa
Alexa can help you get your kids up in the morning by alerting them that it's time to get out of bed and help them follow a getting-ready routine.
Schedule Trigger: Start routine at 7:00 a.m., Monday through Friday.
Actions:
Play kid-friendly music.
Read the weather forecast.
Read daily events. For example, a soccer game, a playdate with a friend, or a birthday party.
Start Your Day With Alexa
You can set up a morning routine that can help you start your day on the right foot. You can customize it to do a multitude of things in your home and connect with various devices to create an environment that makes you ready to tackle the day.
Voice trigger: "Alexa, start my day."
Start coffee.
Ease on lights in your bedroom.
Set your home temperature to 70 degrees.
Read your daily schedule.
Tell you the weather report.
Tell you the traffic report for your commute.
Ways to Use a Home Management Alexa Routine
Alexa Routines can be useful throughout all aspects of your day. You can use it for general home management—use these ideas to get your creative juices flowing.
Seasonal Home Temperature Control
You can set up triggers to ensure the temperature in your home is perfect, no matter the season. You can create routines for warm weather and cool weather and disable them as needed.
Schedule Trigger: Set temperature controls based on your daily routine.
Actions:
Turn off the thermostat at 9 a.m., Monday through Friday.
Turn on the thermostat to 65℉ahrenheit at 3:30 p.m., Monday through Friday.
Change the thermostat to 70℉ahrenheit at 9 p.m., Monday through Friday.
Housekeeping Routine
Alexa Routines help you keep up with your housekeeping. You can set reminders for certain chores, or you can sync it with devices around your home like vacuums that help with housekeeping.
Schedule Trigger: Set up smart devices to clean your home on a schedule.
Actions:
Turn on the robot vacuum at 10 a.m., Monday through Friday.
Turn on the air purifier when air quality is low.
Ways to Use Alexa Routines for Kids
Alexa is not just for the grown-ups—kids can benefit from Alexa Routines. It can help kids with homework, scheduling chores, or managing device usage time.
After-School Routine
Alexa can assist with building an after-school routine to ensure your kids finish their chores and homework on time.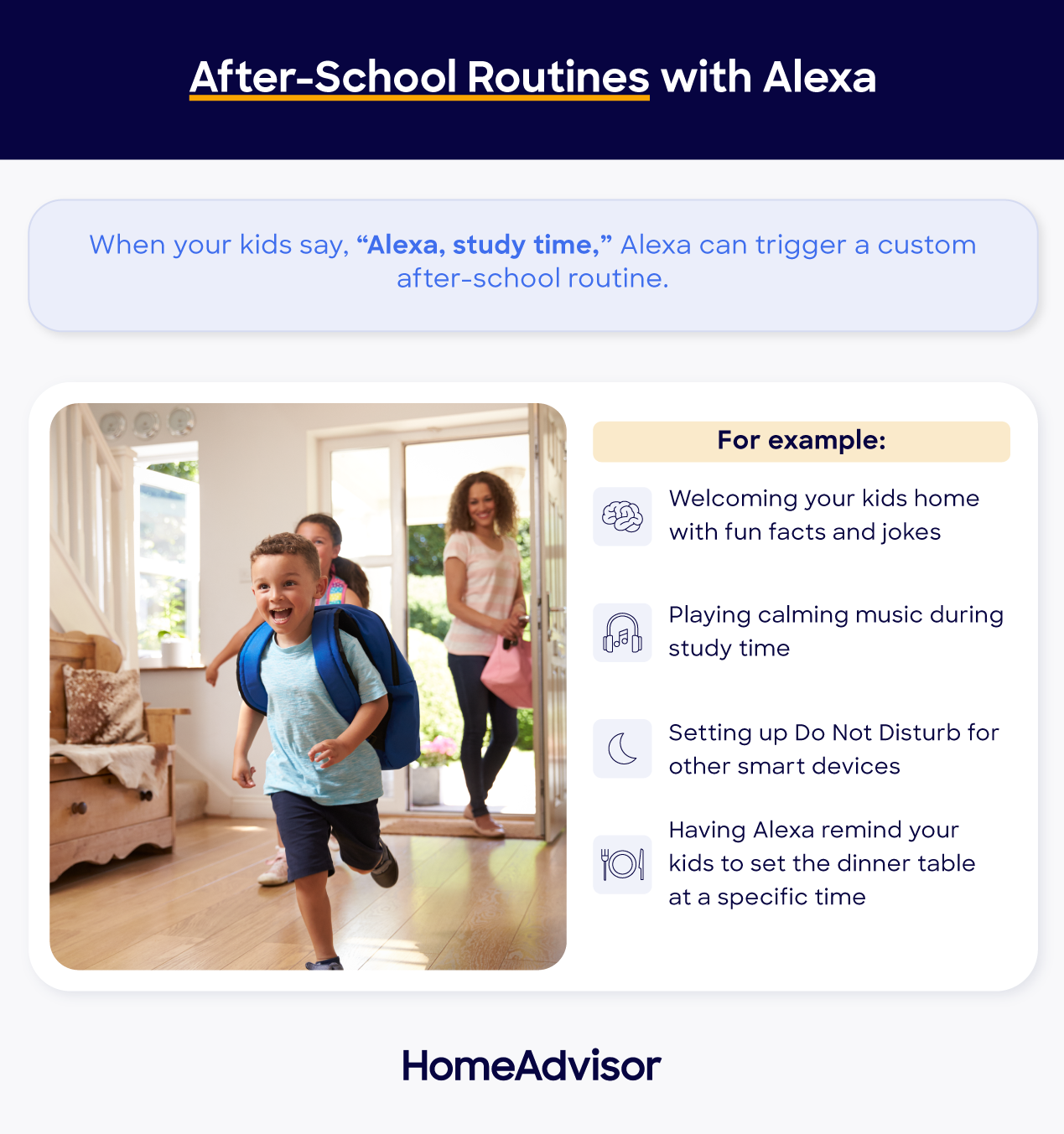 Voice Trigger: "Alexa, it's study time."
Actions:
Welcome your kids home with fun facts and jokes.
Play calming music during study time.
Set up "Do Not Disturb" for other smart devices.
Ask Alexa to remind your kids to set the dinner table at a specific time.
Bedtime Routine
Once it's time for bed, Alexa Routines can remind kiddos to take the necessary steps that will help them get a good night's rest for a great day tomorrow.
Alarm trigger: When you dismiss your 7:30 p.m. alarm, remind the kids to get ready for bed.
Actions:
Set Alexa to tell your kids to brush their teeth.
Set a timer for how long your kids should brush their teeth.
Have Alexa tell the kids a bedtime story.
Play calming music for a set amount of time to help your kids get to sleep.
Ways to Use Security Alexa Routines
Alexa can help keep your home safe by maintaining routines that ensure your security measures work together for home protection.
Guard the House Routine
You can pair Alexa Routines with different smart security devices like cameras, smart doorbells, motion sensors, and alarm systems to create a smart security system that allows you to keep your home safe without even thinking about it.
Location Trigger: When you leave the house.
Actions:
Lock doors once the house is empty.
Turn on your home security system and monitor doors and windows.
Set up the sound of a dog barking whenever someone rings the doorbell.
Set up security lights to turn on automatically when someone approaches the house.
Other Home Alexa Routines
You can create an endless amount of Alexa Routines, including these ideas that demonstrate the versatility of Alexa.
Self-Care Routine
Build a self-care routine using your Alexa device that can help you relax or give you the time you need to recharge with reading, meditation, exercise or other self-care activities.
Voice Trigger: "Alexa, start my self-care reading routine."
Actions:
Start playing quiet, relaxing music.
Dim the lights in your living room.
Read from an audiobook or podcast.
Movie Night Routine
Alexa Routines can help you set up movie night with reminders, timers and smart devices. So if you feel stuck on a project and the night is dragging on, all it takes is one phrase to jumpstart a relaxing evening.
Voice Trigger: "Alexa, let's watch a movie."
Dim lights in the living room or area you've designated for movie night.
Turn devices to "Do Not Disturb."
Turn on your TV.
Open a specific app on your TV.
Work-From-Home Routine
If you work remotely, you can enjoy having a routine tailored for your workday. You can set an Alexa Routine to help you get in the zone and stay productive all day long.
Voice Trigger: "Alexa, I'm working."
Set the thermostat to your optimal work temperature in your home office.
Adjust lighting to a comfortable level in your home office.
Turn devices to "Do Not Disturb" or "Focus" mode.
Play background music for focus and productivity at a low volume.
Party Routine
When it's time to gather together with friends and family for a party, Alexa Routines can come in handy. This preset routine can help set the mood, remind you of tasks, set timers and complete a host of other actions.
Voice Trigger: "Alexa, let's get the party started."
Turn on smart lights to colors, strobe effects, or other desired ambiance.
Turn on your favorite party music playlist.
Lock the door every time it closes.
Other Smart Home Devices to Pair With Alexa
You can pair several other home devices with Alexa, allowing your smart devices to work together. Some of the most common devices to pair with Alexa include:
Security cameras: Pair your Alexa device with your home's security cameras for additional peace of mind.
Kitchen appliances: Automatically start your coffee maker to sync with your morning Alexa Routine.
Lights and sound: Sync your smart home devices toturn on lights and music at a preset time each evening.
TVs: Pairing your TV with your Alexa device allows you to set up routines specifically for apps on your TV as well as volume levels and favorite channels.
Smart plugs: Smart plugs can help you schedule energy-using devices like your lights and appliances to maximize energy efficiency and remove fire hazards.
Alexa Hacks to Try at Home
Try these options if you want to better optimize Alexa Routines: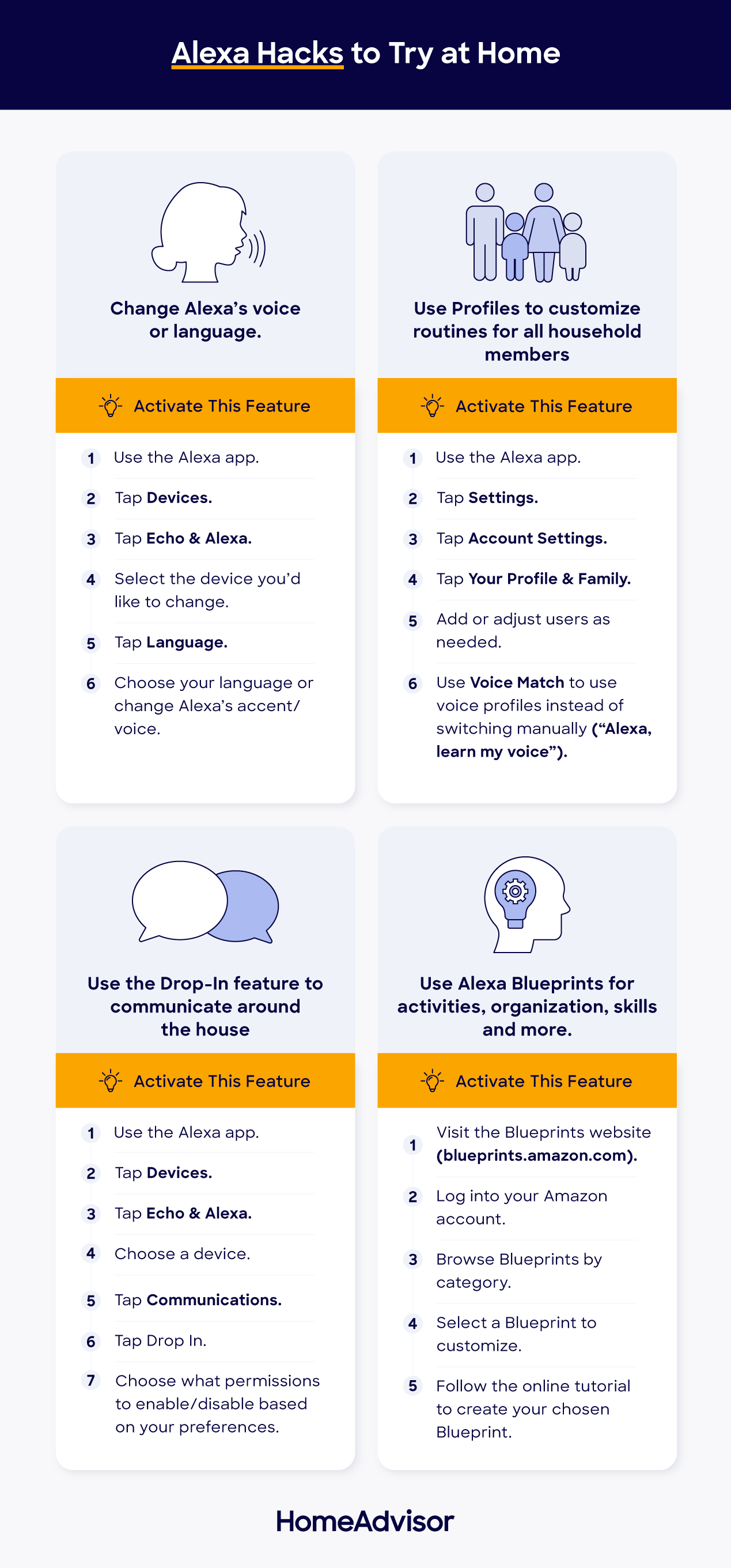 Change Alexa's voice or language: If Alexa's voice is jarring or you respond better to a different language, you can change these options.
Use Profiles to customize routines: Everyone has a different routine, so customizing Alexa Routines for each individual can make things easier.
Use the Drop-In feature: Rather than yell across the house, use this handy feature to communicate like you would on an intercom by dropping in on an Echo located in another room.
Use Alexa Skill Blueprints: Make your home life more organized with Alexa Skill Blueprints. You can use blueprints to map out chore charts, count down the days to an event, help a pet sitter care for your animal, and more.
Conclusion
Alexa Routines offer limitless opportunities to optimize your home. You can sync it with many other smart home devices, add commands, and customize routines tailored to your lifestyle.
If you need to hire a professional handyperson to install these smart devices to automate tasks in your home, we've got you covered. HomeAdvisor connects homeowners with contractors and professionals who can help you create the smart home of your dreams.
No Comments Yet