Key Takeaways
Our Instagram study showed that New York (11,214), Massachusetts (8,662), and California (6,901) had the most historic home posts.
Hawaii had the most expensive historic homes in the U.S. ($5,502,855 on average), while Kansas had the least expensive ($290,477).
Millennials who chose to purchase older homes over newer ones saved an average of $111,497, the most across all generations included in our study.
Buying a home is an extensive process, with numerous factors coming into play when making the final purchasing decision. Among many qualities, home age is one that opens up a debate fueled by preference. While pros and cons exist for both newer and older homes, the uniqueness and character of an older home are undeniable.
Historic homes, generally built over 50 to 100 years ago and maintaining all original structural features, take character to a new level. How common are "historic homes" across the U.S.? We scraped over 118,000 Instagram posts from November 2020 to December 2021 in search of homes deemed "historic" by users across the country, both for sale and not. Additionally, we surveyed over 1,000 recent and prospective homebuyers to understand who older homes appeal to and how home age compares to other important factors. This is what we found.
An Abundance of U.S. Historic Homes
Following a thorough Instagram investigation focusing on notable hashtags related to historic homes, we uncovered over 118,000 historic homes termed "historic" or "old" by users across the 50 states. But which states had the most?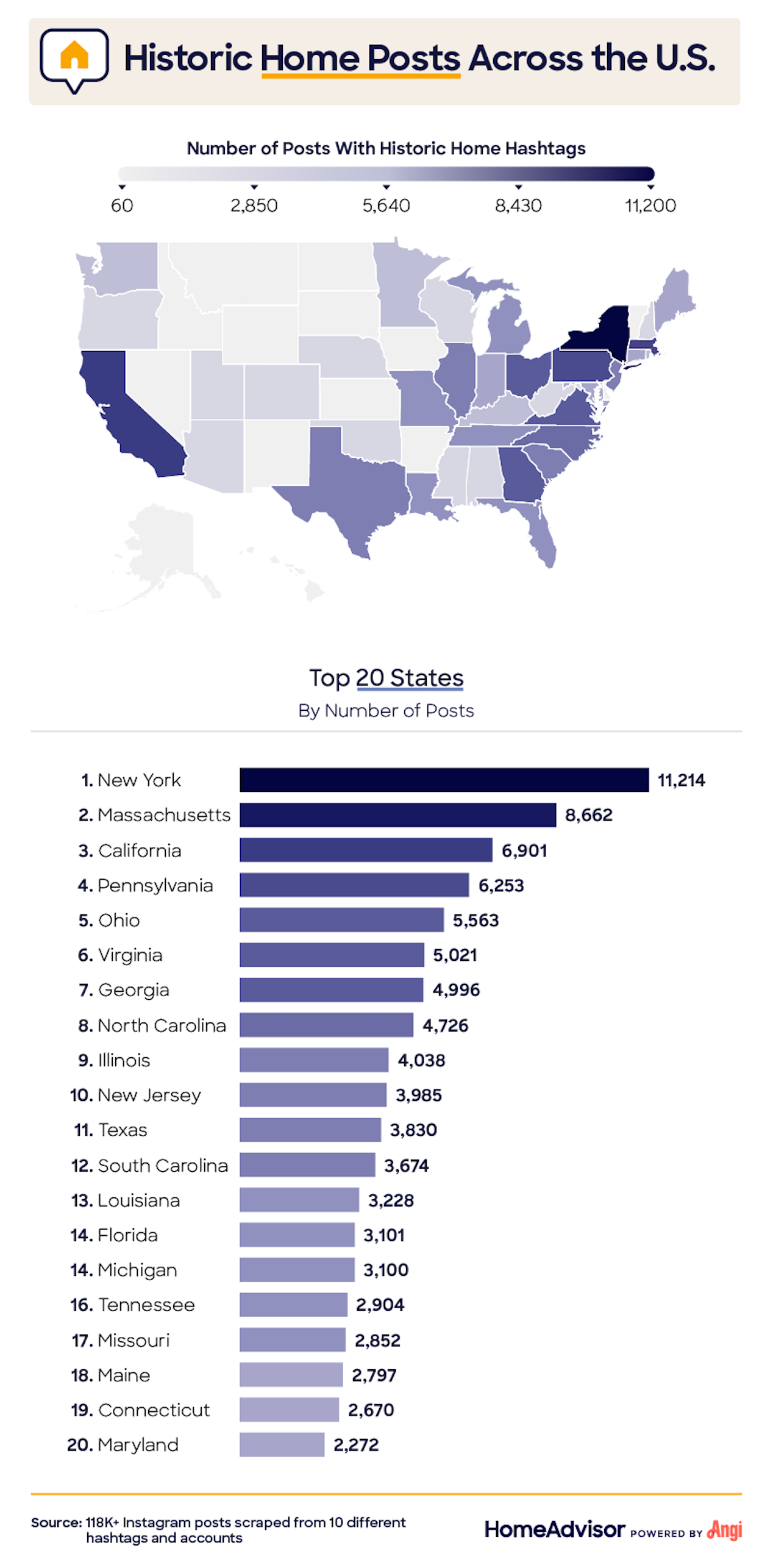 New York came out on top as the state with the most posts about historic homes in the U.S., with a whopping 11,214 properties referenced on Instagram. The state is indeed famous for its registered historic homes, both in New York City (where the best-known examples are listed by the Historic House Trust) and upstate.
Massachusetts took second place, with a total of 8,662 historic home posts found, while California (6,901) came in third and was also the only western state within the top 23. Wyoming (86), North Dakota (82), Hawaii (65), and Alaska (62) were the only states with fewer than 100 historic home-related posts.
What's the Cost of a Historic Home?
State-by-state historic home post volume is one thing, but how much are these properties supposedly worth? We analyzed over 9,700 historic home-related posts we found, with properties that included a selling price, to see which states had the most (and least) expensive options.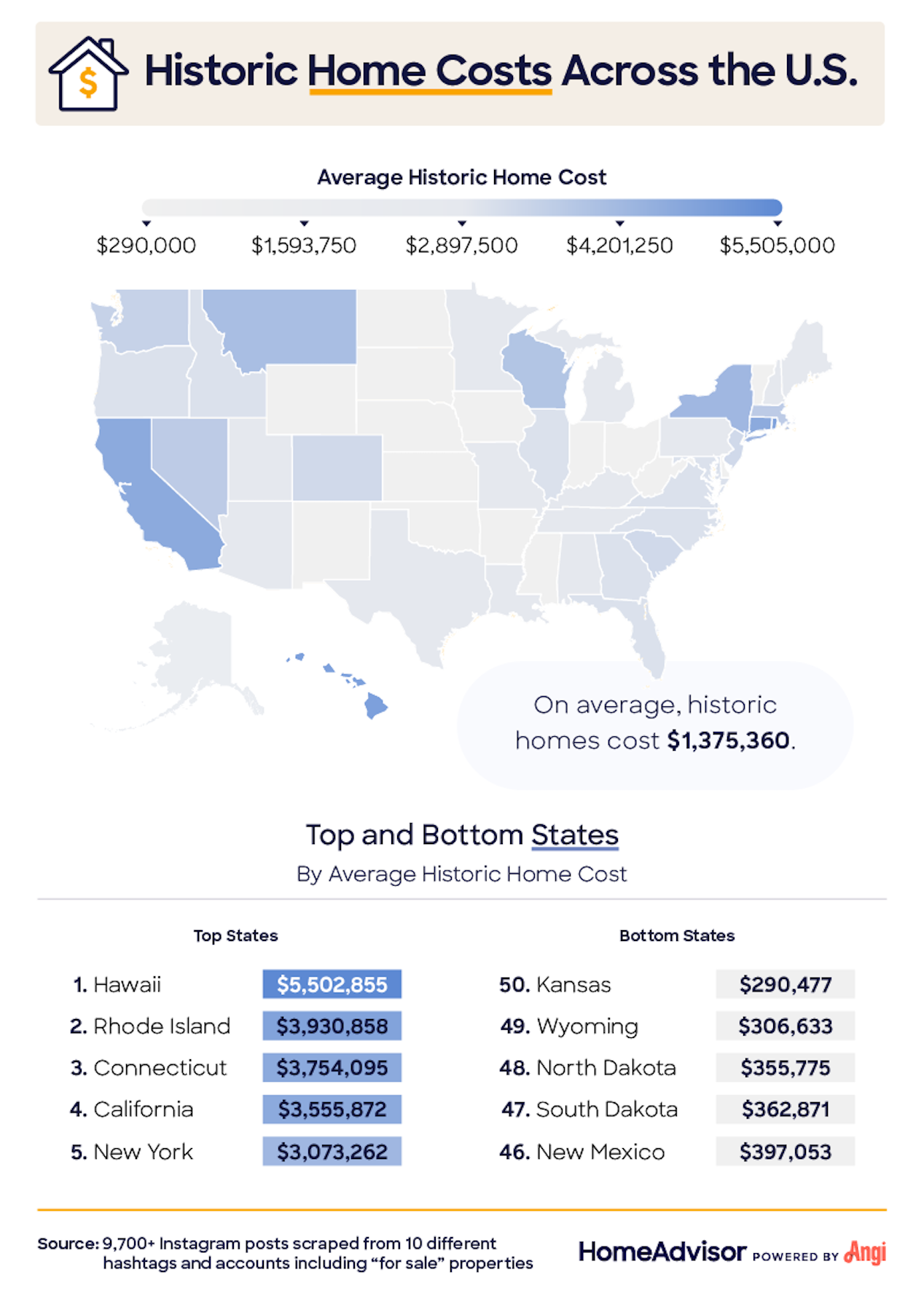 Hawaii, which had the second-lowest number of historic home-related posts (only after Alaska), had the highest average historic home cost. At more than $5.5 million, it was a whopping four times higher than the national average.
Rhode Island, which boasted 2,099 historic home posts in total, had the second most expensive average cost, at $3.93 million, followed by Connecticut at $3.75 million. California ($3.55 million) and New York ($3.07 million) rounded out the top five.
States with less expensive historic homes included North Dakota ($355,775), Wyoming ($306,633), and Kansas ($290,477).
Older Homes
With consistent updates to safety and energy-efficiency laws for newly built residences, homes over 20 years old can certainly be viewed as older. However, they are far from historic. While not every homebuyer can afford to spend millions on a registered historic home, older homes (defined as those built before 2000) also have their appeal. With houses in such demand, what were homebuyers' preferences when it came to property age, and how did price factor in?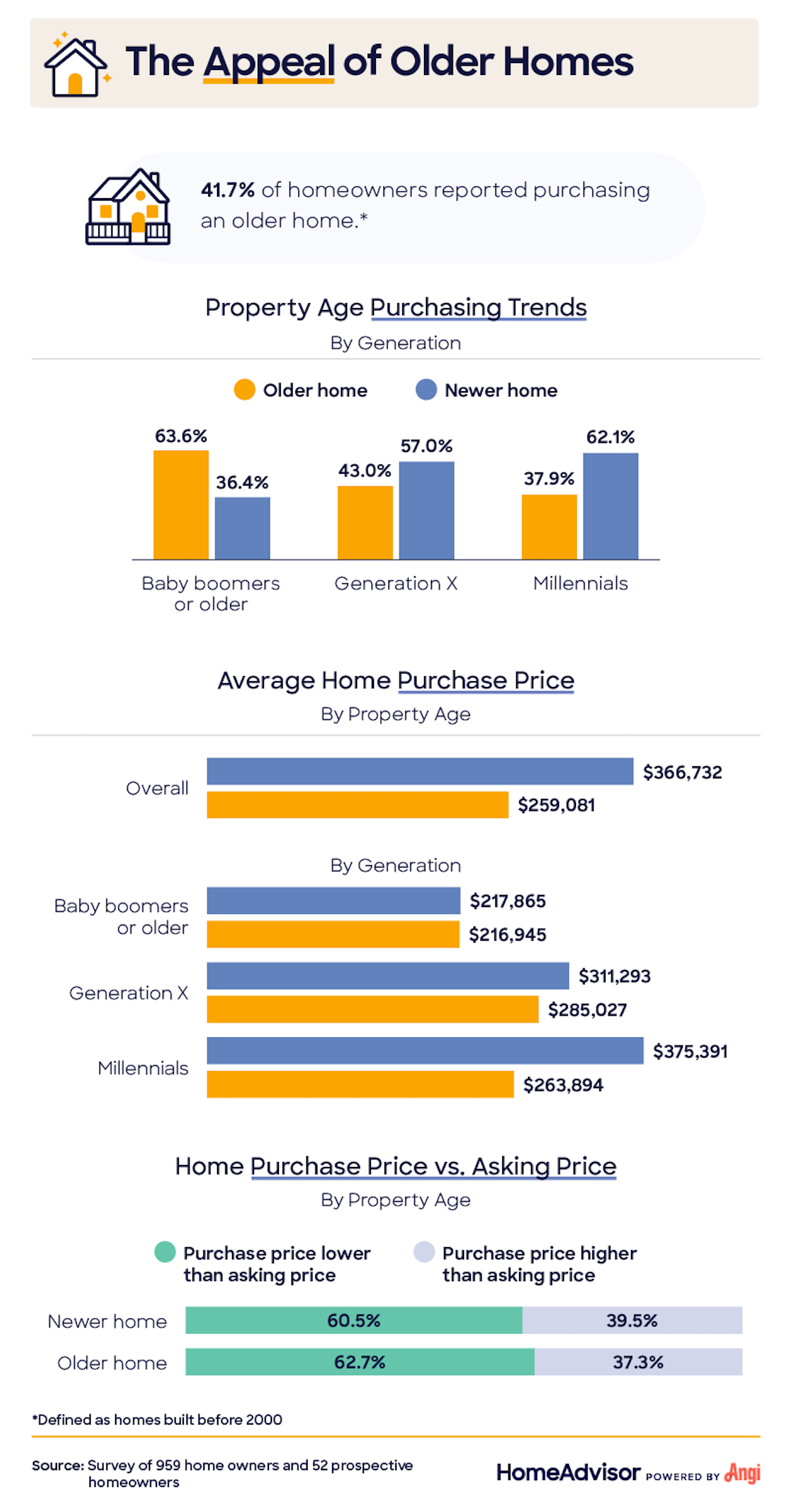 Overall, 41.7% of new and prospective homeowners purchased or had plans to purchase an older home. From a generational perspective, baby boomers were the most likely to have bought or plan on buying an older home (63.6%). However, 37.9% of millennials also reported purchasing or having interests in an older home.
The average purchase price of newer homes was $366,732, while the average purchase price of older homes was $259,081. Millennials reported the biggest price difference between the two options: Newer homes cost them nearly 42.3% more than older homes, on average. This suggests that for younger generations, the appeal of older homes is at least somewhat motivated by price.
Remodeling or renovating a home typically costs from $17,971 to $76,825, based on home location. Even on the higher end of this spectrum, individuals purchasing older homes in need of upgrades may still end up saving more than those buying newer ones. Overall, those who purchased older homes were also slightly more likely to get a better deal—62.7% of those who purchased older homes reported that their purchase price was lower than the asking price.
Homebuyer Priorities
Beyond price, we explored which factors were the most and least important to homebuyers when making their purchasing decision. How does the age of a property compare to other factors, such as size and style?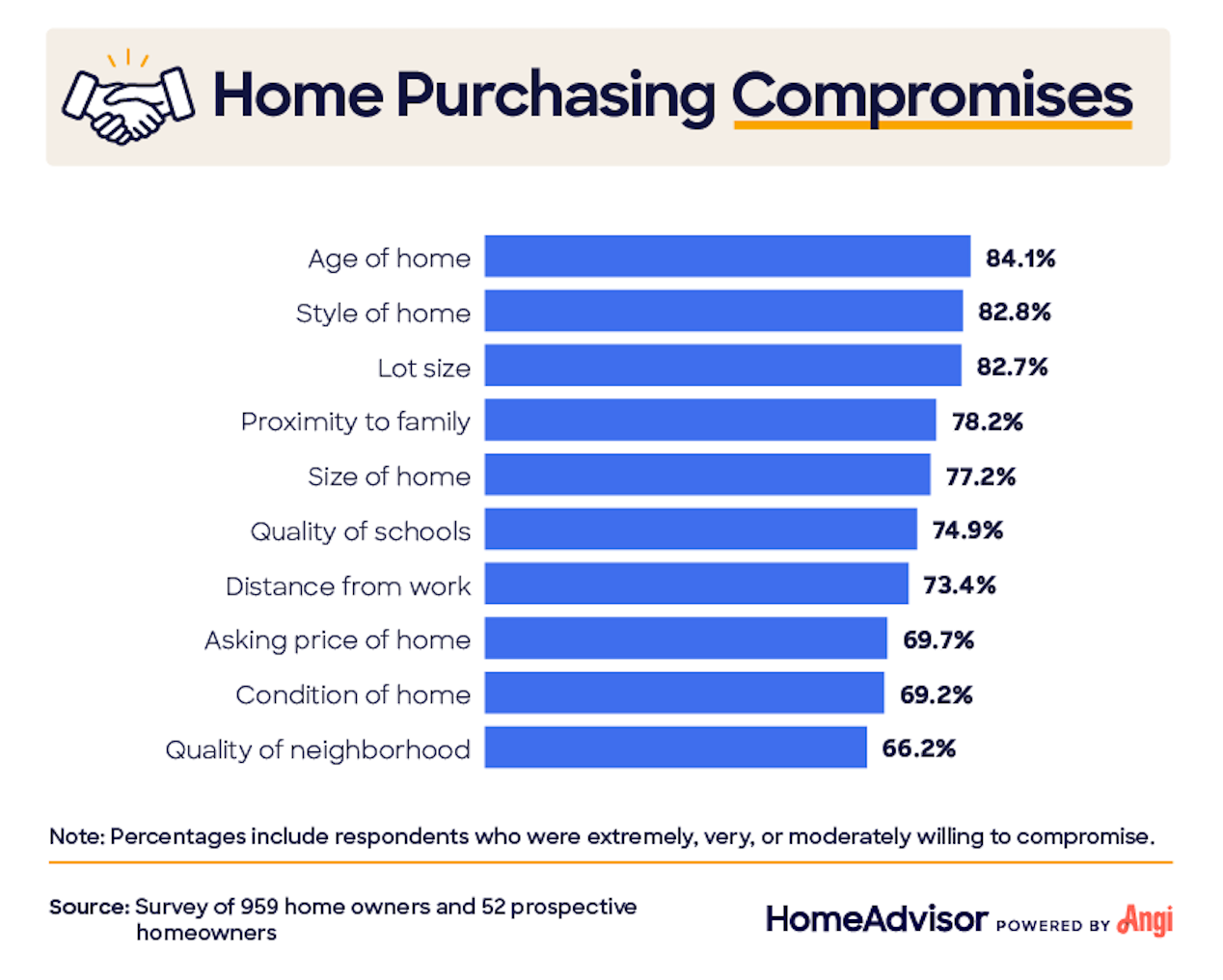 When it came to the factors that homebuyers were most willing to compromise on, the age of the property topped the list, with 84.1% of respondents feeling this was a lesser priority. The style of the home (82.8%) and the lot size (82.7%) were also high in the ranking in terms of compromisable factors.
On the flip side, the asking price of the home (69.7%), its condition (69.2%), and the quality of the neighborhood (66.2%) were viewed as less flexible and, therefore, higher priorities.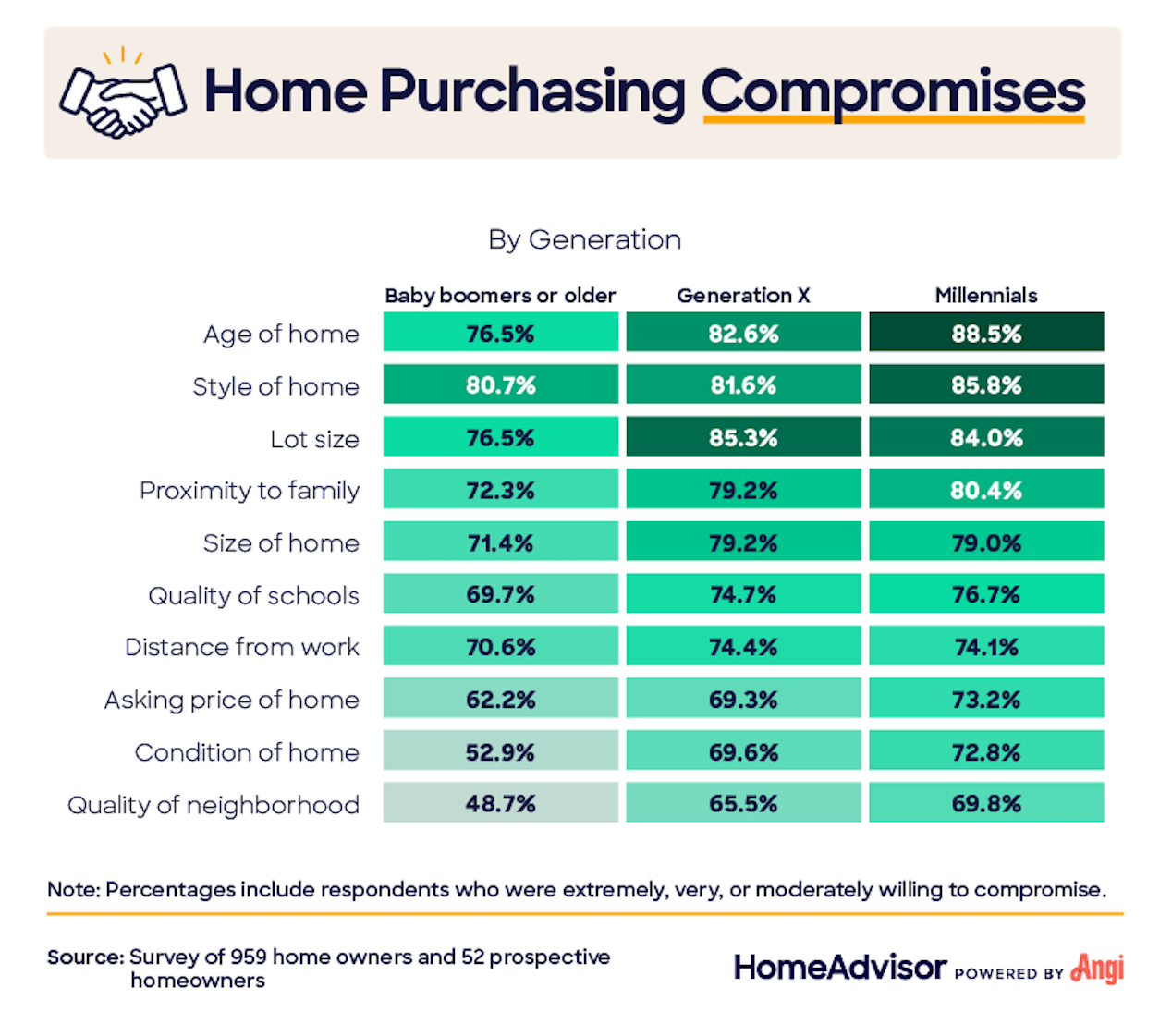 Generationally, millennials appeared to be the most flexible, while baby boomers were the least. For baby boomers, the style of the property mattered least (80.7%), whereas Gen Xers felt the same about lot size (85.3%), and almost nine in 10 millennials claimed the age of the home was their least prioritized factor.
Age Is Just a Number
The prevalence of historic homes across the country is apparent. While New York, Massachusetts, and California led states in terms of the number of historic homes, Hawaii, Rhode Island, and Connecticut had the most expensive ones, on average.
Among homebuyers, older homes were somewhat popular, with 41.7% purchasing homes built before the year 2000. Older generations led this charge, however, millennials also showed a willingness to invest in older properties.
There was a clear difference in the cost of newer homes and older ones, suggesting that price may drive the appeal of the latter. Property age was also seen as the factor homebuyers were most willing to compromise on over many others, including style, size, and condition.
Methodology and Limitations
For the first half of this study, we scraped Instagram posts, geolocations, and captions for the following hashtags and accounts from November 2020 to December 2021: #cheapoldhomes, #historichomes, #historichome, #historichouse, #oldhomes, #oldhouses, #oldhome, #oldhouse, #oldhouselove, and @cheapoldhouses. In total, we gathered 118,006 posts, with 9,738 of them including a price.
No statistical testing was performed on this data, so the claims listed above are based on means alone. As such, this content is exploratory and is presented for informational purposes only.
For the second half of the study, we surveyed 959 recent homebuyers and 52 prospective homebuyers. 54.6% of respondents identified as men, 44.8% identified as women, and the remaining 0.6% identified as nonbinary. Generationally, 12% of respondents were baby boomers, 29.6% were Gen Xers, 51.5% were millennials, and the remaining 6.9% were Gen Zers. Due to sample size limitations, Gen Z responses were not included in generational breakdowns. Additionally, the average age of respondents was 39.5 years old with a standard deviation of 12.4 years.
The main limitation of this part of the study is its reliance on self-report, which is faced with several issues, such as attribution, exaggeration, recency bias, and telescoping.
Fair Use Statement
Whether you're looking to buy an older home or are just appreciative of historic homes and want to share our research, you're welcome to. However, please ensure that your purposes are noncommercial and you link back to this page when doing so.
No Comments Yet