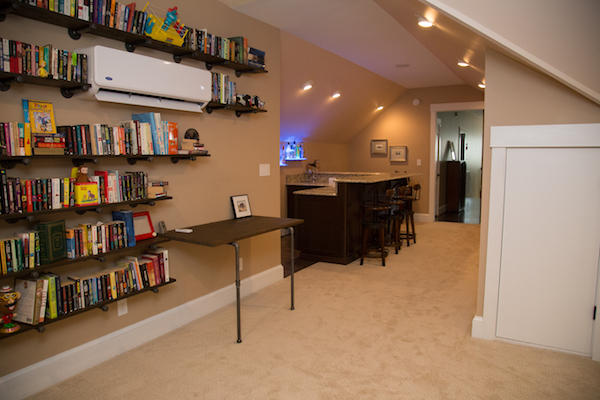 Many homeowners, when their family grows too big for a small house, will consider room extensions to create additional square footage and space. However, new additions can be expensive, time-consuming, and can ruin the look of your exterior facade. Instead, many people decide it best to "build up" by remodeling their upstairs storage area. An attic conversion allows you to utilize used space to its greatest potential. Instead of building new additions horizontally, which can also eat up valuable lawn and garden area, renovating vertically is an easy way to develop pre-existing square footage into suitable living spaces.
Things to Think About
Before you make a decision about a major attic renovation, you'll first want to ask yourself a few questions. You want to make sure you have a clear goal in mind before hiring a contractor so that you'll be able to communicate your ideas better. By considering these questions about the project beforehand, you and your contractor will both be able to get on the same page and work towards a final, common vision.
What is its purpose? Do you want it to be a master bedroom, a guest bedroom, a library, or a home office? Many times these spaces make for a unique loft that you can use as an entertainment area. In fact if you think about this upstairs space like you would a finished basement, many new ideas begin to pop up: a pool table, a wet bar, or maybe a home theater are all possibilities.
Are there obstacles? Look at the space and see what difficulties will have to be overcome. Is the space big enough to work with? Is there enough headroom? Is the roof pitched? Do these "obstacles" create inconvenience or a unique look to the room? Are there beams and trusses taking up additional space? Is the floor reinforced to hold furniture? These are questions that contractors immediately think about, so inspect the area to make sure it's worth it before committing to the project.
What isn't there? Remember, many times these areas weren't originally meant to be living spaces, so think about what will have to done to make it comfortable and safe. Unlike building additions where all the planning is customized to the new project, building around pre-constructed areas can be a pain. You could run into hidden problems by working with old materials and pre-existing structures.
Ready to start your
attic conversion

?Find Pros
So keep in mind all the things you'll have to add in order to create an adequate living area. Do you have easy access? Many times these storage spaces come with pull down stairs, so you will probably have to add a walk-up staircase. This area is usually meant to be sealed up and ignored, so you'll have to add windows, dormers, or skylights to brighten up the place. It can get really hot and very cold up there, so extra insulation will be required in your attic renovation. Also, there are the details of flooring, drywall, plumbing, and electrical work. So make sure you think about all the details you'll need to invest in before calling the contractor.
The Code
Whenever you add extra living space to your home, you'll need to get a building permit approved by the city. This also goes for attic conversions. Oftentimes the contractor will make sure everything is up to code and will take care of permits from the city, but you want to make sure the space is properly approved, otherwise it is against the law and your attic renovation could be unsafe to live in.
But once everything is set in motion, attic conversions are a fun and unique way to add square footage to your home. Though they can be a bit expensive and the actual remodel could take several weeks (all of this is contingent upon the size of the space), the final result will create more value to your house and the extra room is well worth the expense.
No Comments Yet