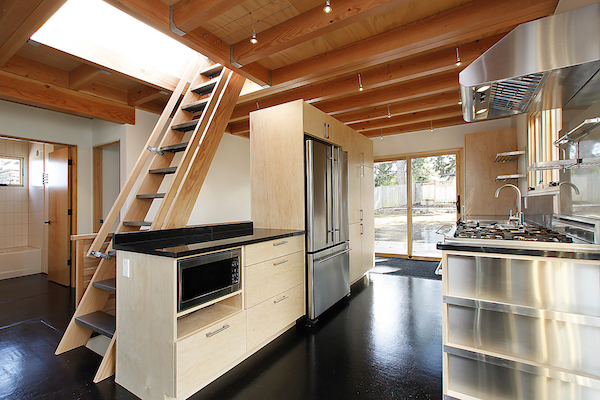 Attics are one of the most common untapped living spaces in homes today. Attic renovations are a great idea to create that home office or extra bedroom in your home that you've always wanted. In order to get into this new living space, though, you need a dependable way to get in and out of your attic. Folding attic stairs aren't the old, creaky, rotting attic stairs of your parent's old house. New attic stairs are made from steel, are safe, fire-resistant, and provide easy access to your newly renovated attic.
Folding Attic Stairs and Ladders
Steel attic stairs are engineered for safe access, with increased weight capacity, and greater durability. Few homeowners are as concerned about the tradition and warmth of natural wood for their attic stairs as in other areas of their home. Weatherstripping and insulated stair doors create an energy-efficient attic opening. Attic stairs can be painted or finished to match any attic décor.
Folding ladders, specialty stairs, or loft ladders can all be used for smaller access spaces and/or for people with limited mobility. Naturally, attic stairs or ladders can be installed as part of an attic renovation or as their own separate project. Often, old, wooden stairs fall into disrepair while the general condition of the attic is still decent. On the other hand, the need to replace your attic stairs can be just as good an excuse as any to consider an attic renovation for your home.
Attic Stair Installation
Attic stair installation is a relatively easy project and well within the purview of most DIYers, if there's an attic opening that doesn't need to be enlarged. Creating or enlarging an attic opening can be a tricky prospect because you must avoid pipes, wiring, and roof trusses.
The other difficult part of attic stair installation can be conforming to building codes. Many areas require a specific amount of access space to create a stair design that isn't dangerously steep. Attic stairs are generally steeper than other stairs in the home, and your local building codes may make exceptions or they may not. Often, older attic stairs are grandfathered in under old building codes, but once they're replaced the new codes have to be observed.
One potential solution are spiral stairs. Because of their shape, they can be less steep and usually only take up about 5 square feet of floor space. If you're dealing with a confined space, estimate the spiral staircase cost to see if it's the right fit for your home.
Attic Renovations
Don't get ahead of yourself. Before you install folding attic stairs, make sure an attic renovation is a plausible home improvement project. Without adequate headroom, not only will your renovated attic feel claustrophobic, it may not pass building codes. If you're on a budget, make sure you determine if your attic has pre-existing joists that are adequate to hold the weight of a few people and some basic furniture. Installing reinforced joists will significantly add to the price of your attic renovation, but skipping this step can lead to damaged floor ceilings. Some roof designs, especially in newer homes, also have a prohibitive number or cross joists and beams that render the available attic space implausible for renovation.
No Comments Yet