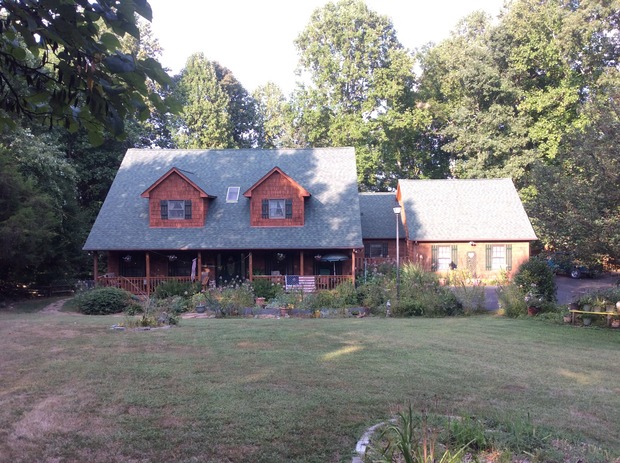 An estimated 10,000 Baby Boomers turn 65 in the U-S every day and at that rate the retirement population is projected to nearly double by 2030 with the number of adults aged 65-74 growing to nearly 73-million. If you figure in adults aged 50 and over, that statistic grows to 132-million. So where will this exploding population of retirees spend their golden years?
"There's no place like home," says Rick Cloud, 69, of Austin, Texas, a retired NASA technology consultant who's chosen to 'age in place' in the home where he's lived most of his life. According a recent AARP survey, 73-percent of people over 45 plan to retire in their current residence as opposed to a nursing home or other institution. 41-percent plan to stay in their homes until age 81 or older.
"People who can stay in their homes successfully are happier, it's a whole lot cheaper, they tend to live longer and it makes for a better community," says Cloud who wanted to avoid having to rely on his two daughters for his senior care. That's how he came up with the idea for a virtual retirement village, where other retirees, who are also aging in place, come together to support each other.
"We provide rides to the doctor or grocery store, we have volunteers who'll come and change a lightbulb if you can't reach it, cut your grass or walk your dog." The virtual village concept worked so well, Cloud and his friends formed Austin's Capital City Village and joined the national Village to Village Network  which helps with management. So far, 190 virtual villages have been set up across the U-S and 185 are in development. Members pay a yearly fee that averages about $450 nationally for access to nearly 100 service providers and other resources and services that help them age in place.
"We do a home visit to make sure seniors are both physically and mentally able to age in place and that they're not kidding themselves about needing more care than we're prepared to provide," says Cloud. Capital City Village puts on home concerts, has a Bridge group, a dominoes group and a movie group to help keep members engaged.
"Those kinds of things that just make it more comfortable and feasible for you to stay in your home longer," says Cloud. "I think it's really good to know there are other people in your situation and that you're tied into them. There's a sense of community that we're trying to foster."
That socialization is one of the keys to aging in place successfully says Dr. Marc Agronin, a geriatric psychiatrist and author of "How We Age" because it keeps seniors from becoming isolated, which he says happens too often when they live alone.
"Socializing increases a person's well-being and gives people a sense of purpose. Having these fellow 'villagers' helps people become more engaged and creates a support network that takes the worry out of living alone and allows people focus on the joy of living," Agronin says.
Technology is also an important component of successful aging in place. Digital tools that utilize smartphones, GPS and other devices not only allow caregivers to keep tabs on seniors but also give doctors and other medical staff remote access to check vital signs including blood pressure.
"I envision a future where every single person is going to be wearing the equivalent of the iPhone that will enable them to literally, with their fingertips, connect with people and get the services they need. Given the current trends in medical research, health care and technology, it's likely the nursing home of the future will be in our own home," Agronin says. "The long-term care facility of the future will be less facility and more home and eventually much of the care that's now provided by nursing or assisted-living staff could be done by a mobile robot."
Care support and psychological support are other keys to successful aging in place. Experts say seniors must have a support network of family members or caregivers and a safe home to live in. They must also navigate through a myriad of service providers.
"This job is too big for one person, one family or one company to tackle," says Maureen Hewitt, President and CEO of InnovAge, a Denver, Colorado nonprofit that provides care management and services to aging adults and disabled individuals who've chosen to remain independent in their homes and communities. Those services include assistance in making and getting to medical appointments, medical services to monitor health and wellness and help working with multiple providers. "Care management frequently reduces cost through better, more efficient use of healthcare services. It's a good choice for older adults who want to age in place because services are brought to them."
Standing in the way of successful aging in place are poverty and mental health. Adding poverty to aging creates a double whammy for people, because not only are they isolated and don't have access to enough medical and/or mental health care but they also don't have funds for proper housing or nutrition, exacerbating age-related issues.
"I think the biggest fly in the ointment is going to be Alzheimer's disease and other dementias because all bets are off with those conditions," Agronin says. "You can have the best technology and availability of family and support but those conditions make everything more complicated and can be associated with all sorts of other mental health issues that make people have less insight into what they need and less cooperative with it."
According to estimates, the number of people with Alzheimer's disease will triple in the next 50 years if no cure is found.
1 Comments