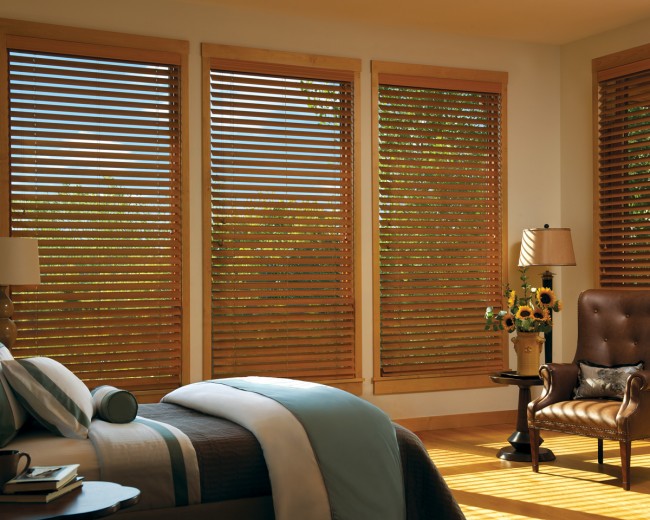 It's hard to find an industry these days where bamboo hasn't made an inroad. Be it building timbers or cutting boards, the hardwood qualities and attractive appearance of bamboo is turning heads. Window blinds are no exception. That warm, natural, tropical feel of bamboo is especially well suited to use as a window treatment. And even better, you'll know your new bamboo blinds are as easy on the environment as they are on your eyes when you kick back and enjoy your new shades.
Several Styles to Choose From
While you will find varying styles of blinds to choose from once you start shopping around, the variations have more to do with the width of the bamboo slats and the method in which the shade is raised and lowered than anything else. Here's some opening day notes from bamboo blinds 101:
Roman shades. Most bamboo shades come in this style, referring to the way the shade is raised and lowered. Roman shades fold up into several inch sections as they are retracted.
Roll up shades. This is the other style of popular bamboo shade, in which the material actually rolls up from the bottom as the shade is raised.
Matchstick blinds. Matchstick refers to the width and overlap of the bamboo slats being used. Matchstick bamboo blinds are made of thin, round "sticks" rather than flat slats, and let in more light than slat style blinds.
Slat blinds. Slat blinds are blinds made of flat, thin slats woven closely together. Slat designs offer more privacy and block more sun than matchstick varieties.
Besides style, you'll also have some choices to make when it comes to color. Bamboo blinds come in a wide variety of tones and colors, from natural looking bamboo to darker burnt and smoked bamboo. Keep in mind that many bamboo shades change color over time and are manufactured with that in mind. What looks green now will turn a beautiful golden brown in a year or two. Be sure to ask your bamboo shade retailer what to expect as far as weathering goes before you buy.
Environmentally Friendly
Most homeowners choose bamboo blinds because of their classic look, but it doesn't hurt that bamboo as a material has risen to prominence as a green material in this time of environmental uncertainty. Harvesting bamboo is a much more sustainable endeavor than cutting down a hardwood tree if you want the soft touch of wood blinds. If you're at all concerned about the environmental impact of your purchases, buying bamboo is a no-brainer.
Talk to an Interior Decorator or Designer
If you're purchasing bamboo blinds, talk to an interior decorator about developing a home design to match. As we already mentioned, bamboo window treatments bring a relaxed, tropical feel into your home that you should take advantage of. An interior design professional will be able to help you build on that with colors, furniture, and other design elements to make you feel like every day in your home should be spent with your feet up and a piña colada in hand!
No Comments Yet