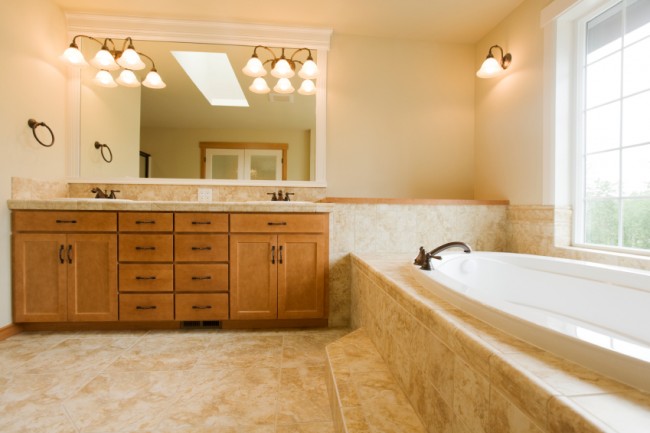 Many homeowners grow weary of walking into that same old bathroom day after day. Before you spend your kid's college tuition on a full bathroom remodel, think about installing new lighting instead. Properly designed and installed bathroom lighting can make an old bathroom feel like new overnight.
Focus on the Important Areas
When it comes to bathroom lighting there's one thing you never want to forget: the bathroom is a place where things get done. Be it a morning shave, putting on make-up for a night on the town or just catching up on some important reading, almost every light in a bathroom serves a specific purpose. That being the case, focus initial efforts on the places that get used most.
Vanity, Vanity, Vanity
The first place to install new bathroom lighting is around the vanity and mirror. Remember you don't want your lights to be too strong or too dim, and lighting that comes from the sides is generally more flattering than lighting that comes from above (there's a reason lights run up and down the side of mirrors in Hollywood dressing rooms!). A new pair of wall sconces on either side of the bathroom mirror can add both beauty and functionality to one of the bathroom's most important areas.
Recessed Lighting for Showers, Tubs & Toilets
Once your vanity has been addressed, move to the other high use areas. Recessed lighting is an excellent choice for lighting up showers, tubs and toilet areas. In the shower and tub, recessed lighting can be angled to bring out tile design, stone inlays and other decorative design features in those areas. And anyone with a full magazine rack next to the stool can imagine what a recessed light overhead can do for that space as well.
For Your Convenience
Besides covering the necessities, think about adding a few extra features for your convenience as well. A lighted switch makes late night trips to the bathroom a lot easier, since you won't have to swing your arm up and down the wall like a bird in flight to find the switch. And a dimmer switch isn't a bad idea either, so you can set your bathroom lighting to the proper mood. Making sure you look presentable Monday morning takes a lot more light than that Saturday evening soak in the tub. A dimmer switch gives you the best of both worlds.
Final Thoughts
Bathroom lighting is not only task-oriented. Recessed lighting can easily be angled to highlight works of art, and rope lighting installed on the topside of a molding near the ceiling can create a warm, cozy feeling throughout. If you're interested in redoing your bathroom lighting, talk to an electrician or interior designer about what it will take to make your new bathroom lighting ideas a reality.
Ready to start your
bathroom lights

?Find Pros
No Comments Yet