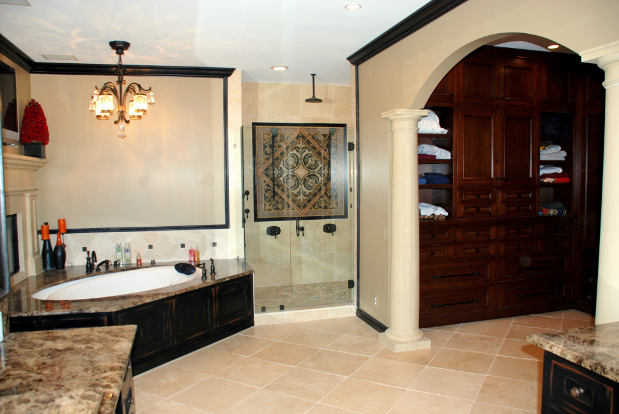 Picture wall tile and you're likely conjuring up images of bathrooms and showers. The reason is obvious: it makes for excellent waterproofing. While wall tile in other areas of the home is mostly decorative in nature, bathroom wall tile serves a functional purpose as well as an aesthetic one. That being the case, choosing the right materials and bathroom wall tile design is an important decision for any homeowner.
Laying a Strong Foundation for your Bathroom Wall Tile Design
Laying bathroom tile isn't much different from any other tile installation. It requires that you lay out your tile design, apply a thinset mortar, work in the tile, let the tile dry, and then grout the tile after about 24 hours. The one big difference between bathroom tile installation and other wall tile is the type of backing you use. Regular drywall might be satisfactory for a wall tile mural in your dining area, but it's not going to hold up to the water and moisture that is constantly present in your bathroom. For that reason you want to use a "green" drywall or cement backerboard for all bathroom wall projects and always use the cement backerboard when it comes to installing shower wall tile or any tile around tubs and sinks.
Choosing the Right Bathroom Wall Tile
While choosing the correct backing for your wall tile is important if you want it to last, the fun part of a bathroom tiling project is choosing the tile itself. With the exception of natural cork tile, just about anything is suitable. Here's a list of some of the most popular bathroom tile materials out there to give you some food for thought.
Check out our table on bathroom wall tile installation cost by material.
Stone Tile—Nothing is as beautiful as stone tile, be it marble, granite, travertine, or any of the many other stone options on the market. Stone is also naturally water resistant and tough, both perfect qualities for shower wall tile. About the only drawback of stone as a wall tile is its weight, which can make installation tricky. And of course, it's also the most expensive tile you're likely to come across.
Glass Tile—This is another excellent option when it comes to bathroom wall tile design. Glass tile comes in all shapes, sizes, and colors, so working with it can be a real design treat, especially if you're up for a challenge! As an added bonus, most glass tile comes from recycled materials, making it a "green" material as well.
Ceramic Tile—Ceramic tile always has been, and always will be, one of the most popular choices for bathroom wall tile. It can be glazed and fired in just about any color and design you can imagine, from soft earth tones to hand painted designs, and its water resistance is perfect for the bathroom setting. It can chip easier than some of the other tile options, but if you think ahead and order a few more tiles than your project needs, those damaged tiles are an easy fix down the road.
Mosaic Tile—Mosaic tile has moved beyond the arts and crafts world. In fact, some of the most stunning and innovative bathroom wall tile designs are currently being done in mosaic, be it glass, ceramic, metal, or combinations of all three.
Subway Tile—Whether you choose vintage imitation subway tile or actual reclaimed subway tile, this simple, utilitarian wall tile look is perfect for both contemporary and throwback bathroom designs.
The Great Wall Tile Dilemma – Should you Do it Yourself?
The answer to this question is up to you. Laying tile is certainly within the ability of many homeowners to do on their own, and with enough advance planning most do-it-yourselfers are certainly capable. Do keep in mind that the potential for water damage is a large risk in any bathroom home improvement, and faulty installation of shower wall tile, sink tile, and floor tiles can lead to bigger problems down the road. In that respect, if you don't feel absolutely confident doing it yourself, call in a professional so you won't have to worry.
No Comments Yet