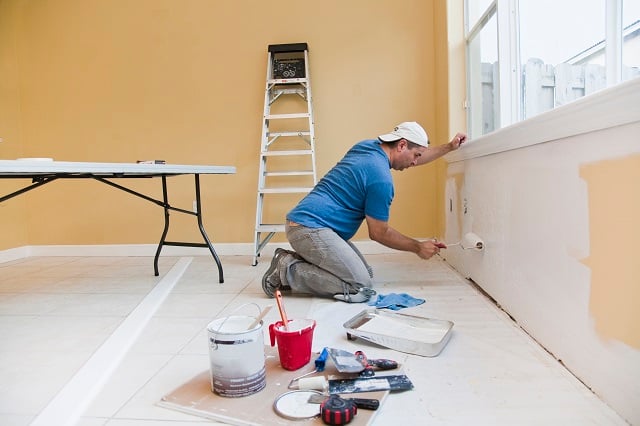 | Interior Paint Color | Best For |
| --- | --- |
| Whites and light neutrals | Small rooms, kitchens, selling your home |
| Blues | Bedrooms, bathrooms, living rooms |
| Reds, Oranges, Yellows | Kitchens, accent walls |
| Greens | Kitchens |
| Pinks | Foyers, dressing rooms, bedrooms |
| Earthy tones | Living rooms, selling your home |
The best paint color for your house's interior walls or ceilings complement your decor and, when used strategically, painted walls become the focal point of a room.
On This Page:
The Best Paint Color for the Whole House Interior
The most common paint colors to use in every room of your home are neutral colors like gray, beige and white. Ask yourself these questions while selecting paint samples:
Does it feel warm and inviting?
Does it feel cold or boring?
Can you see the previous color underneath?
Fortunately, there are many neutral colors that make your home feel warm even if they're usually seen as cool. For example, try greige—this is a warm shade of gray that's closer to beige than it is to blue. Talk to your painter about these excellent choices:
Neutral colors are also versatile–you can pair any color couch to a white living room wall and any color dining set to a beige kitchen interior. During an open house, home buyers can more easily imagine their decor in a neutral room than a chartreuse room they would have to repaint.
When you paint your home's whole interior the same neutral tone, you save money because you can buy in bulk. Additionally, common wooden furniture and accents like crown molding, benches and floating shelves complement neutral colors. Popular wall fixtures like iron sconces and antique brass lamps also harmonize with gray, white, or beige.
Best Paint Color & Finish by Room
Before you pick your color, consider the finish. The reflection of light off the paint might affect your choice. Remember that a glossy finish is best for high-traffic areas or easily-soiled surfaces like kitchen walls because it's really easy to wipe clean.
Choose a high-gloss finish for kitchens and bathrooms.
Use a satin finish for living room.
Try an eggshell finish for bedrooms.
Living Room
The best colors for your living room are neutral like gray or soft blue. Earthy tones like beige and off-white are also popular because they're easy to paint over if you decide to renovate.
Kitchen
To make your kitchen feel airy and fresh, choose a shade of green. From soft sage to avocado green, this uplifting hue works well in any kitchen. You can also choose a white wall to pair with vibrant clover green cabinets or mint green tile backsplashes. Other colors like canary yellow, blood orange and cayenne red give your kitchen a lively feel.
Bathroom
A bathroom looks best in shades of blue. Stick with lighter shades like powder blue or Farrow & Ball's Borrow Light to make your bathroom appear more spacious. If you're set on a darker shade like Obsidian blue, make use of gold accents like brass-framed mirrors to warm up the room. Feel free to play up this peaceful color with patterned shower curtains or bath towels.
Bedroom
Blue bedroom walls are scientifically proven to help you sleep longer and better. Besides a good night's rest, this color sets a relaxing tone for your downtime. For example, the Sherwin Williams Atmospheric blue evokes ethereal skies that reflect natural light during the day but helps you settle down for the night. Choose Benjamin Moor Gray's Wisp for a blue-green alternative. It's pale enough to quiet your mind but provides just enough tint for your minimalist sanctuary.
More vibrant options like pink make your bedroom or dressing room more cheerful. Deep dusty pink is just as fun as hot pink but a little more mellow and refined. Alternatively, try a toned-down shade like a peachy pink or pale pink if you want to keep it subtle.
Best Accent Color to Paint Inside the House
Blue is one of the most popular accent colors for bedrooms and living rooms. Choose an accent color that's simple yet bold enough to make a colorful statement in the right room. Bright reds like tulip and chili pepper are popular choices for smaller rooms like libraries, closets or pantries. Refreshing oranges like basketball and papaya liven up kitchens and statement walls. And, greens can bring a calm to sitting rooms.
Trendy jewel tones like ruby, emerald, amethyst, sapphire and peridot also serve well as accent colors. Break up solid accent walls with strategically placed artwork, photographs and mirrors.
If you want to splurge on a single room, a professional painter can achieve flawless results. Find a local interior painter to get started on your next interior design project.
Use accent colors in removable items like plants, upholstery, knick-knacks and storage solutions if you want stage and sell your home.
Popular Interior House Colors
Popular classic interior colors are beige, gray, white and warm, Earthy tones. Trendy interior and calming colors include blush pink, true blues and soft pastels. Check out the paint colors of the year for more trending ideas.
Best Interior Paint Colors for Selling a House
The best paint colors for selling your home are neutral colors and earthy tones. This means warm beige, light gray, off-white verging on yellow and white.
For your kitchen, choose a light blue or gray paint. Research shows that homes with this color kitchen sold for almost $2,000 more than homes with white-walled kitchens.
If you're looking for a professional paint job, you might need to know the cost to hire a painter to see what works with your budget.
FAQs
How much does it cost to paint a house?
The average cost to paint a house is between $960 and $2,750. To get a cost estimate for your home or room, visit our interior paint cost.
What is a paint finish?
A paint's finish refers to how shiny it is. The finish also affects the paint's durability, so if you're planning on painting your whole house, it's worth getting familiar with paint finish types. Here are some interior painting considerations and ideas.
How can I mix and match colors for a room?
Interior design experts suggest darker colors for lower parts of a room like baseboard trim, more neutral colors for the walls, and lighter colors for the ceiling. This color scheme is especially useful for small spaces and low ceilings because lighter paint above opens up the room.
No Comments Yet