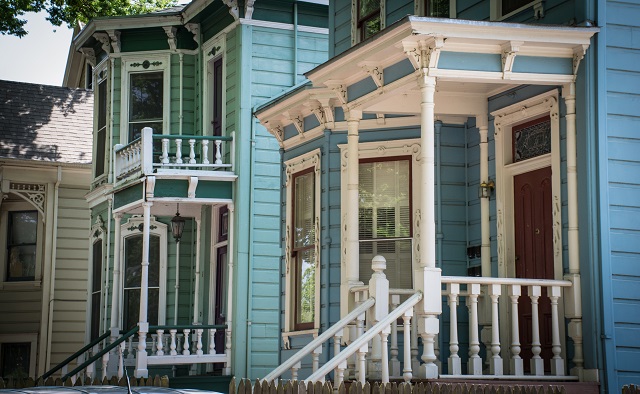 Trim colors are an excellent way to highlight the architectural design of your home while creating a sense of balance and harmony. No matter what your home looks like, our guide can help you choose a trim color for your dark brown, yellow brick house or white-colored house. With our tips, you will find the perfect palette make your home picture perfect.
On This Page:
How to Choose Your Trim Color
When your home's trim is showing signs of wear, it's time to consider repainting it. Before you start looking through swatches, decide what style you want to achieve for your home.
If you'd like to create a subdued, elegant trim you may choose to go with a monochromatic palette. But if your goal is to turn heads, then high contrast colors are the way to go.
If your home's trim is too damaged to repaint, you may wonder if it's better to paint or refinish your woodwork. If you decide that installing new trim is the best option, we can help you find finish carpenters near you.
Best Trim Color for Dark Brown House
Dark brown homes are popular for their subdued elegance and traditional look. These deep tones look best when combined with similar colors that enhance the home's architecture without adding too much brightness.
Earthy browns and greens look great with deep brown houses. They create a natural feel that blends beautifully and appears cohesive. The rule of thumb is to choose colors that are a few shades darker or lighter than your siding color to create a harmonious and homey look.
Best Trim for Yellow Brick Houses
Sunny home exteriors have a few options for trim color:
White and gray will make your home seem larger while giving it crisp, contrasting lines.
Cream trims enhance the warmth and texture of yellow bricks while giving your neutral shades a subtle detail.
Olive green is a rich and balanced complement to dark yellow that also enhances the natural surroundings of your property.
Best Trim for Red Brick House
A classic red brick house looks lovely when enhanced with black shutters and white trims. This fashionable color combination is a tried-and-tested favorite of U.S. homeowners.
The white trims add an accent that stands out, especially when combined with contrasting black shutters. They also make windows seem larger and add an overall sense of luxury to the exterior of your home.
Best Trim for White House
When your house is a timeless white, black trims are the perfect way to enhance its crisp and bright appearance. It is a classic color combo that never goes out of style.
Nowadays, white-on-white is a popular combination that makes homes seem even larger and more regal. Brighten up your exteriors with a white siding color and trim to unify the modern barn house look of your home with a vintage flair.
White can show a lot of wear and tear. To give your weathered and rough woodwork a facelift, check out the cost of installing exterior trim. It usually runs between $600 and $1900. With an estimate, you can get a better idea of how much your project will cost based on your area and siding type.
Additional Tips
Here are some more tips to make your home's trim stand out and keep it looking great:
Choose a semigloss finish that is easy to clean and durable.
Use the same color palette for interior and exterior trim.
Paint trim before walls to fix imperfections.
Paint gutters and siding the same color to help them blend in.
Our article on house painting tips offers useful ideas to keep your home looking great. It also includes suggestions to help you avoid more expensive paint jobs in the future.
FAQS
Should door and trim be the same color?
This depends on your taste. If you want your door and trim to stand out, then your door and exterior trims should be different colors that match well together. Painting them the same color helps them blend together and create a sense of cohesiveness.
Can trim be darker than walls?
A darker trim can be ideal if you want a contrasted look that draws attention to your windows or door frames.
Should all the trim in a house match?
The trim in your entire house doesn't have to match if you want to create more contrast and variety around the home. But it is a good idea to keep them in the same palette to keep the flow of your house and ensure that the colors don't clash.
Need to find a trim painter?
No Comments Yet