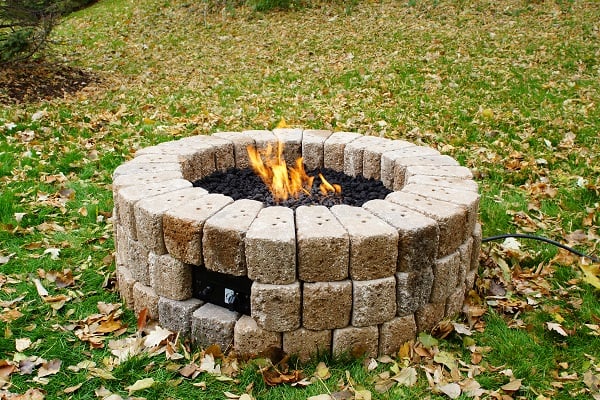 Reviewed by Bob Tschudi, Home Building and Remodeling Expert.
A fire pit is a great way to enjoy time outside. This easy DIY project is great for all skill levels and customizable to your own backyard or patio. It can be built in grass, on concrete, or patio pavers. Gather around a warm and cozy fire with family and friends to create memories that will last a lifetime.
Time: 3 hours
Materials List:
Concrete Hardscape Block
DIY Gas Burner Kit with Control Panel (Used here: the DIY-38 from Outdoor GreatRoom Company)
Lava Rock or other filler rated for use with gas fire pits (.5 cubic bag or approximately 20 lbs recommended)
1 Vent Block (optional)
Exterior-grade concrete adhesive
One AAA Battery for burner ignition
Vapor barrier (if building in grass or on pavers)
Tools needed for block assembly:
Level
Shovel (if building in grass)
Rake (if building in grass)
Mallet
Caulk gun
Tools needed for burner assembly:
2 adjustable wrenches
7/16″ wrench
Power drill with Phillips bit
Instructions
Step 1:
Before assembling your gas fire pit, plan where you want to build it and decide how you will supply gas to this location. If you choose to run a natural gas line to the unit, be sure to have it installed by a certified gas technician before you begin this project. Check any city ordinances as well, to ensure your new fire pit will be legally built to code. Some homeowners start with a portable LP (liquefied petroleum or propane) gas system to see how and where they like it located, then transition to a more permanent natural gas installation.
Step 2:
If putting your fire pit in grass, mark a 40″ diameter circle and remove all grass, sod, and roots. Remove 2″ of soil within the same area. Be sure to level the soil where your fire pit will be built and add between 1-2″ of paver base. Pack the paver base and use a level throughout the process.
Step 3:
After the paver base is installed, if using in grass or on top of a paver patio, install the vapor barrier. This will prevent moisture from the ground and protect your Gas Burner Kit. The vapor barrier is not needed if building on a concrete slab.
Step 4:
Next lay your first ring of hardscape block in a circle. Used here: 4″ tall tumbled radius pavers, but you can also use retaining wall block or something similar. We recommend an interior diameter between 32″-37″. Use a rubber mallet to level.
Step 5: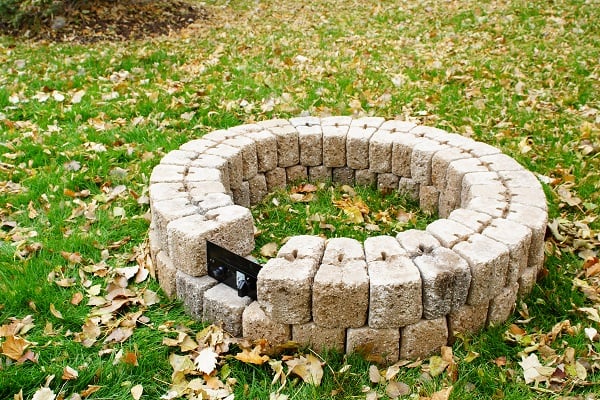 Image 2
Place the next ring of concrete block (Image 2) leaving space for the control panel (Image 3) and optional vent block. If you choose to forgo the vent block, concrete blocks must have adequate space between them to allow air flow underneath the burner, we recommend at least 10 square inches total. Consult your Gas Burner Kit manual for specific instructions.


Image 3
Step 6:
Once you have your concrete blocks spaced appropriately, carefully remove one block at a time and apply concrete adhesive. Place the blocks back on the ring and apply pressure. Repeat this process for each block.
Step 7: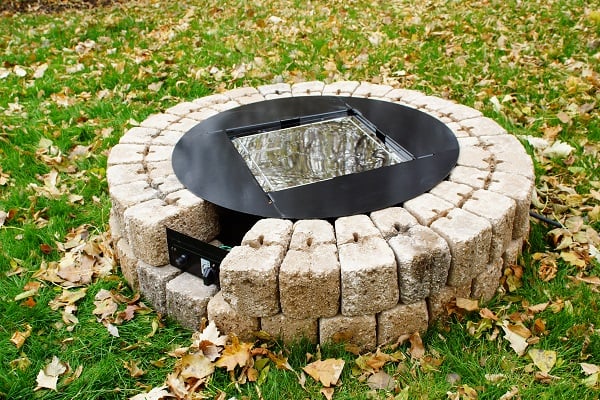 Image 4
Assemble your burner and place on top of the concrete block ring (Image 4) Ensure there is at least 1″ overlap to secure the burner ring. Consult the Gas Burner Kit manual for proper assembly instructions, clearance to combustible ratios, and gas connection instructions.
Step 8: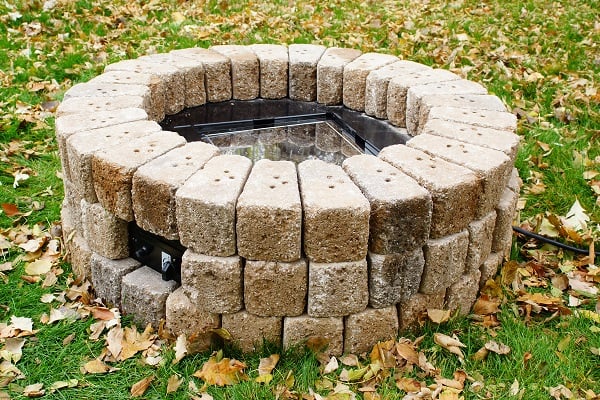 Image 5
Lay the third layer of concrete block. Repeat the adhesive process from step 5 (Image 5)
Step 9:
Let the concrete adhesive cure. Add Lava Rock until the burner area is covered with approximately 2 inches of rock.
Step 10:
Light your new fire pit, sit back, relax, and enjoy!
No Comments Yet