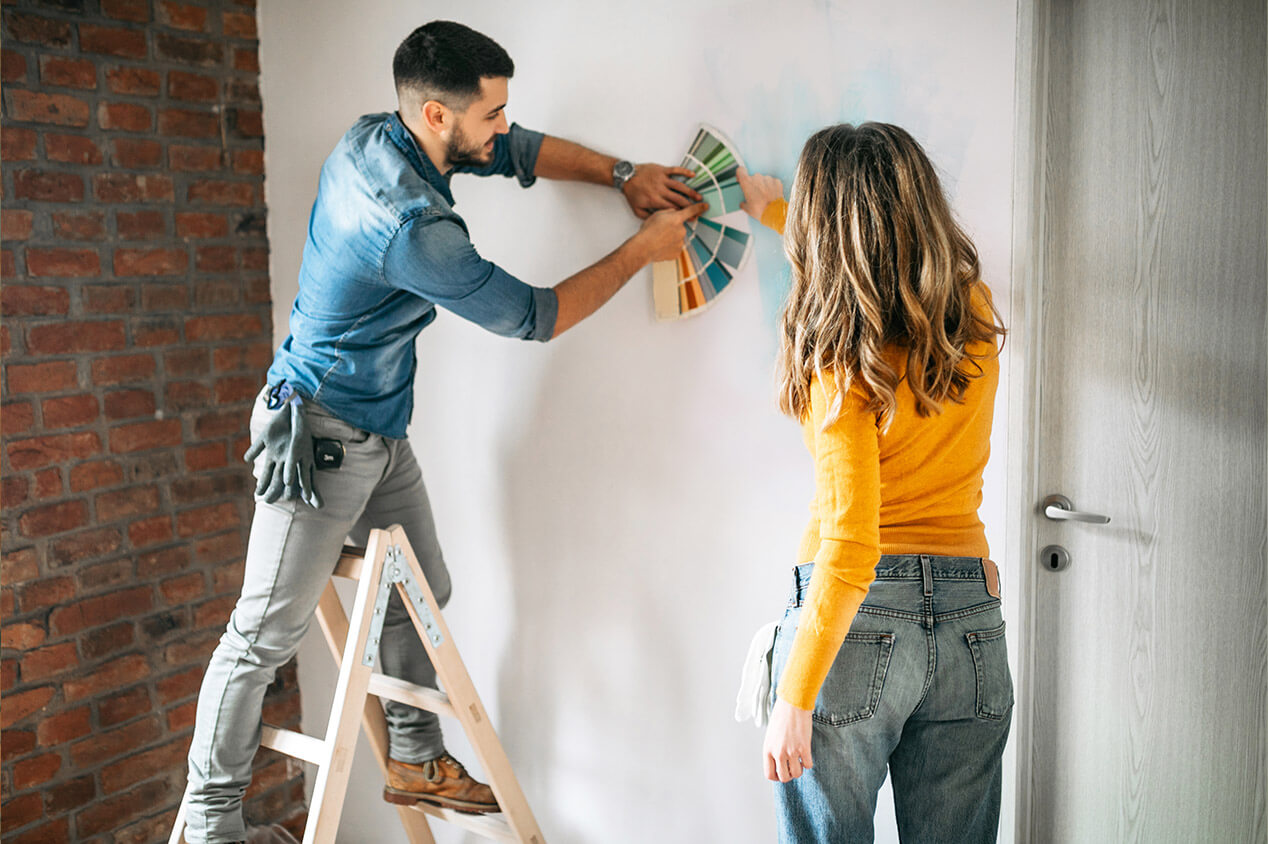 As everyone spends more time inside this winter, people are getting inspired to make their homes into sanctuaries. Meditation rooms and "zen dens" are more popular than ever before. Even if you're not up for a big renovation project, simply repainting your walls can create a much more relaxing home base.
Thanks to science-backed color theory, our wall colors can influence our thoughts and feelings. Whether we realize it or not, the colors we're around daily impact us. Calming colors throughout our homes can help boost our moods and even support our immune systems. Emotional responses to color aren't just imagined — its saturation and brightness directly affect us on a subconscious level.
Repainting the interior of your home is a fun, attainable, and cost-effective project with proven positive effects. Before you spruce up your color palette, explore the various effects of different colors. You'll notice the majority of these colors are lightly saturated, more neutral tones, which tend to have more soothing effects on the mind. We've rounded up some of the top paint colors for promoting relaxation in different rooms of your home.
On This Page:
1. Green
At the center of the spectrum, green promotes a sense of peace. It is refreshing and reassuring, and it subconsciously reminds us of nature. Mint blue-greens or sage greens are prime examples of calming colors that help support positivity and balance emotions.
Where to use this color: Green is a great option for bedrooms or kitchens. When choosing a shade to encourage restfulness, it's best to avoid anything too saturated or vibrant.
Top Calming Green Paint Colors & Brands:
2. Blue
When used as a wall color, blue is unique in that it's calming and also promotes productivity. Darker or more vibrant blues should be reserved for rooms with plenty of natural light to offset their cool tones. Lighter shades of blue are universally soothing, making variations of this color especially popular for bedrooms.
Where to use this color: Since blue is associated with cleanliness and clarity, it also works for bathrooms, storage areas, and laundry rooms.
Top Calming Blue Paint Colors & Brands:
3. Purple
Light purple walls create a sense of relaxation, authenticity and freedom. Whether you opt for a lavender-gray or bright lilac, these shades help create a rejuvenating space. It's widely believed that purple encourages meditation, deep contemplation and spirituality.
Where to use this color: Lighter shades of violet are perfect for bedrooms, reading rooms and studies.
Top Calming Purple Paint Colors & Brands:
4. Brown/Beige
Often discounted as bland and predictable, soft neutrals are actually perfect for a relaxing environment. The balance of red, yellow and gray undertones in light brown, beige, tan and taupe make them welcoming without being overbearing. This color group tends to be subconsciously comforting to the human mind.
Where to use this color: Try different shades in the brown or beige color family for bedrooms, living rooms or offices.
Top Calming Beige Paint Colors & Brands:
5. Pink
Pink fosters warmth, positivity, and comfort. Paints in this color group brighten the appearance of furniture and other aspects of a room. In some cases, pink can even help a room seem larger than it is.
Where to use this color: Salmon and blush shades are great for bathrooms since they give people the appearance of a healthy glow. Meanwhile, rose and mauve are great choices for bedrooms or living rooms.
Top Calming Pink Paint Colors & Brands:
6. Gray

Gray might not seem like the most exciting choice for a wall, but don't underestimate its ability to help create an elegant, calm vibe. With cool gray tones on your walls, room accents easily pop. Plus, our minds appreciate breaks from vibrant colors.
Where to use this color: There is a sense of sophistication and serenity that comes from gray that works well for living rooms, dining rooms, hallways and office spaces.
Top Calming Gray Paint Colors & Brands:
Relaxing color palettes can make every room feel comforting and can help repurpose and transform an old space into an entirely new one. Take a look at the power of color below.

A local team of interior decorators with expert knowledge and experience can empower you to maximize color in your home to promote relaxation. HomeAdvisor's free directory of designers and decorators can guide you to make your home a sanctuary. You can also hire skilled painters in your area to expedite the painting process.
Repainting with calming colors is a great way to create a relaxing home environment. Hire a team of pros that has your back and helps you find the best paint options for your home. When you allow pros to handle the details, you're bound to have a stress-free painting experience.
Sources:
WebMD | UC Health | Cielo | English Gardens | Life Hack | RC Wiley | Homedit
No Comments Yet