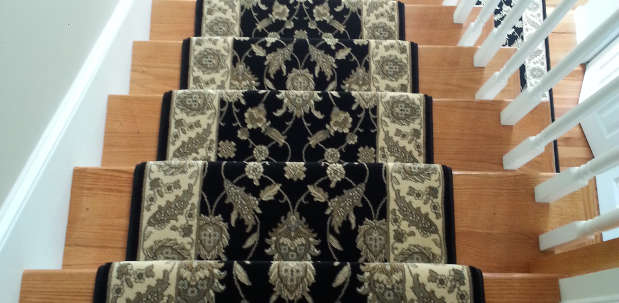 Since floors get trampled all the time, eventually they will need some kind of maintenance: resealing, refinishing, or patching up troubled areas. This is especially true with stairs: whether you have wood or carpet, staircases get the brunt of the burden because people move up and down them all day long. However, before getting to the point of replacement or refinishing, the easiest way to maintain your floors is with prevention. And by installing carpet runners, you will be able to protect floors against all those pummeling feet.
Remove Repairs
One of the best reasons to invest in a carpet stair runner is to reduce the wear and tear that these highly-active areas receive. By adding another layer of flooring on top of your original surfaces, you'll be able to prevent carpet from deteriorating and your wood floors from scuffing. In the long run, not only will this preserve your flooring, it will also cut down on your overall maintenance costs since these facade surfaces are not only absorbent but easily washable as well. And although it's always a good idea to have your family and guest take their shoes off at the door, we all know this policy is impossible to enforce consistently. Therefore, during adverse weather seasons, these protective rugs help to guard your floors against muddy treads and soggy socks.
Prevent Accidents
Not only do carpet runners shield against residual damage, they also defend against accidents on multiple levels:
Traction: When the pile is worn down or the hardwood is recently refurbished, there may be a risk of slipping. So if you have active children or elderly houseguests, these slip-free surfaces can protect against physical injury. Just make sure they don't bunch up or ripple anywhere, and keep an eye out for any wearing of the carpet stair runner itself in order keep things safe.
Pet Uh-Oh's: Cats and dogs will have accidents; it can't always be avoided. But carpet runners add an extra barrier between your original flooring and your pets' mishaps, including shedding problems. Also, since these products are easily washed, you'll save on the expense and hassle of cleaning.
Soundproofing: To protect your ears from deafening footfalls, especially on wooden staircases, carpet stair runners are a great way to deaden the sound of climbing feet.
Designer Rugs
Like a rug, carpet runners not only protect your floors, but they can add a bit of elegance to them. On stairs, these "rugs" run up the middle of the staircase, leaving your original flooring still visible on the margins. This creates an interesting accent affect by adding a contrast color to your carpet or hardwood. But staircases aren't the only option. These products can also run throughout the house, literally acting as horizontal "rugs" that add drama and protection to the rest of the home. Plus, since they come in a variety of different sizes (to fit your particular needs) and designs (from solid shades to more elaborate patterns) you have a limitless amount of choices. It may be best to consult an interior designer or flooring contractor to help select the right product for your house. Plus, afterwards, these experts can also be hired to help on the installation.
No Comments Yet