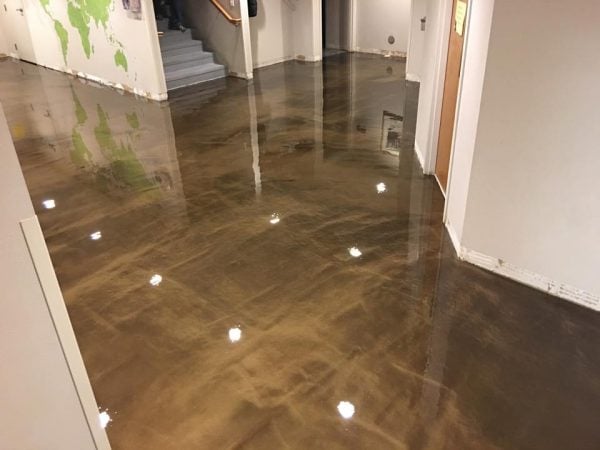 Today's flooring market is seeing an ever-increasing variety of options. Woods such as bamboo and cork are taking their place alongside more traditional materials, and tile is making a big comeback. That said, concrete is a viable alternative to traditional flooring materials that you may not have considered. Concrete flooring is expanding from its traditional place in the garage or basement, and starting to appear throughout the house.
Concrete Flooring Installation
Concrete flooring installation is a complicated process indoors, but a fairly simple one outdoors for patios and walkways. Fortunately, concrete flooring installation is more common outdoors. Indoor concrete floors are generally poured and laid during the initial construction. Often, concrete flooring installation means nothing more than removing an old floor covering and then using finishing techniques to transform your concrete subflooring. Still, concrete that has seen marked deterioration over time may benefit from an overlay installation or other retrofitting solutions. Here are the main factors associated with concrete flooring installation:
Durability. A substance that stands up to the pounding of cars and trucks can easily handle whatever abuse you can throw at it inside the home.
Cost. Concrete is more expensive than most floors for initial installation, but it's usually less expensive to reface existing concrete than install a new floor covering.
Adaptability. These days, there are plenty of decorative options for concrete floors, and if you should sell the house, finished concrete can give buyers a unique option or an easy foundation for their own floor covering.
Concrete Floor Finishes
These days, concrete specialists have so many concrete floor finishes at their disposal that it will blow your mind. Here are a few of the many ways concrete floor finishes are able to transform the gray, drab material into a stunning floor:
Painting is an easy way to make the concrete perfectly match the colors of your décor. It can be used to create the look of marble, stone or slate, or even a tiled appearance that—without seams or grout lines—is easy to keep clean.
Staining. Sturdier than paint, stain bonds with the concrete itself for a color that lasts the life of the floor. Popular colors are light tan, brown, black, and blue-green, though many variations are available.
Engraving. Concrete engraving is a combination of staining along with etching grooves into the surface to create a look of tile, stone or brick at a fraction of the cost. These options give a warm, natural feel and complement any décor.
Polishing. Another popular option in which the floor surfaces is ground with a heavy-duty polishing machine to achieve a high-gloss finish that looks like polished stone. This is often combined with staining for a unique, marble-like look. Best of all, it never needs waxing or coating.
Ready to start your
concrete flooring

?Find Pros
More Concrete Flooring Ideas
Researching and making a list of concrete flooring ideas is a great way to make sure you're using this material to its greatest potential. Concrete subflooring may be in much better shape than the wood, laminate, carpet, or tile above it.
Overlaying. A concrete overlay can be applied on top of your concrete floor, and again, a number of designs are available.
Imitation Flooring. Among the many tricks of concrete finishes is the ability to imitate other materials. Your concrete floor can look like anything from polished marble to exotic hardwoods, even distressed leather.
Radiant Flooring. In hot-weather climates, concrete stays cool. In colder places, though, this method is used to keep concrete floors nice and warm. Pipes are installed beneath the floor and heated water is run through them. Radiant flooring is not only cozy, it's an efficient way to heat your home.
No Comments Yet