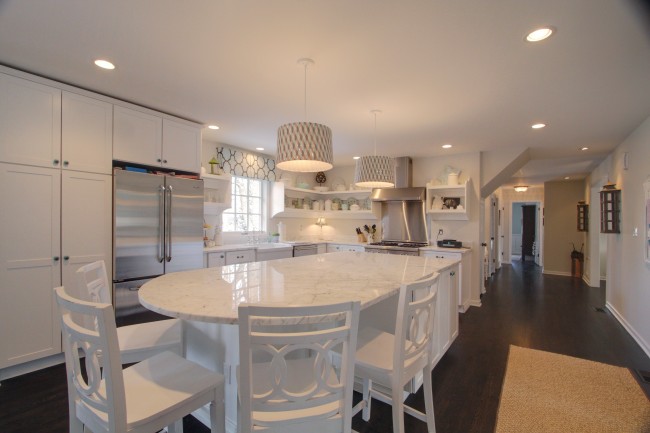 Nobody's really sure what contemporary lighting is. It's a lot easier to say what it isn't. The single ceiling light in the middle of the room with floral pattern of frosted glass isn't contemporary lighting. The bendable, clip-on desk lamp isn't exactly the precursor to contemporary track lighting. Perhaps the essence of contemporary lighting is lighting design that attempts to emphasize the lighting as a decorative feature in a room without sacrificing any of its functionality. This can be accomplished both through the interesting lighting effects and through lighting fixtures that match your contemporary décor.
Contemporary Lighting Effects
Knowing how you'll use a room is paramount to designing the contemporary lighting that works best for you. Different lighting fixtures will create specialized effects for specific purposes. In the bathroom, for example, adjustable wall sconces will allow you to take a relaxing shower or soak and, then, allow you to meticulously apply your makeup or get that close shave without nicking your neck or chin. In the kitchen, recessed task lighting will allow you to show off your kitchen and illuminate the most work-intensive areas.
Accent Lighting: This lighting illuminates a specific object or area of a room. It can be used for purposes of ambiance or to highlight a busy area of a room.
Task Lighting: This lighting is focused on an area of a room designated for a certain task, such as a desk for office tasks or a sink for kitchen tasks. It differs from accent lighting in that it is more focused and saves as much energy as possible.
Grazing and Washing: This lighting is typically directed toward walls to enhance and display their texture. Be careful, though, they'll also show off any imperfections.
Contemporary Track Lighting
Contemporary track lighting is always a great lighting installation. Its versatility is its biggest advantage. Even when you find a configuration that works, if the time comes when you're ready for a change and decide to rearrange your furniture, you can rearrange your track lighting to match. More than simply moving the track heads along their tracks, bulbs with different watts and spreads can create a variety of different effects. Whether you want to highlight a specific object or area or generate an interesting lighting scheme for your entire room, contemporary track lighting is up to the challenge. This versatility is also another way of saying that contemporary track lighting is the safest bet you can make.
Hire a Professional Lighting Designer
There's a lot more to good lighting design than pointing light fixtures toward something and throwing on the switch. Not only will a lighting designer understand the nuances of lighting effects and the specific challenges for each of your rooms, but lighting must also work around other installations. Often, the space used for contemporary lighting is the same space your HVAC contractor wants for your duct system. Managing your lighting design requires understanding more than just illumination and decoration. You also need to understand how the placement of light fixtures may affect other areas of home installations.
No Comments Yet