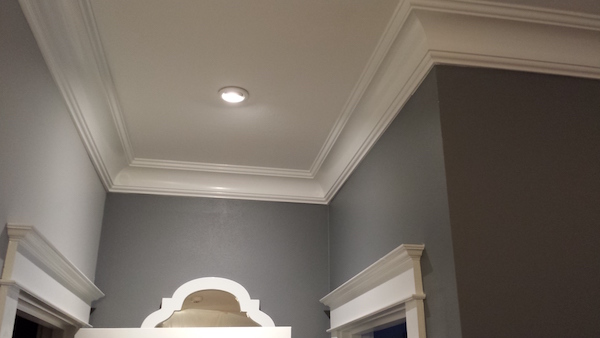 We all remember our first apartment or college dorm—the industrial white walls, the raggedy old "beige" carpet, the sharp angles that had you believe, surely, that you were a rat in some cruel kid's science experiment. Since then, tastes have refined, wallets accommodate, and living in a box simply no longer works.
In Comes Crown Molding
Nothing warms a room like the softening of angles. Crown molding is the decorative trim used to transition from wall to ceiling, adding a subtle elegance to any room. Sometimes it is spelled "crown moulding". Choosing a crown molding is as important as choosing a frame for an expensive painting. If it is too big or gaudy in relation to your home design, it becomes the focus of attention. If it is too small or simple, it can look cheap and cheapen what it frames. In a home—the largest single purchase of your life—this is obviously not ideal. Trim is so important, in fact, that often people choose to go with custom crown mouldings, in order to settle in on the exact look to frame their home design, to match their own personal style.
Types of Crown Moulding
There is an unlimited variety of decorative molding styles. The ogee, a simple "s"-shaped reverse-curve profile, and the cove molding, a simple concave trim, are among the most understated. On the other end of the spectrum are trims like the egg and dart (a line of small bulbs cast along the center), the rosevine crown (roses and vines consume the trim), and the dentil crown (the bottom edge distinguished by equidistant squares.) Each of these decorative trims can be the perfect fit for the right home design. And if you don't find what you want, or if you have a piece of furniture with a particular trim, or a trim design of your own, there are many craftsmen who can help you design your own custom crown molding.
Wood vs. Composite Molding
Crown molding can be made out of soft woods, hardwoods or of composite materials. Of these choices, hardwoods like oak are the most expensive, but certainly the most attractive when stained. Soft woods like poplar, spruce, or pine are less expensive and certainly attractive when painted or stained. And composites, such as the fiberboard or polyurethane, and the least expensive choice and often used because they are also the easiest to paint. In your choices here, budget often is the most important consideration.
While using composite crown molding is becoming a regular feature in most homes because of its cost and its lifetime, it is recognizably not wood. On the other side, an oak molding can look out of place if the furniture and other decor of a home do not match the elegance that this type of molding can bring to a room. For these reasons, interior designers with a keen eye can often be very helpful in matching a crown moulding to your home design.
Installation
Crown molding is reasonably easy to install. The real trick is in choosing the right design, or purchasing a custom crown mold, and making sure it is cut at the angle you desire. From there it is a simple matter of nailing the trim into place and applying the desired treatment. While you can certainly do the trim work yourself, the cost of installation is often not much since it is a quick, though detail-oriented and skill-required, task. And when the real purpose of a crown moulding is to bring a bit of elegance and grace to your interior design, there's no reason to risk odd angle cuts or mismatched sections when you don't need to. Otherwise you'll find yourself living in something perhaps less attractive than a simple box.
No Comments Yet