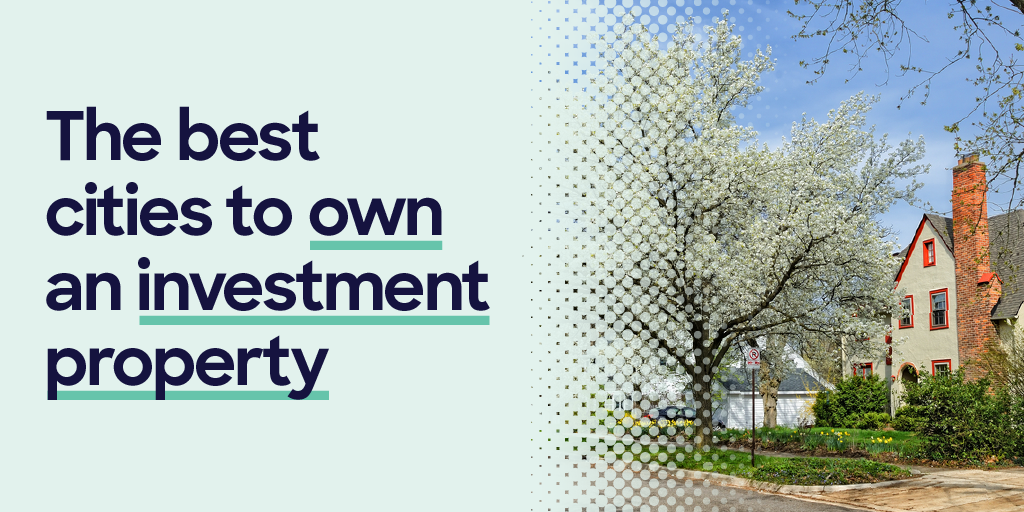 A home is a wise investment, even if you're not planning on living in it. For those looking for an additional source of income, buying and renting out a house is an efficient way to get more cash in your pocket. However, how quickly you can pay it off may depend on the location you are investing in. So the team at HomeAdvisor posed the question—which U.S. cities are the best and worst for rental investors?
To find out, we compared average mortgage costs around the U.S. to the average rate an Airbnb host earns from a one-night stay. Then, we calculated how many days of rental it would take to cover a host's mortgage in cities around the U.S.
Methodology
In June 2022, we found the median home value for 100 of America's largest cities using data from the National Association of Realtors (NAR), then divided the home value for each city into monthly payments. Our calculations included a 20% down payment and used a conventional 30-year loan with the nationwide average interest rate in July 2022, 5.5%. To calculate a daily mortgage payment, we divided the monthly payment by 30. Because several property factors (including property taxes, local regulations, competitiveness, etc.) vary drastically across the country, these data points are a rough estimation of national averages. These factors associated with owning a home make monthly expenses higher than just paying the mortgage.
It's important to note that obtaining a mortgage loan for an investment property is much different than the process for a primary residence. In this scenario, this would be a home you would rent out purely for money-making purposes, not a home you live in and rent out another bedroom or use as a second/vacation home. Typically, you'll have to put down a hefty down payment and jump through a few more financial hoops to prove you can afford the mortgage.
To determine how many days you would need to rent your Airbnb to pay the mortgage, we found the average nightly Airbnb cost in those cities. This does not account for factors including seasonality, market competitiveness, or property-specific amenities. Of course, a larger investment property in an ideal location with all the works will likely have higher profit margins than its lesser counterparts. Instead, the goal of this research is to provide a snapshot of the average nightly rates holistically.
From there, we found out how much Airbnb hosts make in each city to determine where hosts have the highest and lowest profit margins. We calculated the 3% service fee Airbnb charges hosts to accurately estimate the take-home profit as closely as possible.
How Many Days of Renting Would It Take to Cover Your Mortgage?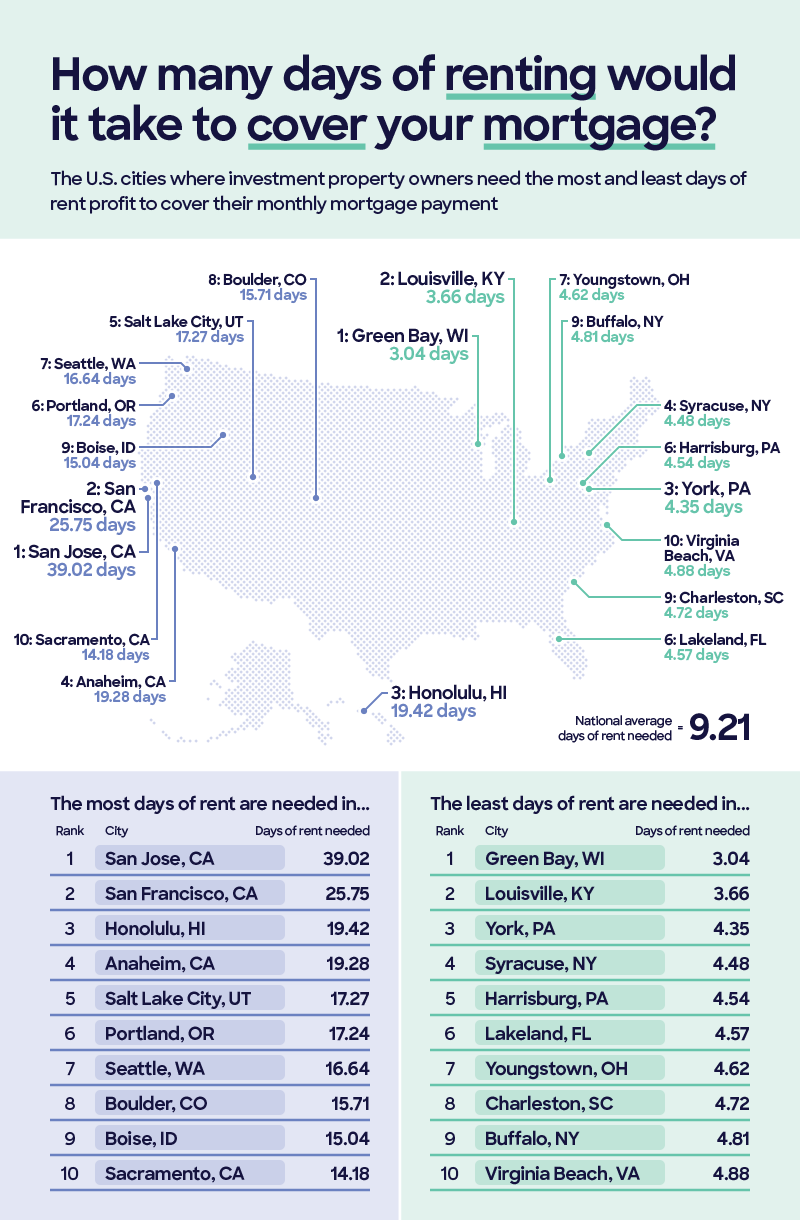 Based on average monthly mortgage rates compared to average nightly rental profits in the U.S., a host can make up their money spent each month in approximately 9 days. But of course, that depends not only on your rental investment's location but also on the amenities it has to offer, size of the house, pet-friendliness, and more
With fewer rental days required to pay off average monthly mortgages, Green Bay, WI, and Louisville, KY rank as the top two cities where hosts can see profits quickest. It only takes about three days of renting to pay off a month's mortgage meaning the host could make their mortgage payment in a weekend. York, PA, is the third-best city to pay your monthly mortgage rate quickly. Here it takes roughly four days of renting in York to cover the mortgage.
Nationally, several of the cities on the most profitable end fall on the East Coast, while the least profitable cities sit along the West Coast. This is likely due to high home prices and increased expenses, among other factors.
How Much Profit Can You Make From Your Airbnb Rental Each Day?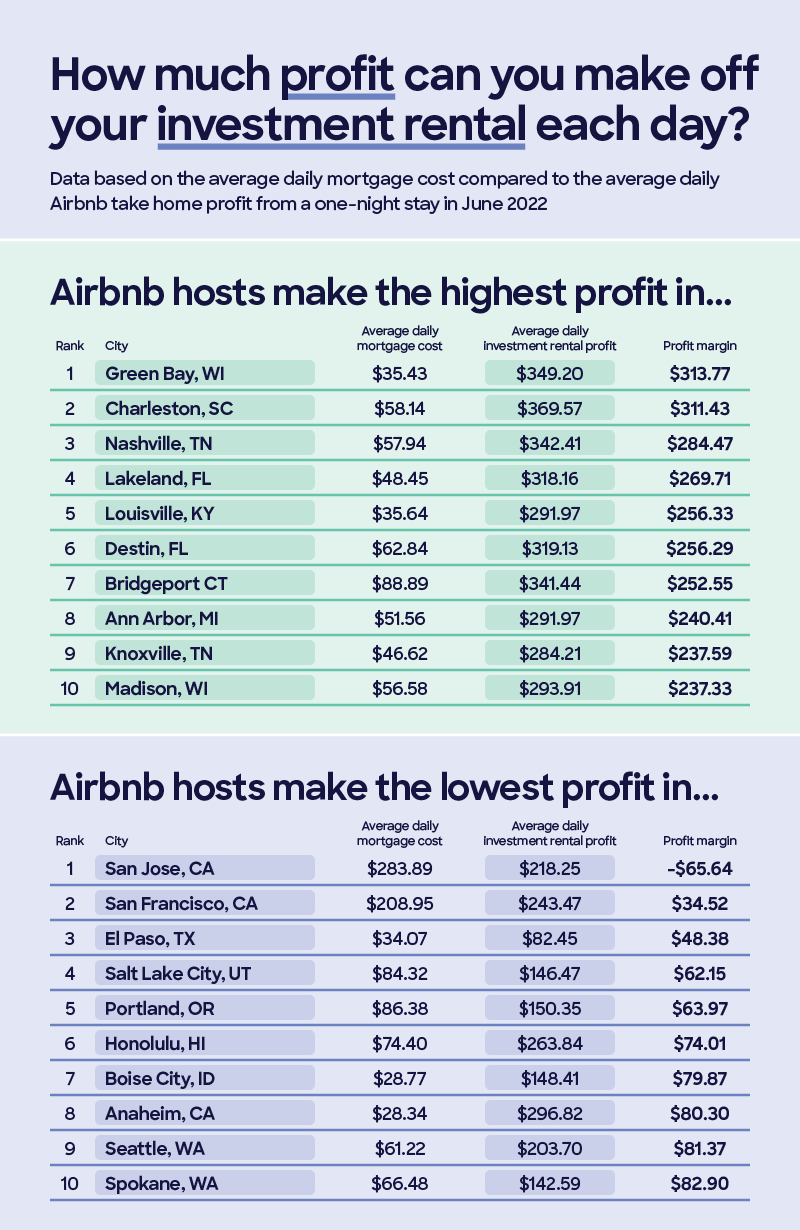 Speaking of the West Coast, think long and hard about investing in a rental property in California. While the national average daily profit margin is $138, California has three cities that sit well below that average. San Jose is a clear outlier in the data as the only city where the average host will operate at a loss. In fact, in the given conditions, it takes an average of 40 days of renting a San Jose Airbnb to cover the average monthly mortgage payment, which equals a negative profit margin of $65 per day.
In other parts of California, like San Francisco, it takes 26 days with a profit margin of only $34 per day. While Anaheim's profit margins aren't as stark as its California neighbors, it still falls in the ten cities with the lowest profit margins, with the average host only making about $80 on their rental a day. Another city that can eat into your profit margins is El Paso. Despite its Texan charm, you're only looking at a profit margin of around $48.
On the other hand, it's unsurprising to see cities like Green Bay and Charleston top the list of the most profitable. The East Coast continues to dominate the charts when looking at potential profits thanks to relatively low real estate prices and high take-home rental profits.
Top Three Most Lucrative Cities to be an Airbnb Host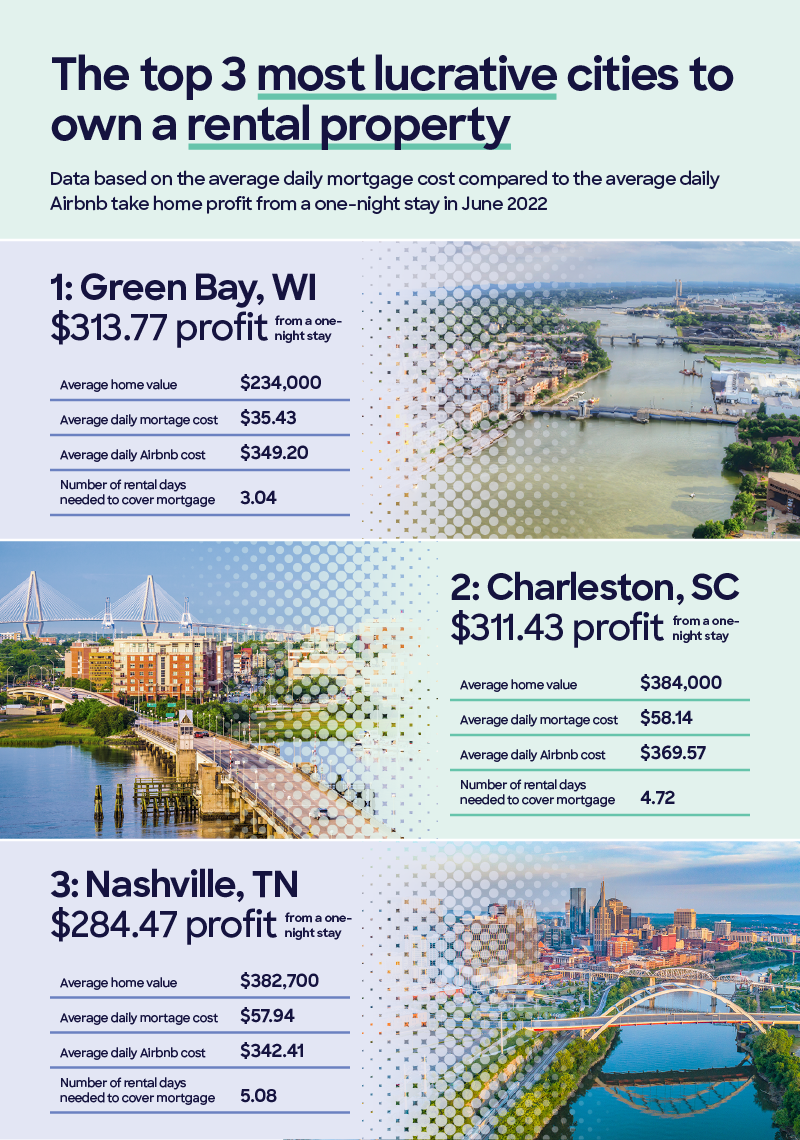 Next, we wanted to dive into the places that boast the title of most lucrative cities for rental properties, and explore what may be drawing visitors to those areas.
Renting a property isn't just for tourists—both locals and visitors alike can enjoy Green Bay, WI. It is best known for the Green Bay Packers and is located on the south peninsula of Lake Michigan. The average nightly Airbnb rate is $349, and the average daily mortgage cost is $35; this leaves the average rental host in the area with a possible $313 per day.
Close behind is Charleston, SC, taking the title of the second-best place for rental investors. Hosts can maximize their profits, thanks to Charleston's renowned top-notch attractions, fine dining, beautiful beaches, waterfront views of the harbor, and a wealth of hidden gems. Hosts in Charleston will profit around $311, with the average nightly cost of an Airbnb being $369 and the average daily mortgage cost is $58.
Rounding out our top three most lucrative cities is Music City. Nashville, TN, is the perfect spot for rental investors who want an excuse to explore the country music industry's history and booming nightlife. With average nightly Airbnb rates being $342 and the daily average mortgage rate working out to roughly $57 a day, hosts will bring home a profit of $284—giving them some extra cash to tip those talented singers on Broadway!
Closing Thoughts
With a hyper-competitive real estate market and inflation on the rise, it's time to start thinking about long-term solutions for earning additional income. Investing in a rental home in a desirable city can pay off. So if you're looking to start or expand your side hustle, Ann Arbor, MI Green Bay, WI, and Charleston, WV are great places to invest.
Need to get your rental property guest-ready? HomeAdvisor can help. Use our pro-finder tool to find top-rated home improvement professionals in your area.
No Comments Yet