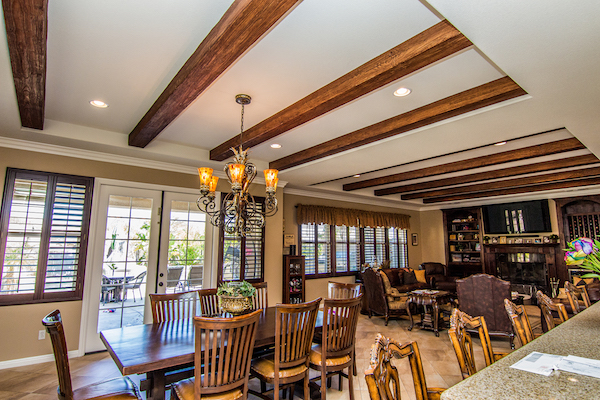 Wood beams are a stunning addition to any home. On top of their beauty, they also add character and a sense of history wherever they are used. And if the cost of real wood causes you to pause, there are other options out there. Structural beams can be framed in decorative wood to create the illusion of solid wood, and faux wood beams made of composite plastics are also available to the homeowner on a budget. Any way you cut it, structural or decorative, there isn't anything prettier or more distinctive on the market.
The Real Deal
There's something about the rustic appearance of a wood beam that sets homes decorated in this style apart from all others. Of course, if you built your home using timber framing or post and beam construction you get all the beauty of solid wood by default. For the rest of us, more decorative options are the best solution. If your budget can handle it, there's really no comparison to purchasing beams made of solid wood for your home. They come in hemlock, chestnut, pine, oak and even maple and birch, and can be sanded, stained, polished, or rough hewn depending on your taste. Solid wood is more expensive, both for materials and installation (a single solid wood beam can take up to 6 men to install), but its well worth the expense if you can afford it.
Faux Wood
Not to be outdone, faux wood beam manufacturers have sprung up across the country to offer more cost-effective solutions to homeowners looking for that classic timber beam look. These composite beams, usually made of polyurethane plastics, are virtually indistinguishable from the real thing. Besides being a lot cheaper, these beams are also much easier to install because they are so lightweight in comparison. This also makes them an option in homes that can't handle the heavy structural demands of installing solid wood varieties.
Design Ideas
While most homeowners think of a single beam running across a high ceiling, the design possibilities of decorating with wood timbers is limited by only one thing—space. They look great as decorative trusses in cathedral or other high ceilings, as well as in smaller rooms as a decorative trim. If you just can't get enough of the antiquated, old charm of wood beam construction, think about installing them in regular patterns across lower ceilings as well. You'll feel like you're in a medieval cottage every time you walk into the room.
Talk to the Experts
Because of their weight and size, improper installation could result in damage to your home, and more importantly, could present a serious safety risk to you and your family. For that reason and others, it's best to talk to a contractor experienced in installing wood beams to ensure you'll be able to enjoy this look worry free for years to come.
No Comments Yet