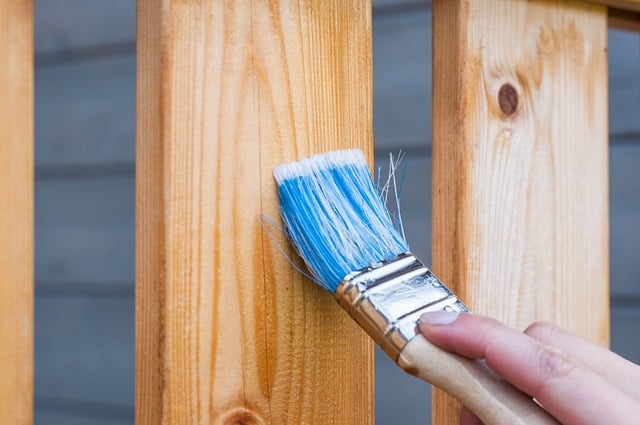 So you think you're pretty handy, huh? You have fixed some plumbing problems and serviced your air conditioner, and now you're ready for a larger project like laying tile, putting on a new roof or building your own fence. More power to you. Be careful! Sometimes DIY projects gone bad can cost more than just hiring out from the start.
General Do-It-Yourself Tips
Before entering into a project, it may be a good idea to take a trial run. Never try out a new skill while working on a permanent endeavor. The end result could be disappointing, which means you have to tear out and begin again or call a contractor to get you out of a jam. For instance, when installing tile, buy an old table at a thrift store, lay down some guides rods (wooden dowels do the trick) and practice laying it before installing it. Or when painting rooms, start with the smallest area first to see how the paint color looks and to gain some hands-on training before moving on to the kitchen or living room.
Preparation for DIY Home Improvements
If tackling a large project (building a deck, replacing a roof, painting an interior) apply the brakes before your begin. Preparation saves you tons of hassles: trips to the store, additional labor and costly replacement parts. First, if installing a new addition, check local codes to see if it's legal. Then, draw up plans and don't rush. Take a few weeks to think about the project. Let your ideas percolate before going to the hardware store. Then make a thorough list and buy in multiples when it comes to brushes, rollers, and other small items. And always consider safety beforehand: shutting off electricity or waterlines, wearing goggles and boots and making sure the area is barricaded from passersby.
Best and Worst Candidates for DIY Home Improvements
Part of this calculation has to do with the perceived difficulty of the project. Drywall repair, for example, is a viable DIY project but still more complicated than many people realize, frequently getting them into trouble. In this sense, drywall repair might be considered as both a great and poor DIY candidate—the same could be said for laminate flooring, as well as several other projects.
Other projects simply shouldn't be considered as two separate categories, depending on whether it's a DIY or professional. Deck building and fence building, for example, are viable DIY projects. But taking these projects on yourself might result in structures that cost $2,500 instead of $8,000 in the case of a new deck and $500 instead of $3,000 in the case of a new fence. Yet, the structures built by capable homeowners will often have comparably short life expectancy because you simply can't match the expertise and precision of professional installation.
Additional Do it Yourself Tips
Heady, not Handy, DIY Projects
One interesting do it yourself tip is to expand what you consider as do it yourself. Many homeowners don't even entertain the idea that they can serve as their own general contractor or project manager for their major home renovations and remodels. In many ways, serving as your own project manager is easier than other do-it-yourself projects because all you really need is the patience to research and internalize the remodeling process. No hands-on experience is required. Many "handy" homeowners aren't attracted to this idea because it's not as exciting as working with their hands. To this end, you need to ask what's more important: being able to say you did it yourself or the overall value of your home improvements.
Find a Support Group
Never face a project alone; most situations call for a crew. Whether it's moving, clearing the garage or painting a house, never feel you have to take it on single-handedly. Most people don't mind helping, as long as you return the favor someday, and it's a great way to earn a new friendship with a neighbor. Plus, more hands also means more heads. It never hurts to have additional advice on how to complete a project. As for pay, friends and family are great forms of cheap labor, so treat your impromptu employees well. Afterwards, pay them with a pizza, beer, or small gift (cookies, gift certificates, or a promise to help them when the time comes).
Know When to Fold Them
The sign of a true handyman is knowing when you're in over your head. A do-it-yourselfer who is able to ask for help obviously values their home over their ego: it's the sign of a true professional to know when to say when. If things get too big, complex or demanding, call a service professional to help with the project. There's no shame in it, especially if you consider the money and time you'll actually save in the long run with proper installation or repair. However, this doesn't mean you can't help. Before the experts arrive, you can still remove old parts, demo preexisting construction and prepare the areas as best you can to help the project go quick and easy.
No Comments Yet