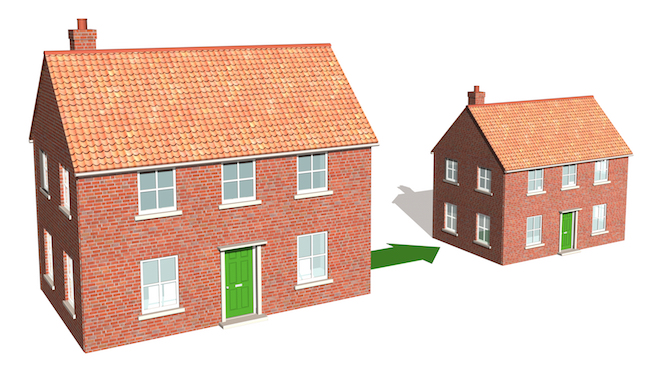 Downsizing isn't living with less — it's living with what's important. In fact, having fewer financial- and maintenance-related responsibilities will allow you to focus more on your happiness and less on your home. Here are a few tips to help you get started:
Size up your downsize
Exactly how small should you go? For starters, think about your current home. Take note of vacant or unused rooms and plan your new home around your must-have spaces (e.g., your gourmet kitchen or comfy home office). If you have lots of family, consider including a guest bedroom/bathroom in your new home. An extra room will make guest stays more convenient for you and your company.
Empty your closets
If you've been in your home for a decade or longer, you probably have memories packed into every drawer and closet. As you begin to sort your possessions, divide items into three piles: yes, no and maybe. Parting with memories is tough, but unless an item has specific meaning, let it go.
P.S. Family heirlooms are important. If you don't have the room in your new home, rent a storage space to house special items.
Choose your neighborhood
Downtown: Many urban or city-center neighborhoods offer condos and townhouses that are smaller than detached homes, but make up for their lack of size with maintenance-free luxury (i.e., no yard). These neighborhoods also tend to be pedestrian-friendly. Groceries, entertainment and shopping are usually just a few blocks away.
Midtown: If you prefer more space, look for neighborhoods that offer small, two-bedroom bungalows. Although these downsized homes sometimes require maintenance, you'll have the benefits of a stand-alone home with the cultural vibrancy of a downtown neighborhood.
Stay where you are: If moving downtown doesn't suit your needs, consider downsizing in your current neighborhood. By remaining close, you won't lose access to the conveniences and amenities that you've grown to love.
Retirement communities: Most retirement villages boast impressive amenities, regular social events, a wide variety of accommodations and a high degree of independent living. If you're active but want to avoid yard and home maintenance, retirement communities are a great way to downsize in style.
Vacation spot: With a few changes, your cabin or beach house could become the perfect downsizing solution. Before moving in, make sure that the surrounding community and home itself are suitable for full-time living (without a gigantic remodel).
Maximize your happiness
It's important to reward yourself during your downsize. Make sure to set aside money for decor and creature comforts. If you've always dreamed of a certain design or entertainment feature, include it in your downsize.
As you treat yourself to a few extras, remember to keep your new space organized. Because you're living in a smaller home, any kind of additional clutter will be immediately noticeable. Tools like under-stair cubbies, bench shelves, under-bed shelving and organized closets are helpful in keeping an orderly home.
No Comments Yet