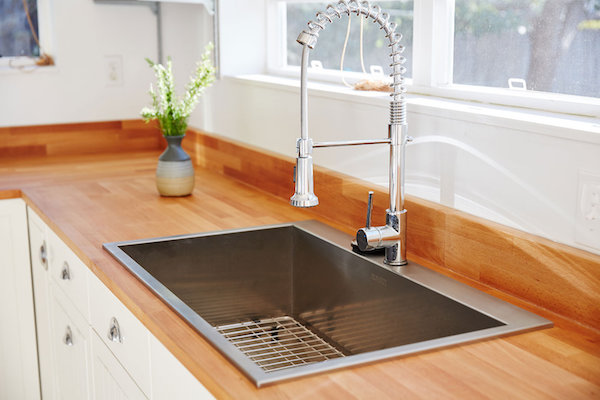 There are all kinds of choices out there when attempting any large remodel. And since most home improvement projects start in rooms with the most function, the limitless decisions can often get you in trouble. In fact, due to the overwhelming amount of options on the market, most remodeling jobs end before they even begin. So to make the process easier before venturing into a renovation it?s smart to outline a basic design concept you want to follow. Once the style side is figured out, the selection becomes smaller and the pickings come easy. However, when deciding on a décor, design around the practical stuff first (surfaces, floors, appliances, etc.) before getting distracted by the frills. And the first major decision you?ll have to make will probably be your plumbing, so selecting a proper fixture as a centerpiece should be amongst your primary priorities.
Basin Basics
More so than the toilet or tub, sinks are by far the most used fixture in the home. Think about how many times you use them during the day: cooking, shaving, washing hands, rinsing dishes, making drinks, and anything in between. So highlighting them is always a wise idea. However, there are tons of choices out there, not just in terms of materials but installation style as well. For baths, vessels sinks are very elegant and stylish but they also take up a bunch of room on the counter. Pedestal sinks are great for freeing up counter space and square footage but lack storage areas and vanities. Undermount sinks are sleek and chic, but they also require expensive installation methods and special countertops to hold their weight. So for the most pragmatic and affordable option that can still give your room some oomph, drop-in sinks are the best all-around choice.
What's a Drop-in Sink?
Also called a self-rimming sink, these fixtures are seen as the plumbing standard since they?re the most popular variety on the market. It?s called a drop-in kitchen sink due to the design: they are literally inserted into the cut-out from the top side of a counter and hang from an overlapping flange, or rim. The reason behind their popularity is shear affordability; plus, they can be easily installed into any stock countertop. Typically, many counter cut-outs tend to be standardized, allowing you to buy any kind of drop-in bathroom sink despite depth, shape, or size, and still have a good chance it?ll fit.
Making a Drop-in Sink Unique
Though a smart investment, drop-in bathroom sinks often come with one large dilemma: how do you make them stand out. Sure they?re practical and affordable, but if you want it to be a highlight or to fit in with your interior design, you may want to think outside the box. Though they?re standardized to fit most countertops, a good way to showcase the fixture is to choose a rare material since they?re available in copper, acrylic, stainless steel, granite, glass etc. Also, think about customizing your installation. Invest in a spread faucet design, tailor it to a farmer sink shape, or possibly even half-drop it: buy an interesting vessel sink and immerse it half-way into the hole for a distinct spotlight.
A Few Quick Tips
One: If you go the customized route, it may be a good idea to hire a professional for the installation. Not only can these experts put in your drop-in bathroom sink, they can also help you with the selection of materials and design.
Two: If you have high-end countertops, such as granite, make sure you spend the extra money on high-end fixtures in order to create a perfect match. In fact, since it?s important to show off natural stone a drop-in kitchen sink may not be a good idea since they partially cover the surface, hide intricate edging, and can collect grime around the rim.
Three: However, drop-in sinks are perfect for laminate counters. Undermount fixtures reveal the cut of a wooden edge whereas self-rimming items cover up unsightly construction. Once again, hiring a contractor is the way to go to make sure everything is tight and snug. There?s no need to take unnecessary risks when it comes to the quality of your plumbing since any installation mistake will cost you a lot more in the long run.
No Comments Yet