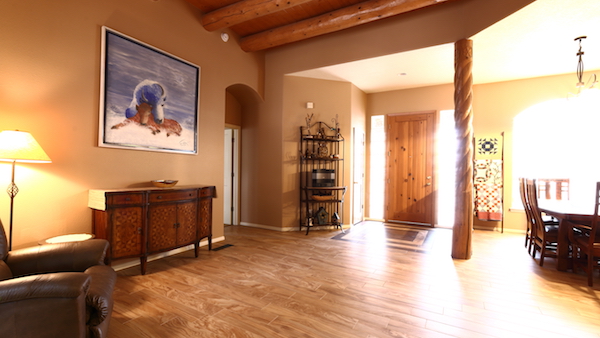 Too often people don't take the time to properly consider and adorn their home's entryway. This is because the entryway is a hallway and not a room in the house. Yet, you should remember that an entryway is the first impression a visitor has of a home's interior. It needs to be functional but also needs to introduce the rest of the home. Have you considered these accessories for that opening hallway that greets each and every person that comes through your front door?
Entryway Bench
The entryway bench can be the perfect accessory as it fills the need for storage and for sitting. This can be a place for little items that you may carry in and out of the house on a frequent basis, and some extra storage is never a bad idea. You can find an entryway bench that is closed and acts and looks almost like a hope chest or you can have a more open, decorative bench where you can store papers like mail that want to look through later. An entryway bench also provides you with a place to sit. Do you have a household member that always seems to be lagging behind while you're already prepared to go out? Sitting down on the entryway bench will allow you to be more patient but still let the person know you're ready to go.
Entryway Table
If you don't like the idea of a bench, a small table may be the way to go. It provides an easily visible space to place important items that you don't want to forget on your way out. An entryway table also gives you more size options. If you have vaulted ceilings, for example, a higher, smaller table might better fit the feel of your home. An entryway table tends to work well in conjunction with a lamp or plant, giving your home a more welcoming tone for a guest.

Ready to start your
entryway design

?Find Pros
Coat Closet
Many people find a coat closet is a must. During the winter, you're going to be wearing coats and other extra clothing that you're only going to be wearing outside. It makes life easier if you don't have to drag all these extra items through the house or struggle to find a place to put them. See about having a coat closet built custom next to the entryway or converting a space into a coat closet if possible. If you don't have room for a coat closet, a coat stand or coat rack may also work. These accessories can be decorative as well. Try to think of a coat rack as more than just pegs on the wall and then try to make them look like more than that. A coat stand should be made from a wood or material that introduces your home. If your entryway is tile but your living room is hardwood, see if you can find the same hardwood for your coat stand.
Other Accessories
While a bench or table is going to take you a long way in making your entryway live up to the rest of your home, it's also important to put some smaller accessories around them. Think of lamps or other lighting, mirrors, plants and welcome mats. Don't feel like you have to go overboard. All four of these items around a piece of furniture in a small area is going to look cluttered, so think about what's most important to you. If your lawn has a garden, a plant is going to enhance this theme. On the other hand, if you're the kind of person who wants to make sure you look your best before you leave the house, a mirror is probably the way to go. Consider what space you have available, who you are, and what your home is already saying—then decorate accordingly.
No Comments Yet