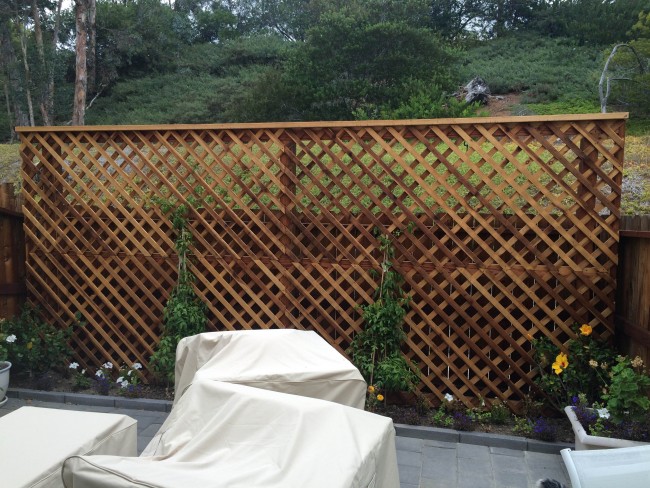 When you think of a trellis, you probably think of a freestanding lattice structure used to grow climbing plants such as roses, vines, and hydrangeas. Though this is certainly their prominent function, a garden trellis can be quickly transformed from a simple decoration into an innovative design feature. By combining their aesthetic ability (displaying natural landscaping) with their structural capacity (erecting non-evasive partitions), you have the chance to add a sensible, yet eye-catching piece of architecture to your home.
Innovative Designs
A trellis can be an inexpensive way to enhance your home's exterior. They come in all shapes and sizes, ranging from classical to contemporary styles, but they all share the same core design: vertical grids. However, like any traditional structure that has been time-tested throughout the ages, these landscaping structures have been "re-invented" and put to use in some fresh, creative ways.
Decorative Flourish: The most common modernization of a trellis is moving it from the garden to the house. By installing a simple grid to the side of a home, boring aluminum siding can now be transformed into an interesting accent wall.
Cover-Ups: If you have an unsightly utility box, air conditioner, or pool motor ruining the look of your home's exterior, a small lattice enclosure can house these appliances with an added touch of beauty.
Privacy: Is it against your homeowner's policy to erect a fence around your yard? Or do you not want to pay the expense of barricading your entire lawn with ugly planking? A single trellised wall is a simple way to add an extra bit of privacy to a home without closing off your property. This is especially useful for decks: by installing some latticework around its perimeter, you now have a small enclosed area yet don't feel imprisoned in your own back yard.
Barriers: If you don't want to be bothered by a busy street, driveway, interstate, or sidewalk near your home, then a garden trellis is a simple way to barricade yourself from nuisances, while still maintaining an elegant exterior.
Pathway: Maybe you have an extensive landscaping system with intricate paved sidewalks; lattice partitions are a great way to designate a pathway through your yard.
Gates: Some simple latticework is a great way to brighten and enhance an entryway or gate. Many times you don't even need climbing plants for these structures to look stylish.
Interesting Combinations
A garden trellis doesn't just have to be a tool for growing plants. Make it into a meditative retreat by putting furniture around it or installing a small bench to its grid-work. In fact, if you like to relax in your garden often, use the lattice in combination with a pergola design to create some shade. You obviously spent lots of time and money on your landscaping, so why not create some permanence to your backyard and install a small shelter so you can enjoy your handiwork.
Tip: If the main reason for investing in a trellis is solely the plant life, then make sure the structure is made of proper materials. Once the climbing plants wind around the latticework, it is hard to maintain the structure itself. If you buy a metal product, the only problem you may have is rusting (which can possibly create a nice rustic look to the structure). But if you buy a wooden one, make sure it has been pressure treated since some plants can tightly grip onto the framework.
No Comments Yet