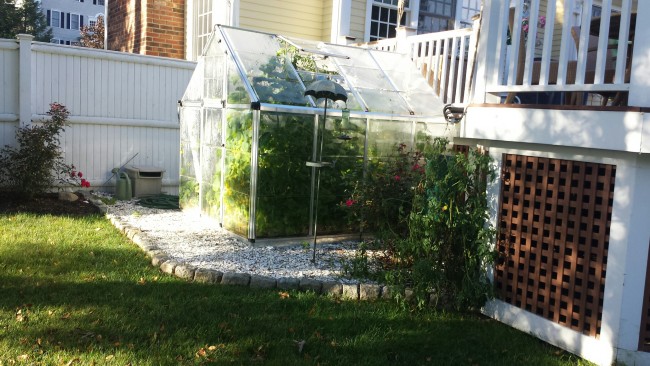 Greenhouse design is dependent on how you intend to use your greenhouse and your budget. There is a wide range of materials and equipment available to choose from, with an equally wide range of costs and uses. That being said, it's important to educate yourself on what's out there before you shop, so that you get what you need and stay under cost.
Greenhouse Covers
Installing the right greenhouse cover is perhaps the most important part of greenhouse construction. It determines how much light gets through, how much heat gets trapped in, and it can play a large role in determining the life span of your greenhouse. When it comes to greenhouse design, the cover is not a place where you want to pinch pennies.
Glass—While traditional greenhouses were covered with glass, this is one of the least efficient, heat-retaining materials, and one of the most fragile. Unless you purchase specialty reinforced glass, this is a cover you should stay away from.
Fiberglass—Fiberglass is an excellent choice for greenhouse construction, since it scatters light to create a virtually shadowless greenhouse. Fiberglass usually comes in corrugated form and is translucent rather than transparent. It also retains heat much more efficiently than glass. The only downside: fiberglass will deteriorate from sun exposure over time if it isn't regularly treated with a protective gel.
Polycarbonate—UV-treated polycarbonate provides much of the clarity of glass, yet is stronger and more resistant to impact than other greenhouse glazings. It also diffuses light well to minimize shadows in the greenhouse.
Polyethylene Film—Polyethylene film covers about 90 percent of all greenhouse square footage in the U.S. Its popularity with commercial growers is due to its low cost and simple maintenance. Unfortunately, it rarely lasts more than two to five years, which turns off many homeowners.
Greenhouse Frames
Once you've settled on a cover, you're ready to move on to the next step in greenhouse design and choose the material for your frame. Your choice of framing is going to depend in a large extent on the cover, since different covers require differing levels of support.
Galvanized Steel Frames—Galvanized steel is used in most commercial greenhouses because it is long lasting and inexpensive. It also requires less framework than other options, due to its strength, which means more light in the greenhouse. It is usually covered in polyethylene film.
Aluminum Frames—Aluminum frames are usually used with glass or rigid coverings such as polycarbonate. It can be anodized in many colors and has low-maintenance requirements. It is not as strong as steel, so it will require more extensive framing and cause more shadow, but it's still considered an excellent framing material.
PVC Pipe—PVC pipe has become increasingly popular as a frame for greenhouses over the last five to ten years because of its rock bottom cost, portability, and ease of installation. This is the most economical option when covered with polyethylene film, though it won't hold up to severe weather or harsh winters nearly as well as other materials.
Other Greenhouse Equipment
Though the frame and cover are the most important aspects of your greenhouse design, there are many other options to consider. Installing lighting, heating, cooling, and ventilation systems are all critical if you hope to have a successful, year round greenhouse. This is where your budget really comes into play. If you don't have any limitations when it comes to cost, you can build your own botanical garden right in your own backyard. If the final price is an issue, then you'll want to evaluate your greenhouse design carefully to see which extras you can do without. A contractor experienced in greenhouse construction and greenhouse design is a great resource when it comes to designing, and putting up, a greenhouse that both fits your budget and meets your needs.

Ready to start your
greenhouse construction

?Find Pros
1 Comments