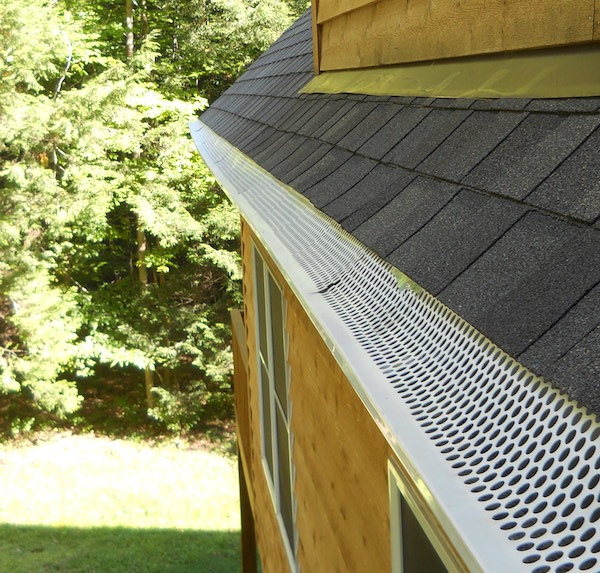 Another weekend wasted hanging from the edge of a roof, balanced on a wobbly ladder, removing muck from rain gutters. Sound familiar? Attacking clogged gutters is a messy job, but absolutely necessary. If they aren't constantly cleared from debris, it defies the entire point of having them, unless you want obstructed downspouts and rainwater spilling over onto the side of your house, creating needless damage to your home's foundation and siding. But if tackling them has become an overwhelming chore, you may want to invest in a better defense system: gutter leaf guards.
The Options
Gutter leaf guards come in two styles, gutter screens and surface tension models. Both products come with their own pros and cons, but could also save you some time and energy from those weekend to-do lists:
Gutter Screens
It's simple. Instead of leaving your rain gutter open to debris, a mesh barrier is applied over the top of it. The lattice perforations come in a variety of sizes (large metal holes like chain link fences or small webbed panels like a colander) in order to block any solid debris, such as leaves and sticks, from entering into the gutters while still allowing water to run through them.
Con: Though they can catch large fragments, smaller debris can still fall through the holes and clog things up. Even models with tighter perforations may catch all the rubble, but if any debris collects on the top of the mesh for too long, water won't be able to fall through. Therefore, these models will still have to be cleaned every once in awhile.
Pro: Though they have to be cleaned every now and again, the clean-up is usually less messy since the debris is simply resting on top and doesn't have a chance to decompose within the gutter itself. Also, even if leaves and muck do fall through the holes, since gutter screens are still partially open to the outside, you'll be able to easily see the debris and gain access to it with a hose, allowing for easy clean-up.
Surface Tension Models
These also fit right over your pre-existing gutters, but they entirely enclose the opening, leaving only a small slit between the guard and the gutter. They have a rounded rim that curves back toward the house, so as the rain comes down, it naturally waterfalls through the slit and collects into the gutter while the large, heavy debris rolls right over the edge.
Pro: They certainly are effective at removing the debris, and with their high tech design you'll hardly ever have to clean them out.
Con: There is no such thing as a perfect gutter leaf guard, so smaller debris will probably still enter them eventually. And with these models, since they are almost entirely enclosed, it's difficult to gain access to clean them.
But Is It Worth It?
This is the crucial question: Does the initial cost balance out the end result? Most gutter screens are fairly inexpensive, while surface tension models can be a bit more pricy. Plus, you'll have to consider if you want to install them yourself or hire a professional to do it. You may have to consult a contractor anyway just to see which model will work best for your pre-existing rain gutters.
But Consider This: How many times a year do you clean your gutters? How much does it take away from your family/social life? How much do you pay a professional (or the kid next door, or your own child's allowance) to do this chore? Balance that with the one-time expense of a leaf gutter guard installation and you may see that these products tend to pay for themselves in the long run.
No Comments Yet