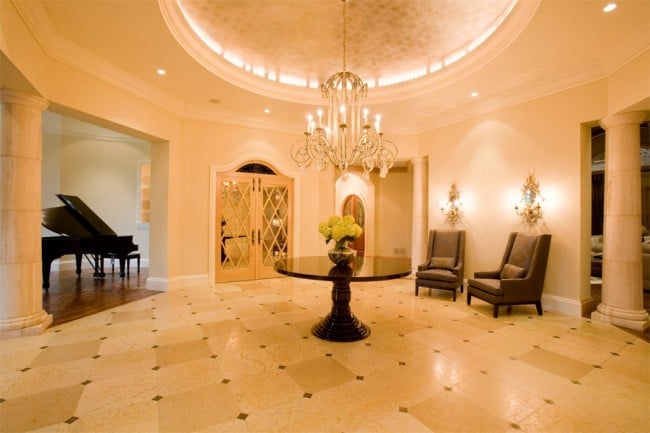 An attractive, welcoming entrance does more to greet friends and family than any other element of your home's exterior. But, don't forget that your entrance is much more than just your front door. Your walkways, your landscaping, your lighting and your front porch are all part of that first entry impression.
Most front entrances do little more for your home than serving a purpose, letting occupants and visitors in and out. Ironically, this is also an area where you can make a huge impact without breaking the bank.
Take a look at the front of your home. Does your front door have any accents? Trim work? Is the paint cracking and peeling? What is the state of your landscape? Does your current lighting scheme work?
Here are some easy ways to make a big difference in your front entry:
Doors
Replace the old door with a newer model of the same size. This will spare you the cost of resizing the opening, and still give you a lot of bang for your buck. Many models are built to fit into existing woodwork, which will also spare you the cost of having to replace the entire unit.
Add an attractive storm door to protect the entry door and keep heat inside in the winter, and bugs out in the summer. Choose a door with a movable sash to allow for more flexibility.
Trim the exterior of the door with finish carpentry such as columns and a crosshead pediment to extend the width of the door. Ask your carpenter about high-density urethane foam millwork, a great option to high maintenance wood.
Lighting
Outdoor lighting can go a long way to create a warm welcoming effect for your guests. Lighting installed above or at both sides of the front door are good options.
Routinely check that all front lights are working and be sure to turn them on in the evening. You don't want guests tripping because they can?t see well.
Adding ground-level lighting along your walkway. Solar-powered lights are an easy-to-install, inexpensive way to go.
Walkways
Keep walkways swept free of debris and the clutter of children's toys. Not only does this look nicer, it prevents accidents from happening.
Make that dingy walkway look brand new again by getting it power-washed.
Porch
Add inviting, comfortable chairs to your front porch. This creates a welcome setting, not to mention an additional room, in the summer months.
Consider adding a hummingbird feeder or plants that attract butterflies around your porch. The sights and sounds of nature can add a very peaceful feeling.
Landscape
Maintain your landscaping by keeping shrubs trimmed and weeding the area. An overgrown landscape gives the impression of an unkempt home, as well.
Cut some fresh flowers from your garden to display just inside your entryway. This brings a little of the outdoors in and creates continuity from your front entrance walkway into the home.
No Comments Yet