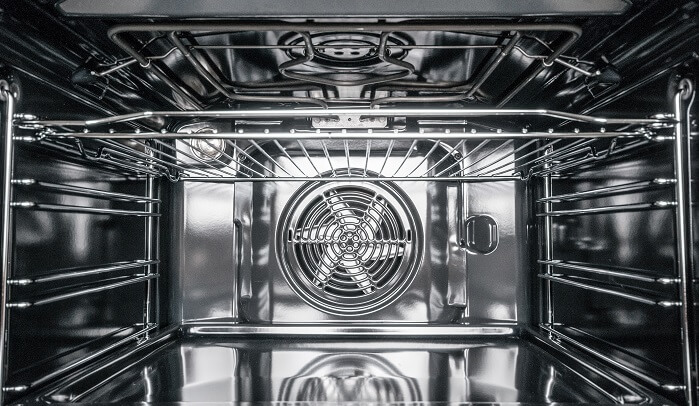 July 16, 2021
Reviewed by Asya Biddle, Cleaning Services Professional & Owner of The Dust Busters, Williamsport, PAWritten by HomeAdvisor.
Most ovens get a lot of use throughout the week. Over time, cooking and baking can create buildup in the oven that is difficult to remove. While it's easiest to hire a maid service or professional to clean your oven, you can also DIY this project.
Tips for Self-Cleaning Ovens
Most recently manufactured ovens come equipped with a self-cleaning feature. This makes cleaning this appliance much easier – simply follow manufacturer instructions and then wipe excess dirt away. Here's how this feature usually works:
The oven is turned on to an extremely high heat, causing food to disintegrate into ashes.
Once the cycle has completed and the oven is cool, you can wipe the oven clean with a rag.
Depending on the model, you may need to remove the oven racks and clean them in hot, soapy water.
Tip: Leave your windows open and keep air circulating throughout your home during the self-cleaning cycle to help dissipate any smelly cleaning fumes.
Cleaning Regular Ovens
Cleaning an oven without the self-cleaning function is a bit trickier, but it can be done. Just follow these steps:
Remove grates from the oven and soak them in hot, soapy water. Scrub clean and set to the side until oven is clean.
Fill an oven-safe container with water and the juice of one or two lemons.
Place container in the oven and heat until the lemon water mixture is boiling.
Turn off heat and leave door closed, allowing the steam from the mixture to soften food debris.
Once the oven is cool, remove the container and wipe out debris.
You can also purchase oven cleaner, but just be sure it's compatible with your oven and follow all directions. Remove your oven's grates and spray them with the cleaner and then spray the inside of the oven evenly. Allow the cleaner to sit for as long as directed and then wipe it away.
Professional Oven Cleaning
Cleaning up right after cooking is the easiest way to maintain a sparkling oven. But if you run out of time, get distracted or face a tough spill, hiring a local professional to regularly clean your oven is an option to keep your family safe and your appliance functioning properly.
No Comments Yet