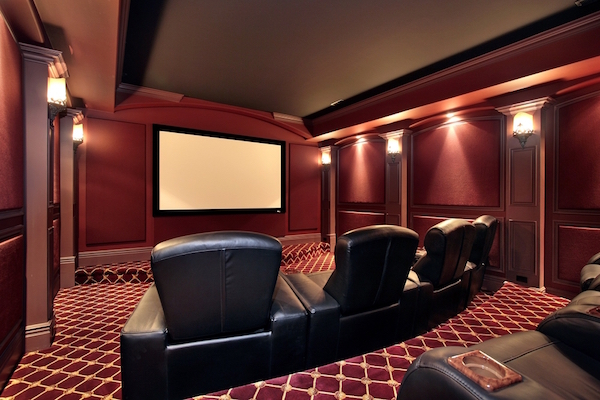 A home theater installation requires more than just plugging in all of your new equipment and sitting down for a movie. You'll be faced with where to put your new equipment, what to do with all those wires, where to place your new speakers, as well as other often overlooked aspects such as lighting and, in some cases, actual remodeling of the new theater area. In order to ensure your home theater installation goes as smoothly as possible, here are some basic rules to follow in order to get your new home theater up and running.
Plan Ahead
As with any major home improvement project, perhaps the best thing you can do when it comes to home theater installation is to plan ahead. Never buy a home theater system on impulse. Instead take some time to sit down and figure out where your system will be installed and any special demands that will place on you.
Will you need to rearrange furniture to accommodate your new purchase?
Is your designated space big enough for the system you've got your eye on?
Don't forget about existing outlets and where you might run your wires.These considerations can play a large role in determining where your new system ultimately finds a home.
Prep Steps
Once you've made your purchase, don't wait for your new theater system to show up before you get things ready. Rearrange furniture accordingly, and pre-cut and lay down necessary wires prior to the unit arriving. When you're buying speaker wires and other wiring, don't cut corners. Quality wiring will make the difference between satisfactory and superior sound and picture. Also, cut your wires at least 10 inches longer than what you think you'll need so you'll be able to accommodate the unexpected.
Lighting
A home theater installation is often a bigger project than just moving the couch. Since you're already making a significant investment, consider going the extra mile to make sure everything is perfect when your system arrives. Lighting is a huge consideration, as unwanted glare or improper lighting can ruin a good picture. Think about installing recessed or track lighting so you can enjoy an optimal picture from your new setup without reflection or glare, and always be sure to have a dimmer switch installed so you can adjust with your home theater's lighting until you get it absolutely perfect!
Optimizing Space and Improving Looks
Don't rule out larger projects, either. If you've got enough space (or need more space) you might consider a total remodel to make the most of the room you have. Think about having special nooks or crannies built into the walls to house your equipment, and look into built in entertainment centers, cabinets and even movie theatre seats as well. You don't just want your movie to look and sound good, you want your entire theater area to turn heads. Custom building your home theater is an excellent way to get optimum functionality and looks.
Final Considerations
First of all, once your system is installed, always take the time to label and mark wires, equipment and the like. It will make troubleshooting and future repairs a lot easier if you know where all the cords and wires coming out of your receiver are heading. Also, don't shy away from having a professional do the complicated stuff for you. Most electronic stores provide expert installation for free, or for a small extra cost, with a home theater purchase. And if you really want to get the most out of your system, talk to a specialist in audio/video design and installation to help you custom design the best home theatre system for you.
No Comments Yet