A floor-to-rafters remodel brings a basic ranch home back to life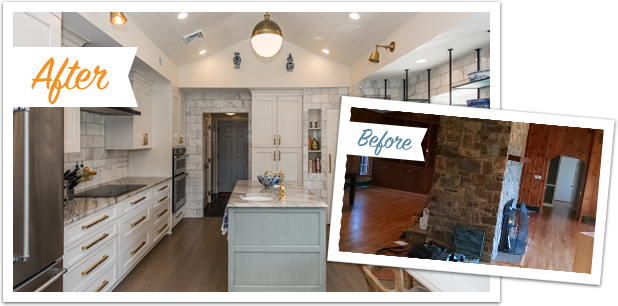 When Danielle Heller bought a dilapidated 1964 ranch, she knew that restoring her home wasn't going to be easy. Achieving her daring design ideas was going to require the help of a flexible pro who wasn't afraid to take a risk. Here's how Danielle and an imaginative contractor transformed a basic ranch into a custom-made masterpiece.
Speaking the Same Language
After working with several pros who didn't understand her goals, Danielle was frustrated. But when she met George, President of FineCraft Contractors, she knew she had found the right pro. "He had ideas, he had courage, and he wasn't acting like my ideas were too bold or undoable," Danielle said. A shared vision wasn't only helpful to Danielle, but also to George. "I had somebody that I could communicate with," he said. "It was mutual respect, and our ability to see things the same way that made the whole thing work."
Opening Up a Smaller Home
Danielle's new home was half the size of her last house, which made opening up the home a major focus of the remodel. George's first solution was to remove the old fireplace. "It was in the middle of the house and took up a lot of space," George said. "It was a like a giant old dinosaur."
After removing the old fireplace, FineCraft installed a modern hearth at the end of the new family area. Increasing natural light was also an important part of expanding Danielle's home. FineCraft installed skylights and enlarged several windows. "Danielle was on a trip when we started putting in the windows," George said. "When she got home she couldn't believe how much they changed the space."
FineCraft also increased the ceiling height in the kitchen, master bath and living rooms. Raising the ceilings opened up the entire home and transformed the entrance and living space into a great room.
Storage Becomes a Main Focus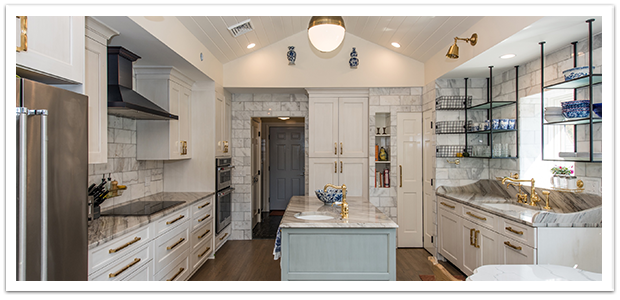 With reduced space and two daughters, Danielle emphasized storage and organization as fundamental to her home's design. Installing a mudroom allowed Danielle to keep clutter-causing items like jackets and shoes out of living areas. The kitchen was also an important part of her organizational plan. "We hired a kitchen designer to mold the space to our needs," Danielle said. Her layout included an emphasis on drawers, pantries and walk-in spaces. FineCraft also created custom cabinets to improve storage. Open shelving was an additional part of the design. "The shelving was all custom made — people absolutely love it," Danielle said. "They also make unloading the dishwasher and storing everything so easy."
Walk-in pantries, floor-to-ceiling cabinets and open shelving maximize kitchen storage.
The FineCraft pros removed Danielle's old kitchen cabinets and repurposed them for her family room. The new addition created a gorgeous focal point and provided much-needed storage. Re-using the old cabinets instead of purchasing new saved between $15,000 to $20,000 dollars, says Danielle.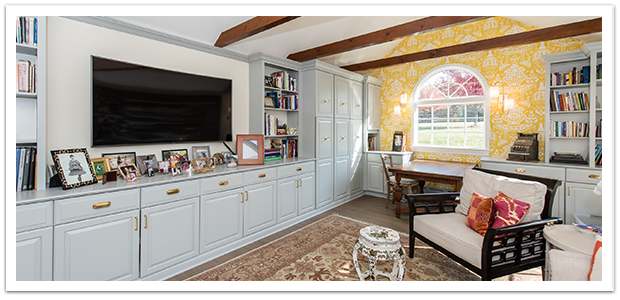 Adding Custom Details
"The other challenge I had was working with Danielle's insatiable love for tile," George laughed. Fortunately, he knew what to do. He brought in FineCrafts' best tile pros, George and Mario, to cut and install the huge variety of tile. It took three months, but Danielle was very happy with the finished product. "People go crazy over the tile work," Danielle said. "I really appreciate that George and Mario were willing to go there."
Danielle used polished gold shower fixtures, kitchen faucets and cabinet pulls to give her home a coordinated dash of style.
Life Under Construction
Danielle and her family moved into their onsite mother-in-law apartment during construction. Being close to the project made it easier to answer questions and work with George and the FineCraft crew. "If anyone had any questions, they could walk over and ask," Danielle said.
With the family living close by, George and his crew worked hard to keep everyone comfortable and involved. "I try to give everyone advanced warning and let them know what's happening," George said. "I also never shy away from answering questions. You have to make sure they have a beautiful experience. Not so they recommend you, but so that they enjoy their life. That's worth more than money."
The Finished Product

Danielle's new home gave her and her family everything they wanted — from stunning décor to ample storage. "We love our new home. But I was sad to see George and his crew leave," Danielle said. They were complete sweethearts! We were like one big happy family."
Photos by Susie Soleimani Photography