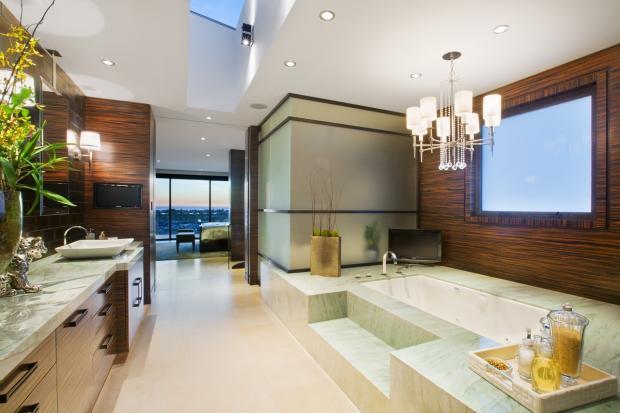 A small affordable remodeling project that can have a big impact is a master bathroom remodel. Any changes you make to your master bath are guaranteed to make a difference in your daily routine. Here are some master bath remodeling ideas to help get those creative juices flowing:
1. Increase Your Space
If space is an issue in your master bath, consider a remodel that will expand it in any direction possible. Extra square footage will open up your cramped bathroom and increase the possibilities.
Taking out a wall and replacing it with a window allows natural light in the bathroom and creates a more open feel. Choosing the right window treatment is important since you want sunlight to come in but at the same time you'll need something that gives you privacy.
If new windows aren't an option, consider adding skylights.
2. Add Storage Areas
Since most people have many hygiene products, a bathroom remodel is the perfect time to increase your storage space to ensure better bathroom organization. Add bathroom cabinets, drawers, shelves or even carts to store all of these necessary items.
Cabinets that have molding and glass fronts increase the appeal of the bathroom by giving it more character. If you can't replace your cabinets, consider adding decorative knobs and pulls to update the look.
3. Change Your Flooring
Ceramic tile is a rich choice for bathroom flooring. Using a natural tone such as ivory or taupe will keep the bathroom light.
If you think ceramic tile will be too cold to walk on in the winter, radiant floor heating provides heat from below your floor, keeping your tiles, feet and the rest of your room very warm. If installing a new heating system isn't within your remodeling budget, strategically place throw rugs in the areas where most needed. If you are just curious about the subject, click this link to read more about radiant floor heating.
4. Create a Relaxing Environment
Adding a comfortable chair gives your bathroom a luxurious touch. Being able to take a break and sit down after a relaxing bath is nice.
Again using soft, natural colors in your bathroom will create a calming environment. And, if you use a neutral color overall, you can add bright accessories, such as towels, curtains, vases to liven up the room without clashing with existing decor.
Consider replacing light fixtures to allow the option of having softer light for those relaxing evenings in the tub as well as brighter light for getting ready in the morning.
Fill the room with scented candles, plants, flowers and art. All of these extras help beautify your bathroom.
Have fun with your master bath remodel as this room is a private indulgence and a place to retreat. The goal is to make your master bathroom a place that welcomes you with its warm atmosphere morning and night.
Ready to start your
Master Bath Remodel

?Find Pros
No Comments Yet