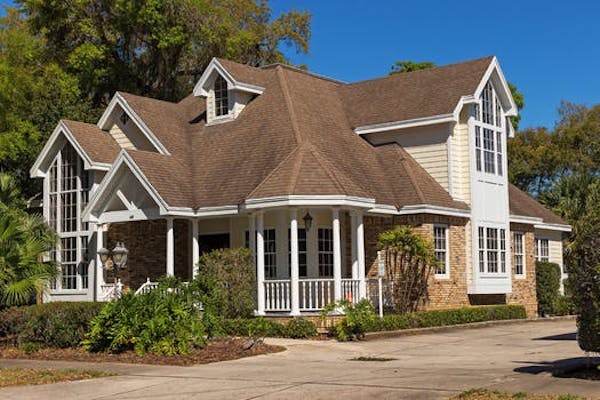 When a homeowner takes on a large home improvement project, they are generally doing it for their own benefit and enjoyment. And although they may anticipate the project will greatly increase the value of the home, most projects only add a small portion to the total.
However, the best-of-all-worlds home improvement projects do exist – the kind that benefits both the current homeowner, as well as yields 85 percent or more of its cost back upon resale – and the recent 2017 Remodeling Impact Report outlines what those are.
What home improvement project had the best ROI?
Roof Replacement
A roof replacement is an expensive project that homeowners often put off, or try to get away with not doing at all. But the results of the Remodeling Impact Report show that 32 percent of real estate agents said a new roof recently helped them cinch a deal for them.
The average cost of a new roof comes in at $7,500, and the boost to value resulting from the new roof comes in even higher: at $8,150, or 109% of the original investment.
Replacing a roof pays dividends indirectly as well — pushing too far past the life expectancy of an existing one can result in leaks that can drip down the inside the walls, leading to the need to cut out drywall and replace flooring. In this way, even a small leak can end up costing a homeowner $20,000 or more.
New roofing was also named in the report as the exterior project that most appeals to buyers, followed by new vinyl windows, a new garage door and new vinyl siding.
Brad's Brief: This is no secret to homeowners looking to put their house on the market. Internal HomeAdvisor data has shown that homeowners tend to get quotes from roofers more frequently during the six months leading up to the sale of their home than other times.
Which interior projects yielded the largest financial return upon resale?
Hardwood Floor Refinishing
While roofing came in as the best investment on a home's exterior, the best interior investments, the study found, are right under your feet.
Hardwood floor refinishing recovers 100 percent of project costs upon resale, new wood flooring recovers 91 percent of costs – and both add to a home's "wow" factor.
Beautiful wood floors look impressive and elegant, can quickly help sell a home and maximize the selling price (the two ideals in the economics of selling a home).
Brad's Brief: Many homeowners put off home improvement projects – getting the roof inspected, refinishing the floors, replacing the garage door — until they are about to move or sell. But those who get work done according to a recommended schedule get to benefit from improved, fresh features as a part of their daily life. According to the report, 65 percent of homeowners reported "increased enjoyment in their home," after remodeling, 56 percent feel "happy" and 39 percent feel "satisfied" when they see their project completed.
What are the best ROI home improvement projects?*
These are the top four projects that pay a typical homeowner back most of what they put into them, along with the percentage of the original cost that real estate agents say can be recaptured upon sale of the house.
1. New Roofing
Cost: While NARI estimates around $7,500, HomeAdvisor says the cost of installing a new roof is around $7,200
Cost Recovered: $8,150 (109%)
2. Hardwood Flooring Refinish
Cost: While NARI estimates around $3,000, HomeAdvisor says the cost of refinishing hardwood floors is around $1,600
Cost Recovered: $3,000 (100%)
3. New Wood Flooring
Cost: While NARI estimates around $5,500, HomeAdvisor says the cost of new wood flooring is around $4,400
Cost Recovered: $5,000 (91%)
4. New Garage Door
Cost: While NARI estimates around $2,300, HomeAdvisor says the cost of installing a new garage door is around $1,000
Cost Recovered: $2,000 (87%)
*According to the National Association of the Remodeling Industry and the National Association of Realtors.
No Comments Yet