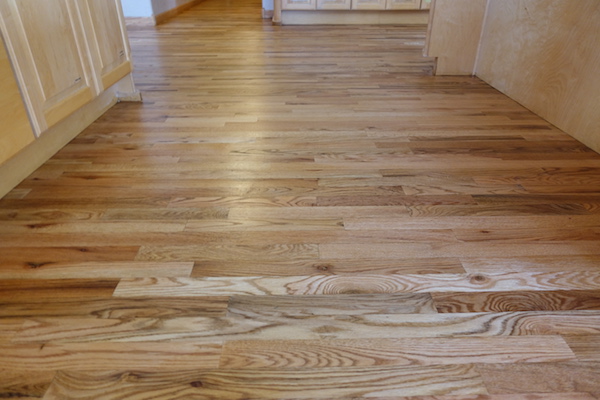 Flooring options are increasing every day for the homeowner but few of these options offer the combination of traditional elegance and practicality as oak flooring. Oak has unquestioned durability—your oak floor will probably outlast you. The only weakness oak has is moisture so, other than the bathroom, oak flooring is recommended for any room in the house. Oak has two different species, red oak and white oak. Red oak has a reddish color; white oak is more of a brown, but even within the species color variance exists.
Grades and Dimensions
Not all oak is created equal. You'll have several options to choose from. The first decision has to do with the quality of the wood itself. The dimension of the wood refers to its length, width, and thickness. Wood length is usually variable for all flooring options. Width has mostly to do with appearance and should be custom fit for the room or rooms in which the flooring is installed. Thickness has to do with feel and stability.
Other than dimensions, oak comes in three grades. These grades have to do with the degree of "perfection" of the wood. Fewer knots and less color variance determines the wood's grade.
Clear—This is the highest grade available, but may still have some imperfections.
Select—This is the medium grade and has noticeable imperfections and color variance.
Common—This is the lowest grade, but also has the most natural wood appearance. This grade is also subdivided into Common #1 and Common #2.
Solid or Engineered Oak Flooring
One of the biggest decisions you may need to make is whether your oak floor should be solid or engineered. Engineered flooring has several levels of plywood underneath a thin layer of oak. This allows the flooring to have greater stability and greater resistance to moisture. It may also enable you to use a sub-floor heating without damaging the wood. You should always use engineered flooring for basements and other below-grade areas. If moisture isn't an issue, solid wood flooring may provide a higher quality look and feel at a more reasonable price. You may need to talk to more than one flooring company to decide which option is right for you.
Prefinished or Unfinished Oak Flooring
You should be able to place an order for an unfinished oak floor or a prefinished oak floor. You may be surprised to discover prefinished oak flooring has little to do with convenience and more to do with quality. Prefinished oak flooring is created in a strictly controlled environment that allows the oak flooring to have greater durability and less residual dust. On the other hand, unfinished oak flooring can be finished at the site by a professional for less expense. The savings of an unfinished oak floor may enable you to purchase a higher grade oak for your floor. Plus, if you're not sure what finish you want, you can have the flooring installed first and then decide. Don't wait too long, though; giving your floor a proper finish protects it from dirt, scratches and other wear and tear.
Hiring a Reputable Service Professional
As with all home improvement projects, you want to find a reputable contractor. This is no less true with oak flooring. With the industry doesn't necessarily lend itself to scams, an expert installer is crucial and short cuts can be taken by an inexperienced or dishonest contractor. In particular, the room conditions must be checked before any installation takes place. If the surrounding area is too humid, special preparation may be needed to prevent swelling and disfiguring of the wood. When a properly installed oak floor will last you a lifetime, this isn't something you want to fool around with.
No Comments Yet