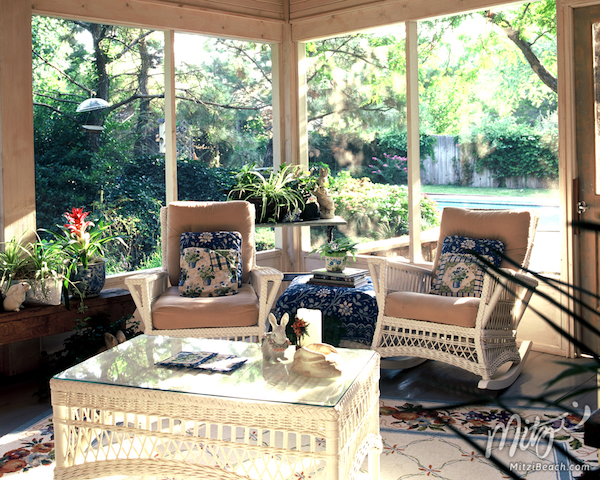 Wicker furniture is made from thin, slender branches woven around a frame to create variously shaped items. The wicker itself can be made from any number of materials including willow, bamboo, rattan, reed, or synthetic materials. Its soft feel is a rarity for outdoor furniture options. Wickerwork doesn't require the same level of skill as, say, fashioning wrought iron, but it does involve intricate craftsmanship. Basic wicker furniture isn't that hard to create, but the best pieces out there can only be made by experienced wickerwork artisans.
The Appeal of Outdoor Wicker Furniture
Outdoor wicker furniture has a lot of things going for it. It's lightweight but sturdy, creating durable but easily moved outdoor furniture. It's also considerably cheaper than either metal or wood furniture. Of course, you could always go with plastic, but plastic lacks aesthetic appeal. Outdoor wicker furniture has many of the same benefits of plastic, but looks a whole lot better on your patio. And to top it all off, wicker furniture is among the most comfortable outdoor furniture there is.
Outdoor Wicker Patio Furniture Maintenance
Outdoor wicker patio furniture isn't going to fall apart you after its first storm, but taking good care of your furniture will increase its lifetime exponentially. By taking some or all of the following measures, you'll keep your outdoor wicker patio furniture looking like new. For basic sheltering, buy furniture covers to keep your furniture from the elements as much as possible. You could also store your wicker furniture when you're not using it, but this is an unnecessary inconvenience. Your covers should be easily removable but still keep your furniture relatively protected.
More than just water, excessive heat can also damage your furniture. Too much heat will dry your furniture out, making it brittle and easily frayed. As much as possible, place your patio furniture in the shade where you can keep it from the heat and provide a more comfortable sitting space for yourself, too.
If your outdoor wicker patio furniture does fray and crack the varnish, you'll need to recoat it. Without a sealed varnish, significant damage can come to your wicker furniture rendering it unserviceable. Plus, recoating your patio furniture will help keep it looking like new.
Ready to start your
wicker furniture

?Find Pros
Indoor Wicker Furniture
Wicker furniture is most commonly placed outdoors, but it has its place indoors as well. Wicker storage chests and baskets can be a great idea for your bathroom, for example. Also for inexpensive and pleasing furniture in kids' rooms, wicker furniture is the perfect blend of style and usability. You don't have to go with the traditional look of wicker furniture, either. It can be painted to match the decoration in your kid's bedroom. Be it storage chests or miniature furniture, most homeowners find some use for indoor wicker furniture. Naturally, indoor wicker furniture requires considerably less maintenance than its outdoor counterpart, but it'll still need the occasional dusting.
No Comments Yet