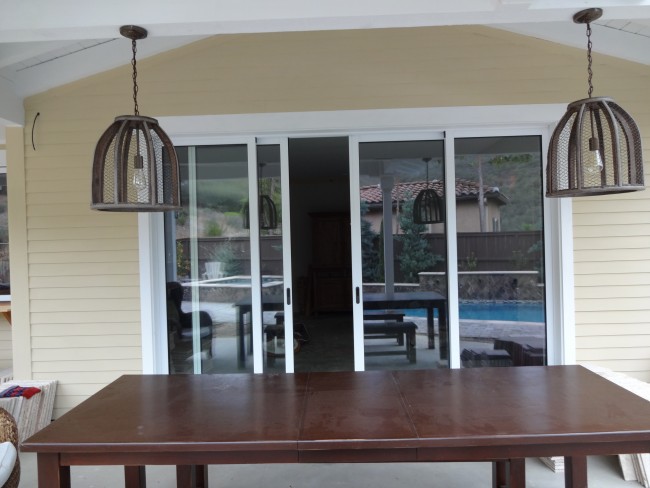 Most door hardware choices are primarily decorative and focus around the door knob or handle. While these choices must also be made for sliding and pocket doors, their function and design require a more extensive consideration for sliding design and assembly hardware. There are almost surely more design options out there for these types of doors than you would imagine. Often, the difference between a good and great sliding or pocket door installation for your home lies in the choices you make in their respective hardware.
Pocket Door Hardware
Older pocket doors are typically mounted on crude steel rollers that are noisy, bulky, and have a tendency to jump their tracks. Fortunately, we've greatly improved pocket door hardware today, and modern models move smoothly and quietly along Nylon or intricate ball-bearing rollers with deluxe axle-mounts. Typical pocket door hardware supports doors weighing around 75 pounds, but heavy-duty hardware is also available for solid hardwood doors up to 175 pounds or more. Pocket doors are essentially all about the hardware. This is to say, when choosing a type of door slab for your pocket doors, the viability of the door slab boils down to being able to afford adequate door hardware to support the size and weight of the slab.
Sliding Door Hardware
Sliding door hardware is much simpler to navigate. You get what you paid for. Most homeowners are content with hard plastic sliding door hardware, but sturdier metal hardware is available for a slightly higher cost. In fact, if you really want to do it up right, you can get door handles encrusted with silver or gold. More than the material, the biggest decision you'll have to make is the design of your sliding doors. Sliding doors can be straight sliding doors, single sliding, double sliding, folding, and center-folding, among other variations. The placement of your sliding doors, where they lead to, and how prominent you want their presence to be in your home can help determine which style of sliding door and sliding door hardware is right for you.
Sliding and Pocket Door Hardware Installation
Installing the doors and the sliding or pocket door hardware is probably easier than you think. As a DIY project, it may not be for everybody, but the handy homeowner should be able to manage. If you are going to try to install your sliding or pocket doors yourself, you can buy pre-assembled doors or knocked-down door assembly kits. The kits are only slightly more difficult to install and most use reinforced steel and split studs to create a stronger door. For customized door design and unusual door hardware, you may need a professional to come in and assemble your doors from scratch. Just because you decide to buy a preassembled door or door assembly kit, don't feel as though you have to install the door yourself. Any number of handymen or door contractors will be able to install your door for a reasonable fee.
Ready to start your
pocket sliding door

?Find Pros
No Comments Yet