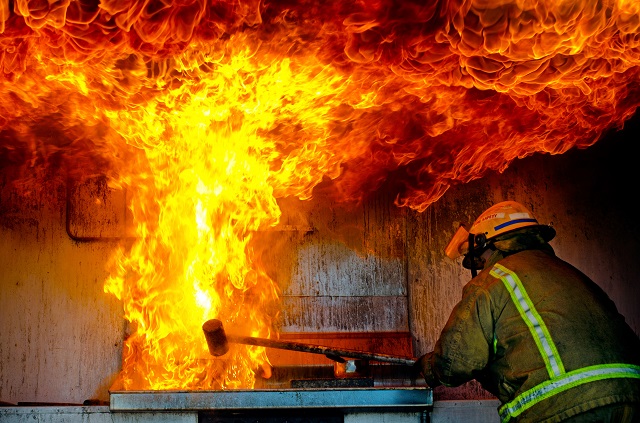 The kitchen is one of the most versatile rooms in your home. It is the hub where families congregate for holidays, spend time cooking meals together, and talk about daily life. It is where all of the prep work for an exciting night of entertaining guests begins, where a new family recipe is born, and where we spend hours deep in discussion with loved ones.
Because of all this activity and the fixtures and appliances inside, the heart of the house can also be the most dangerous room in it. More than half of all house fires start in the kitchen. Adapting safe cooking practices, acting quickly during an actual emergency, and learning about general home fire safety can help you to become better prepared and to keep your family safe in the event that tragedy strikes.
Cooking Safely
Be vigilant! Do not cook if you are distracted or tired or if you have consumed alcohol.
Never leave the stove unattended while frying, broiling, grilling, or boiling food.
Check food that is simmering, baking, or roasting often, and use a timer to avoid overcooking.
Keep flammable items away from the stove top, including loose clothing, oven mitts, kitchen towels, cooking utensils, and discarded food packaging.
Keep young children and pets at least three feet away from the stove and other areas where food is prepared.
Check to make sure items are microwave-safe.
Take Action
If there's a fire that you can't handle, leave the area and close doors behind you as you exit.
Use an evacuation plan to get yourself and other family members to safety.
Call 911 or your local emergency number once outside and at your meeting area.
Never go back into a burning building.
General Home Fire Safety
The thought of a potential blaze in your house may be frightening, but there are many steps you can take to prevent fires and keep your family safe in the event that one should occur. Recognizing potential hazards, understanding preventative measures, and being aware of elements that may increase the risk of a fire are all ways you can help to keep your household safe. Prevention and knowledge are the best tools we have to fight fires before they even start.
What to Expect After a Fire
The consequences of a house fire and cost to repair fire and smoke damage can surprise you, giving new importance to preventing them in the first place. After a fire, you need to:
No Comments Yet