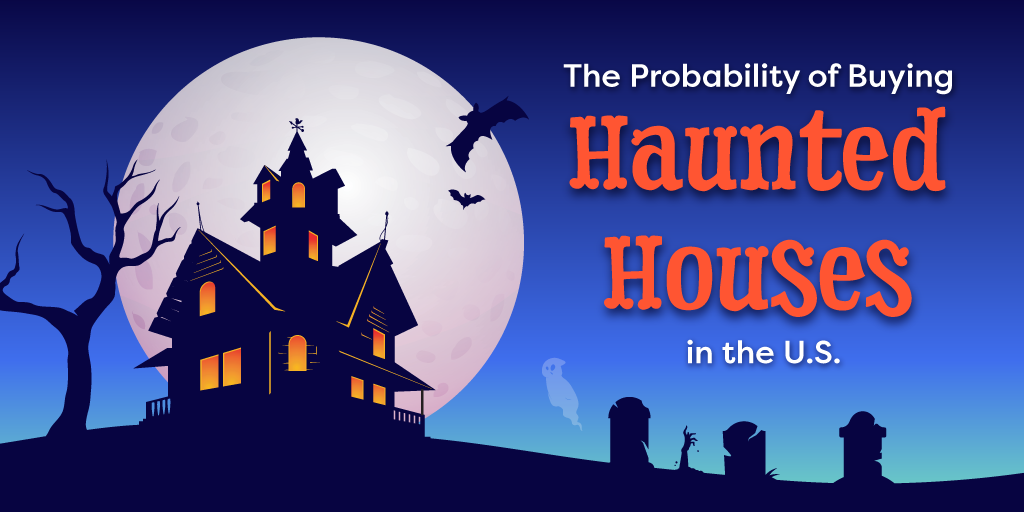 Each state has its collection of urban legends, haunted houses, and other creepy attractions that are fun to indulge in and explore during the spooky season. Americans have always been fascinated by things that go bump in the night, especially when those things are right in their backyard. What if that backyard meant your yard? That's right, depending on where you move, you might have a higher chance of winding up with a few new terrifying roommates of your own.
We know buying a home can be scary enough without worrying about moving into a house with paranormal residents. So, what are the odds of ending up in a flat full of ghosts in the U.S.? Our paranormal home appraisers took a deep dive into which states have the highest concentration of hauntings, and luckily for you, we're going to share our research. Consider these findings if you ever feel like things are sunnier on the other side, or you might wind up moving in with someone from "the other side."
Methodology
To accomplish this task, a few of our bravest souls geared up and banded together to crunch the creepy numbers. We compared the number of homes for sale in each U.S. state during August of 2022 to the number of "haunted" and "creepy" homes in every state to determine the probability rate of homebuyers in every corner of the country winding up in a Halloween house.
Unfortunately, when we arrived at our first paranormal pitstop, we were too terrified to continue. However, being the savvy data scientists we are, we now have the statistics in our possession without getting, well, possessed. Using Zillow and Redfin, we determined the number of homes for sale in each state. Afterward, HouseCreep helped us calculate the number of "creepy" and "haunted" homes in each of those states.
After a much-heated debate, our team determined the difference between a "haunted" house and a "creepy" house. Haunted houses would be based on the number of homes with previous deaths, homicides, and paranormal reports. Creepy houses would be based on the number of homes with crime, damage, drug, and sketchy reports.
The Haunted Housing Market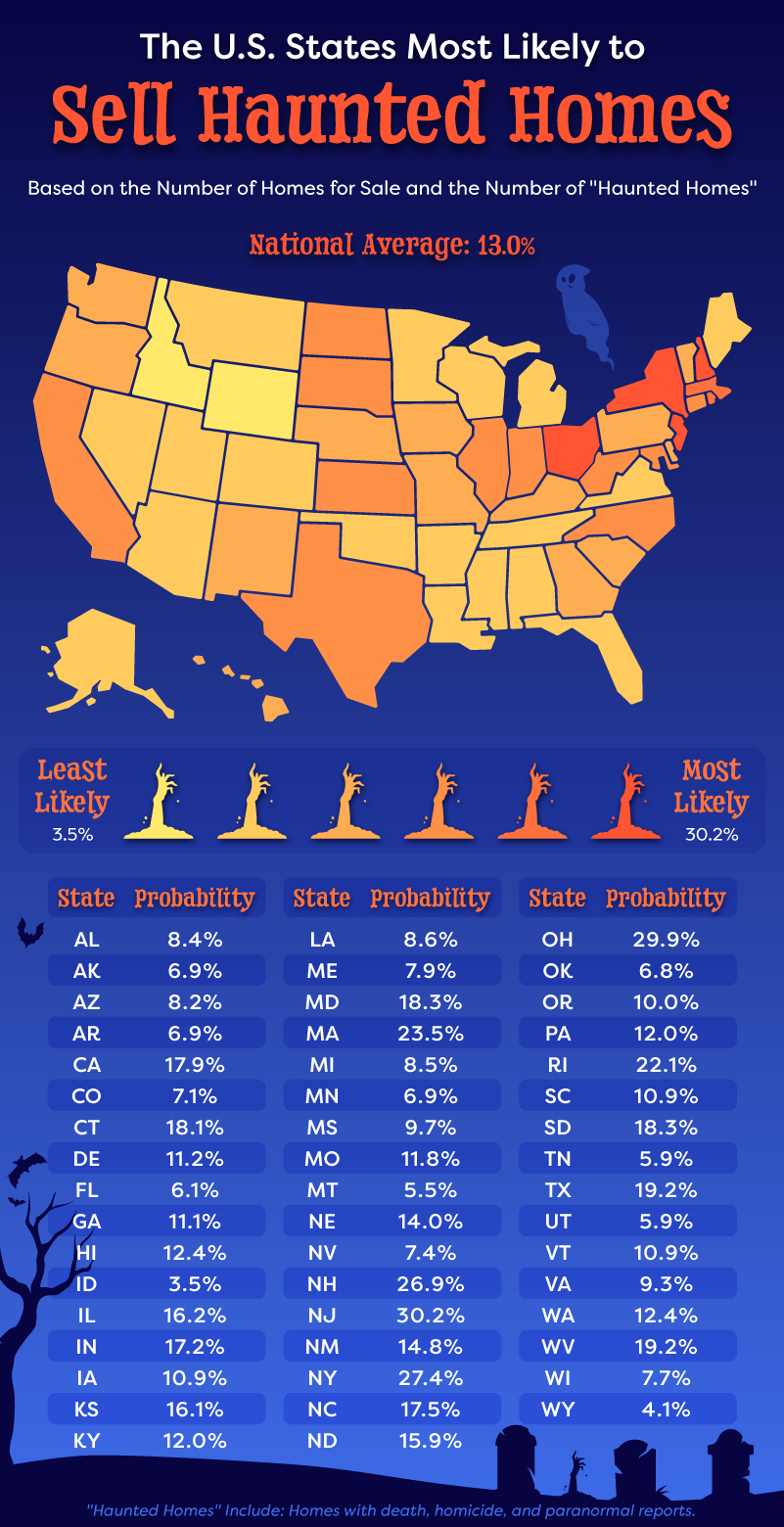 Some states are certainly spookier than others, but if you're superstitious and afraid of ghouls and goblins, you'll want to avoid a few places. We found that, although only the Mayflower state made it into the top five most-haunted shortlist, New England as a whole is filled to the brim with hauntings and ghost stories galore. Aside from Vermont and Maine, all of the states in the region have a haunted house probability of 15% or higher, making them some of the most haunted states in America.
In the northernmost part of the country, New York and New Jersey duke it out for the title of eeriest state on the East Coast. No matter which side of the fence you're on in the great bagel debate, you have over a 25% chance of winding up in a haunted house in either state. However, with more condo developments and fewer natural attractions like the Pinelands or Long Beach Island, New York's real estate developers may in fact be driving the ancient ghosts out of their original homes.
Ghosts tend to steer clear of warmer weather, as our friends in the South remain relatively untouched by the supernatural. In general, the South has the lowest number of haunted houses in America. Both Texas and West Virginia ranked the highest at just under 20% on the haunt-o-meter, while Florida surprisingly only scored 6%. Our guess is that ghosts hate sunshine.
The Most Haunted States for Homebuyers

If you are superstitious, you might want to reconsider your move to one of these five U.S. states. New Jersey comes in first place as the most haunted state in America with just over a 30% probability of moving right into a haunting. This may not surprise some, considering New Jersey is also one of the smallest states on the east coast. It's also a state rife with spooky attractions, like the empty and eerie Batsto Village, a 251-year-old ghost town abandoned when people discovered coal in the neighboring state of Pennsylvania.
You might also say "oh no" to moving to Ohio any time soon, as it comes in at a close second on this list. While Ohio seems tame enough at first glance, it's actually home to 125 haunted houses, according to The Scare Factor. The state is also home to many heart-stopping Halloween attractions, such as Hauntville in Elyria and The Brimstone Haunt. One unpopular theory among Ohio residents, however, is that it's all in their collective imaginations. Since Ohio was ranked among the most boring states to live in according to one study, many argue that dreaming up creepy creatures and spooky specters is the only source of entertainment for Ohioans.
The landing place of the Mayflower and the Pilgrims also made it into our top five most haunted states in the U.S. Massachusetts is home to a variety of haunted hotels and mansions that are open to the public. One such historic hotel is The Wayside Inn in Sudbury, which also happens to be the oldest operating inn in the country. While it has been restored to its original glory thanks to a few renovation projects over the years, they haven't been able to get rid of the ghost of Jerusha Howe, who New England locals claim still plays "ghostly tunes through the middle of the night."
Welcome to "Creepville"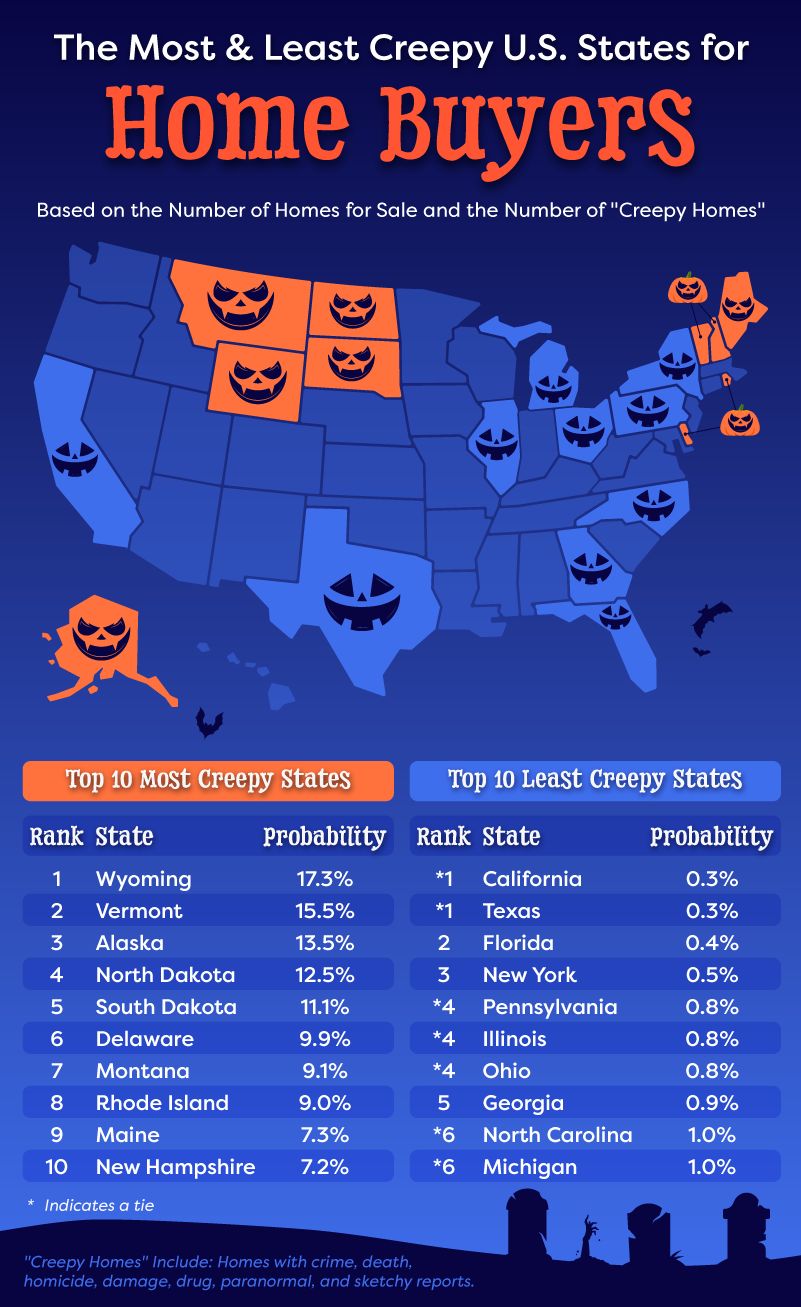 We gathered the data and created a list of the top and bottom 10 creepiest states in the U.S. Creepy homes generally aren't haunted by their previous owners, but they are unsettling enough to make you want to stay away from them. This category includes run-down and damaged homes, or houses where crime and other sketchy behavior have previously occurred.
Among the states where you are most likely to wind up in a creepy home, Wyoming rightfully claims the number one spot. Wyoming is known for its rich history of outlaws and urban legends like The Sundance Kid and Harvey Logan, so this shouldn't come as a surprise. Today, Jackson Hole is a pleasant mountain resort in the equality state, but it was once a hideout for Butch Cassidy's wild bunch and other notorious American cowboys.
Closing Thoughts
Now that you have the numbers behind the most haunted and creepy states in the country, you'll know where to avoid looking during your house hunt. If you want to lower your odds of winding up with an unwanted roommate, then Utah and Idaho are some of the best choices with the lowest probability of finding a haunted house. However, should you decide on the latter, you may have to answer to Butch Cassidy and his gang.
While HomeAdvisor can't save you from the ghosts in your home, we can help kickstart that renovation project to help rid yourself of those terrifying original cabinets and counters in your kitchen. Check out our true cost guide to get an estimate of how much your next big home upgrade will cost.
No Comments Yet