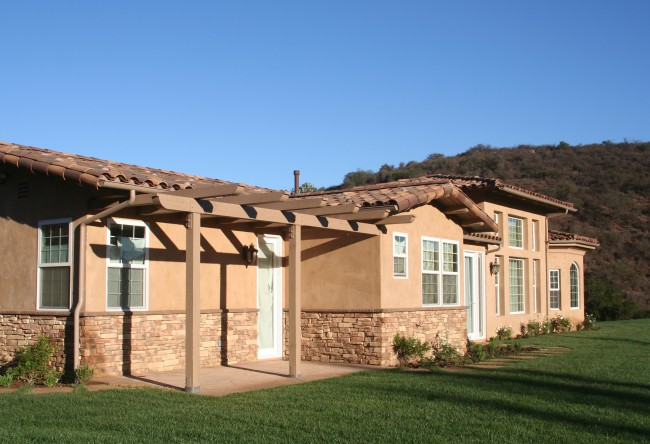 Ranch house plans are classically American house plans that help create a welcoming home. The layout of a ranch house plan emphasizes accessibility and convenience. In smaller countries, where space is more limited, homes tend to be more compact and vertical. The ranch house plan uses a more horizontal design that is perfect for household members with limited mobility or homeowners who like easy maneuverability in their home.
Ranch Style Floor Plans
The classic ranch floor plan is asymmetrical and L-shaped. While the public areas of the home tend to be connected on one side of the home, a hallway will lead to the bedrooms. Dining and living areas tend to be combined, and a ranch home is designed to create an efficient use of space. This sharp boundary between public and private areas in the home helps to define the flow and create an efficient living space.
Floor plans can also be configured into rectangular or U-shaped houses. Often, a homeowner will find an L-shaped ranch floor plan, but decide he or she wants more square footage. It's a fairly easy process to convert an L-shaped floor plan into a U-shaped one that creates this additional area and can allow you to create a home office next to the master bedroom.
Ranch Style House Plans and Other One-Story House Plans
A ranch style house plan means more than just a single story home. Country cottages can be one-story, but may not fit the mold of a traditional ranch style home. A ranch style house plan usually minimizes the presence of a porch, if it has one at all. Ranches are more known for their backyard landscaping and patios for outdoor living space and relaxation. Another difference between a one-story cottage and a ranch style home is the roof. Ranch style house plans usually call for more low pitched roofs (often a hip roof) that accentuate the horizontal design.
Minimalist Exteriors
Corresponding to its simplistic nature, the exterior of the home is typically brick or wood and absent of more ornate elements. Well-placed windows and window shutters are often the defining features of the home's exterior. Complicated dormers or balustrades interrupt the streamlined hip roof. Most ranch house plans leave the exterior decoration to outdoor landscaping. Exquisite shrubbery and/or gardens tend to accentuate the curb appeal of the ranch style home.
Split Level or Raised Ranch House Plan
Contrary to people's first impressions, ranch house plans can include two levels, called a raised ranch house plan. These homes are commonly referred to as split levels.
Some homeowners shy away from the raised ranch homes simply because the lower level may look like it has sunk into the ground, but it can be one of the most economical ways of creating tons of square footage in a home.
Hiring an Architect
The process of hiring an architect should mirror any other home improvement hire. Talk to several architects or firms and check client referrals. You may find one architect has pretty much designed your dream home, but you should still interview multiple contractors and get written estimates for each one. This will allow you to see what's out there and to feel comfortable with your final decision.

Need to find a pro for your ranch house?
Find Pros
---
No Comments Yet
You can be the first to comment!