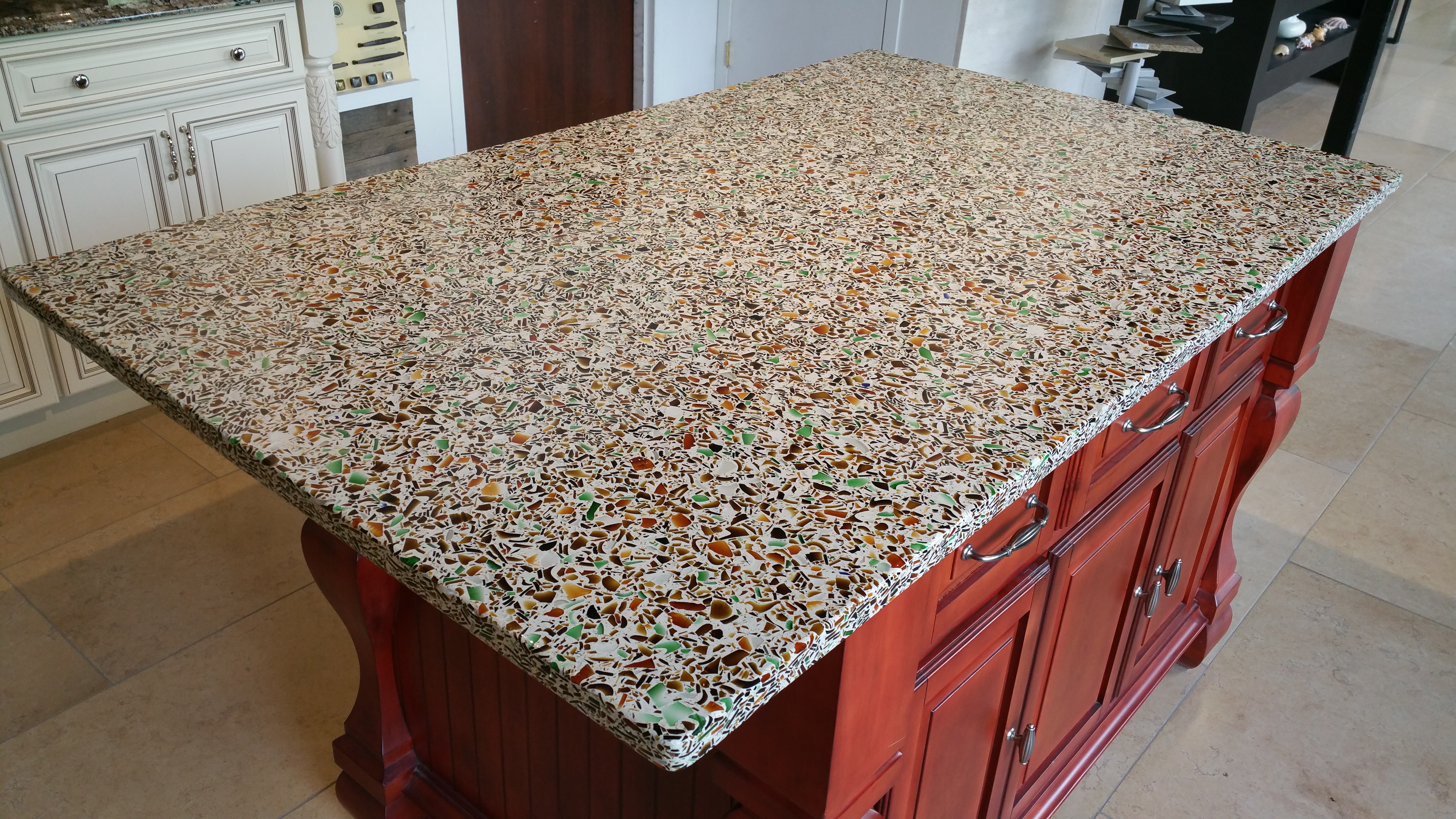 Countertops need to be tough and durable, especially in the kitchen. When you think of glass, however, tough and durable aren't usually the first attributes that come to mind. Though it might look phenomenal, it is difficult to imagine glass as being strong enough to withstand the rigorous life of an everyday kitchen.
Strength and Sustainability
Many modern countertops are made of stone (like granite), or synthetic materials that are petroleum based. Petroleum, as we are becoming ever more aware, is hardly eco-friendly. The quarrying practices used to obtain granite and the energy it takes to move the material from one place to another make it, to a smaller degree, a less than sustainable building material as well.
Recycled glass countertops are breaking the mold in both strength and sustainable living. By way of ingenuity and modern technology, recycled glass countertops offer a very hard surface that is not unlike stone. Plus, they're environmentally friendly to boot!
Instead of becoming yet another piece of trash in an ever growing landfill, some lucky bottles, mirrors, and plate glass are receiving a new incarnation in countertops that are as hard as marble. Depending on the brand, some recycled glass countertops can be made of up to 100% recycled materials!
Recycled Glass Countertop Styles
At this time, there are not as many options available that use recycled glass as there are ones that use new glass. This may change soon; as people's concerns about the environment increase, so does the demand for products that use recycled materials.
The most popular type of recycled glass countertop is made to look like terrazzo marble. It is composed of both post consumer glass chips and recycled concrete. There are a variety of sizes and colors of the glass chips. The cement that surrounds the glass is also available in multiple colors. It has the surface strength and feel of granite or marble. The price tag on this material is more than laminate or tile, but comparable to or less than granite and marble.
Ceramic tile with recycled glass content are another environmentally friendly choice. They can contain up to around 70% recycled material. They provide a scratchproof surface that is as durable and easy to install as any other ceramic tile. This type of tile is often similar in price to that of a medium grade traditional tile, making it a good option for those on a budget.
Other Green Options
Though recycled glass countertops are not for everyone, that doesn't mean there aren't other ways to be environmentally aware when remodeling your kitchen. There are many recycled plastic counter coverings on the market that will have a totally different look, and most likely cost less.
Some people are even making countertops out of bamboo, which grows quickly and is quite moisture resistant. In this day and age, it's time to get creative. Using salvaged material of any kind that would otherwise be thrown away is a good idea. There are craftsmen all around the country who can turn discarded wood or metal into something beautiful enough to eat on!
Ready to start your
Glass Countertops

?Find Pros
No Comments Yet