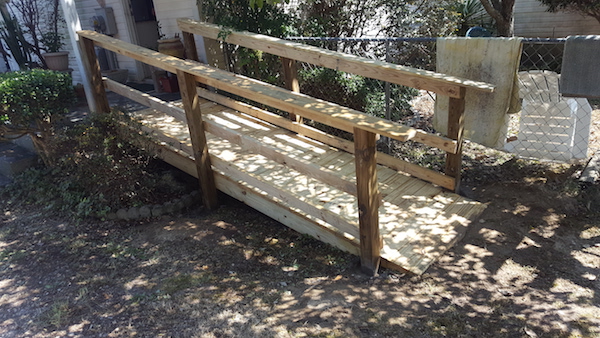 There's no denying it: the population is getting older. Since few of us hope to spend our senior years cursing the designs of our houses, it makes sense that remodeling for the elderly, or aging in place remodeling, is becoming more popular as more and more people reach ages that were uncommon 50 years ago. Aging in place remodeling is certainly on the minds of those who find it difficult to climb stairs and reach low power outlets, but there is no need to wait until the last minute to create a home that accommodates your future needs (rather than accentuates your future weaknesses). By planning years, or even decades, in advance, homeowners can not only save a bundle, but build an environment that is both elderly accessible and aesthetically desirable.
Start Early with Aging in Place Remodeling
There are many benefits waiting for homeowners who decide that remodeling for the elderly is best done before anyone in the house desperately needs these types of alterations. First, remodeling on a fixed budget is nobody's idea of a good time; by making changes that will benefit you in your senior years now, you avoid the monkey wrench that is trimming a pension or social security check. Second, limited mobility can strike at any time; by making your house easy to maneuver early, you'll be ready when you or a loved one needs it, no matter when that may be.
By far the most compelling reason to begin aging in place remodeling early: gradual changes are not only easier on the budget, but more likely to maintain the overall flow of your home. A wheelchair ramp doesn't need to look like a wheelchair ramp if its design was incorporated in the layout from the beginning. By keeping your own aging and the aging of those around you in mind whenever you remodel, the small alterations and additions that will make the space senior-friendly can be as attractive and fitting as they are practical.
Remodeling for the Elderly: Finding the Right Contractor
Aging in place remodeling is not the focus of every homeowner; because of this, it can hardly be the focus of every remodeling contractor. Finding the right company for this job isn't difficult, however. You may need to look a little harder to locate a local firm that specializes in senior remodels. In some cases, the best course of action is to combine the efforts of a company you know and trust with the design of a draftsman or architect who specializes in such work. No matter what route you end up taking, your first step should always be contacting several different contractors and getting quotes (and a feel for how they do business) from each. Contacting multiple firms is always a good idea, but because there is such a discrepancy between those who specialize in aging in place remodels and those who have never done it before, this is a situation where feeling out several companies is even more important.

Ready to start your
disability remodel

?Find Pros
When Aging in Place Remodeling Is Not a Good Idea
Of course, not every remodel done by every homeowner will be senior friendly, and remodeling for the elderly is not as good an idea in some cases as it is in others. If you are planning on staying in your current residence for years to come, there is really no good reason why aging in place remodeling shouldn't be a factor in every renovation you perform. However, when dealing with investment properties and starter homes, senior-friendly additions might not be money well spent.
When dealing with starter homes and investment properties that you don't plan on occupying well into your golden years, it is better to look outside of your home for inspiration. If the property lies in a neighborhood that is full of families, there's a good chance that remodeling with seniors in mind will be beneficial. On the other hand, if you are dealing with a small house that is two blocks away from the local university, such alterations may not play a role in increasing property value at all.
No Comments Yet