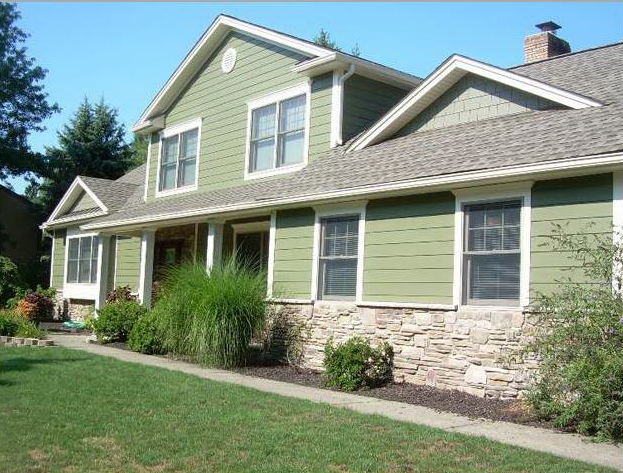 A number of residential siding materials are available for homeowners looking to enhance the appearance and performance of their homes. However, because no two home siding products are created equal, deciding which is the best fit for your situation can be extremely difficult. The following siding material comparison is meant to make your decision a little easier; by knowing the basics about the most popular products, you'll have a better idea of which ones are worth a closer examination, and which ones are simply not right for your home.
Moderate Cost Siding Material Comparison
Wood siding is one of the oldest and most attractive cladding materials on the market. Though it is easy to work with and beautiful to look at, it requires more maintenance than nearly all other residential siding materials. Wood siding is relatively affordable to install, but the upkeep it will need can add up over time, making it less of a bargain than you might think at first.
Fiber-cement siding is often referred to by the brand name Hardie board. Fiber cement, when compared to other home siding products, is a good balance of affordability and performance. Designed to hold up under extreme conditions and hold onto paint for years and years, this material is a popular choice among mid-range residential siding materials.
Stucco is another moderately priced material that holds up very well over time. In some areas of the country, stucco is very common and an excellent option; in others, its unique appearance may be unwelcome. In areas where stucco homes are few and far between, this material could have a not-so-positive effect on resale value, and it may be difficult to find an experienced company to install or repair it.
Low Cost Siding Material Comparison
Aluminum siding is a very affordable cladding option. However, since it requires more upkeep than vinyl siding (and often looks about the same), this residential siding material is now being taken off nearly as often as it is being put on. If you're looking to replace your old aluminum siding with a different material, it's important to note that some places will actually recycle old aluminum siding (and some will even pay you money for it)!
Vinyl siding has been popular for decades now. While its promises of "no maintenance" are not entirely accurate, most other home siding products are truly a little more needy than vinyl. Since low-quality vinyl siding has been known to become very brittle when cold and fade in direct sunlight, you'll want to avoid the cheapest vinyl siding products. When it comes to affordability and longevity, however, this material presents a good combination of both.
High-end Siding Material Comparison
Brick has been one of the most well-regarded home siding products on the market for centuries. It looks great, it holds up almost indefinitely, and it gives a home an air of classic authenticity that few other materials can match. Unfortunately, true brick siding is very expensive. To cut costs, some choose to use brick on part of their home and another siding material on the rest; others opt for brick veneer, which looks and feels just like the real thing, but costs a lot less.
Stone is pretty much the bee's knees when it comes to performance and durability. Though some might shy away from the very bold statement stone siding makes, there's something to be said for a material that can last for hundreds of years without missing a step. Stone siding is probably the most cost-prohibitive cladding material on the market, as it requires a skilled mason to install it properly. Like brick, some find that opting for veneer or using a different siding material on part of their home can bring stone down to their price range.
"Green" Residential Siding Materials
With more and more people becoming concerned with not only the look of their homes, but the impact their homes have on the environment, it's no surprise that residential siding materials are going green. Today, you can get aluminum, vinyl, and steel siding with recycled content, recycled (used and refurbished) bricks, and locally found stone. Some green builders have gone even farther, creating using a mixture of sand, clay, and sometimes straw called "earth plaster" to cover their homes. While some of these eco-friendly options aren't quite main stream, they are out there. If you're looking for a siding that's good for the environment (or even a siding that comes with a story to tell!), these options might be worth a second glance.

No Comments Yet