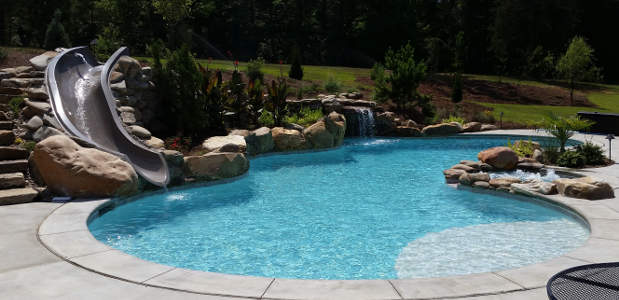 Many homeowners have already, or are looking forward to, enjoying the benefits of having a backyard swimming pool. There's no better way to chill out with family and friends on a hot day than in a pool all your own. There are many things you can add to improve it, too, and a slide is one of the easiest and most popular options to choose from.
Pool Slide Construction
Most pool slides are made of a fiberglass or acrylic body and have a slick top coating to make them extra slippery. Many models come with a metal ladder (often with plastic covered rungs) and metal support legs. Other units are self supporting and have the ladder "built in" to the slide.
Slides often need to be hooked up to a hose to keep them wet. There are, however, some models available that will not require a hose and will depend solely on a slick surface for slide-ability. These units are particularly convenient because they can be put anywhere around the pool without the worry of a water hook up.
Ordering
In most scenarios, ordering a pool slide is pretty simple. You'll have to pick out the model and color. Sometimes, most often when installing on an existing deck, you'll also have to order a mounting kit appropriate for the model you purchase. Swimming pool slides aren't built to go straight down: when you order you'll need to say whether you want your slide to curve to the left or to the right. This will make a difference in where the slide can be erected.
Installing
The difficulty of installing a pool slide varies greatly by the model you choose, the material you'll be putting the slide onto, and when in the construction of the pool you'll be putting it in. They can sometimes be hooked up to the pool system for water delivery, but many installations will need water from another source such as a hose. The best time to shop is when you're shopping for a pool. Often contractors will be able to include a slide in the construction and price of the pool. This will mean a professional installation, and quite possibly, a warranty on the installation, as well.
Ready to start your
Pool Slide Installation

?Find Pros
Putting in a slide after the pool is built will usually require, at the very least, a mounting kit and a few common tools. In some cases, the process is easy and quick enough to do yourself. If you plan on doing your own installation, many companies offer online manuals to do so. It's a good idea to have a look at the manual before you purchase to see what tools and techniques will be required.
Pricing
Pool slide prices range from six or seven hundred to a few thousand dollars. The difference in price is due to many factors, not the least of which are: height, width, length, wall height, and water delivery. Buying a slide along with a pool can reduce installation costs and might reduce the purchase price, too, if your contractor has a package deal.
No Comments Yet