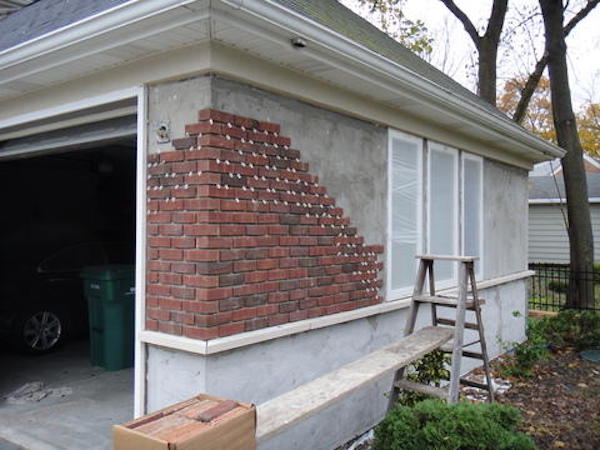 Any type of masonry work adds value and beauty to a home, whether it's inside or out. However, conventional brickwork has several drawbacks: it's expensive, messy, labor-intensive, and most importantly, the stuff is heavy. So for homeowners who want the look of brick veneer, but don't have the walls or foundation to handle the load, often choose to install thin bricks as the more efficient and cost-effective alternative.
The Blocks without the Bulk
First, thin brick is light. Unlike conventional brick, it's only about an inch thick. This makes it cheaper and easy to install, though it truly is a veneer: it's only for decoration and holds no structural component.
Second, because it's easy to install yourself, you have complete control over the product. It can come in any color (or combination of color) and texture (rough, smooth, glossy, adobe, etc.). Plus, since it plays no structural role, it can be placed in any pattern against any surface. And it can be installed year around.
Third, it requires no maintenance, painting, or re-painting (though adding color is certainly still an option).
Fourth, though it doesn't have the full durability, strength, fire protection, and insulation of conventional brick, it does offer more surface protection than walls without masonry.
The Fifth, and most important aspect of thin brick is that due to its light weight, it can be installed anywhere. Therefore, it has lots of diverse potential in terms of application.
Veneer Versatility
Because of its small mass, thin brick can be put on any interior or exterior surface. Here are a few creative options:
Siding: Most of the time, these products are used on exterior walls. Though you may want the look of a conventional brick veneer, your original siding (whether it's wood, vinyl, or aluminum) may not be able to provide the proper support for full-size brick. So if your walls don't have the right footings or your foundation can't bear the extra weight, these decorative veneers offer the perfect solution because they require no special equipment or structural reinforcement.
Paving: So you're tired of your concrete patio, walkway, or sidewalk and want to turn it into something more stylish. But, you also don't want to pay for the initial demolition or the installation of expensive pavers. Then thin bricks are the easiest fix: simply adhere them over the original surface and in a single day you have a new masonry addition.
Tile: Brick doesn't just have to stay outside; it can be a stylish addition to any interior. If you want a rustic look inside your house, or if you live in the Southwest where adobe construction is the popular trend, then use these products in place of traditional tile. Conventional brick-block will cause height problems in the home—suddenly your floors are several inches taller—whereas, brick "tiles" can be installed without any concern for pre-existing floor plans.
Vertical Surface: Once again, due to their light weight, these products can be put on any vertical wall, making them perfect for unique backsplashes, countertops, or bedroom designs. Plus, they make for great fireplace facades.
Designer Installation
As mentioned above, one of the benefits is its easy installation. It's true that with just some epoxy and adhesive you could quickly assemble masonry on any surface in the home. But if you don't trust yourself with any other tile work, then why trust yourself with this project? Many times, manufacturers can also install, while still keeping to your personal specifications in terms of style and pattern. Though the installation process itself is easy enough to go it alone, getting the proper spacing, intended design, and working around tricky edges, corners, and trims could possibly present a bigger challenge than you initially bargained for.
No Comments Yet