Brace yourselves fellow Americans. We may soon see Donald Trump yielding a monogrammed, gold-plated hammer to make his decorative mark on our nation's capitol.
It's part and parcel of the presidential honor: Every first family gets to complete a remodeling project to add a personal touch to the White House. And this election season, it's not too hard to picture what the top-ranking candidates might do given the chance.
Clinton, of course, has already had one opportunity to make her decorative mark on the White House — having "Victorianized" the Treaty Room, the Lincoln Sitting Room, the Yellow Oval Room, four private bedrooms, a series of sitting rooms, the kitchen, and the third-floor guest rooms and solariums during her husbands' presidency in 1993, according to The New York Times. So, we imagine she might use a term of her own to "Victorianize" the rest (unless old Bill wants to try his hand this time around).
And, as for Trump, we imagine that he'd simply cover the whole White House in 24-karat gold and marble (a-la he and Melania's opulent Manhattan penthouse). Because, that would be terrific. Just terrific. Let us tell you.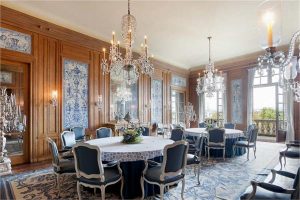 In any case, it's easy to imagine both candidates spending a pretty penny to make their personal marks on our nation's capitol. (Though Trump would maybe spend a whole lot more). And, it's easy to think they'd hire a whole bunch of high-priced professionals to help them do it too.
Interestingly, the results of a recent HomeAdvisor survey show that if Trump and Clinton were regular, everyday people, Republican Trump would be more likely to order up supplies and attempt White House repairs on his own. And Democrat Clinton would be more likely to hire professionals and spend more money on White House repair and improvement projects (after she's spent six months or so researching).
Of course, Trump and Clinton are not regular, everyday people. But for those of us who are, HomeAdvisor's True Cost Report offers lots of cool insights into how our political affiliations affect the way we approach our home projects. Check it out to see where you stand!
No Comments Yet