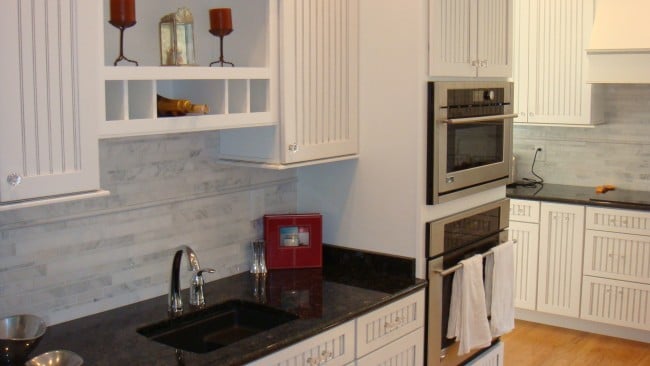 Nothing is more popular these days in home design than the warm, peaceful feeling of more natural looking materials, and tumbled stone fits the bill. Tumbled marble is stone which has been "tumbled" to create an antique, worn, and natural look. And while varieties of marble are the most popular material, other stone is often "tumbled" as well. If you're looking for a tile to give your home character, beauty and a pastoral feel, tumbled marble tile is just what you've been looking for.
Choices to Be Made
With the words "tumbled" and "marble" side by side, you'd think your options are fairly limited when it comes to these tiles. Not so. As mentioned before, while marble is well suited to this manufacturing process, several other stones look great tumbled as well. Add to that the fact that there is also an almost unlimited range of decorative options you can choose from, as well as areas in and outside of your home where it can be installed, and it's clear why there's a tumbled tile out there for just about everybody. Here's a few of the possibilities to help you polish up on what's available.
Marble—True tumbled marble combines the looks and durability of marble with a more natural, buffed appearance. It is also the most popular material for decorative tiles, and is often used to tile walls and to construct tumbled marble backsplashes.
Travertine—Travertine is often referred to as a marble or limestone, when in fact it is its own breed of high-density sedimentary rock. It is excellent for just about any use, indoor and out, and when tumbled, it tends to take on a distinctly limestone appearance. Because of their non-slip surface, durability and great looks, Travertine and Saturnia (see below) have become very popular tile materials for outdoor patios and pool decks.
Saturnia—Saturnia is, in fact, a specific type of travertine that gets its name because it is was used to build the famous central spas of Saturnia, Italy. It is cross-cut in a special fashion and often contains small pits, holes, and even fossils that add character to the stone. Like Travertine, it takes on a rough, almost porous look when tumbled (though both Saturnia and Travertine are fairly non-porous compared to most other stone).
Limestone—Tumbled limestone is also popular, though you'll need to take precautions to keep it looking like new. It is very porous rock, and because of that it is best to seal these tiles to prevent stains and other water damage from sinking into the stone.
Decorative—Decorative tumbled marble tile is tumbled stone that is often painted with designs or artwork, and cut into a variety of shapes and sizes. It carries with it an old-world feel, and is often used to make tumbled marble backsplashes and other wall and counter designs. Tumbled marble is often combined with stone inlay and mosaic glass tile to add to its stunning effect.

If you're interested in tumbled marble tile, talk to a tile installer or stone supplier about choosing the right style, color and stone for your tiling needs.
No Comments Yet