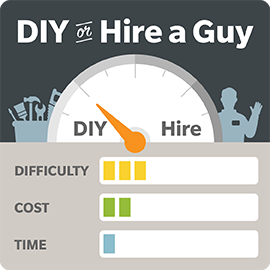 Figuring out which bit to use for your project can be tricky – and sometimes best left to the experts. Use this guide to help you decide whether you'll DIY or hire a guy.



Materials Required:
Surface to drill into
Safety glasses
Electric drill
Bit set – including masonry, wood drill and forstner bits
Gloves
HomeAdvisor Tip:
If you're just getting started, buy a standard drill. It will give you plenty of options.
---
More Info About Selecting Drill Bits
A drill is one of the most indispensable tools you can have in your arsenal. Whether you're a committed DIYer or a weekend home improvement warrior, you'll probably use a drill more than you'll use any other basic power tool. The drill's versatility is afforded by various attachable bits — each uniquely suited to a particular material or job. Bits can be intimidating. Getting to know the different types available will help you choose the right one.
Choosing Drill Bits by Type
Drill bits are first organized according to the medium on which they can be used, then by material. This is why you will find bits labeled for use on wood, masonry and metal. Once you've identified your medium and material, you'll select the size that suits your particular needs.
Wood Drill Bits: These can be identified by a small, pointed tip at the very end. If you look closely, you can see spurs on each side. These grab wood and carve it away. Steel bits are great for softwood varieties; hardwoods will eventually dull them. Titanium-coated wood drill bits last longest. The wood drill bit is the most versatile and commonly used bit.
Masonry Drill Bits: These bits have a gently sloping tip. Sometimes, the tip of masonry bits is coated in carbide, which prolongs their sharpness. A masonry bit works best with stone and cinder block, and it can work well with some tile as well. It's highly durable and — with a lot of effort — will get your favorite photo hung on a tough surface like a brick wall.
Metal Drill Bits: These have a wide-angled point at the end, and they may also be painted black. If you are buying new metal drill bits, look for a label with the name high speed steel (HSS). These bits are highly versatile. More expensive metal bits may have a titanium coating or contain cobalt. Steel bits will drill through soft aluminum, though high-speed steel is required for other metal types.
How to Choose Drill Bits by Size
Drill bits come with pilot hole charts that will help you identify the right bit for the job. These charts are based on the shank of the screw and are meant to be used only as guidelines:
Use a bit 1/64" smaller than the target hole size for softwoods.
Use a bit exactly the same size as the hole when working on other materials.
If you're not sure which to select, choose a drill bit 1/64" larger than the hole you wish to create. This will account for variables such a wood density and screw type.
Knowing how to choose the right drill bit takes practice, but don't be intimidated. Carefully refer to your pilot hole charts before making your selection. Also, try to keep your drill bits organized in a storage case. This will make selecting the right size easier and more intuitive.
6 Comments