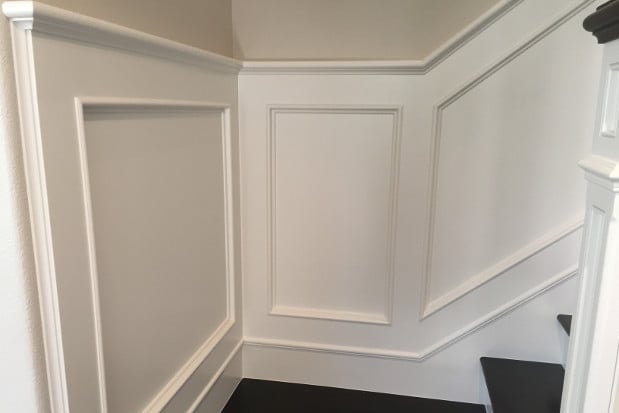 You know you want to do something to those plain walls you have. Wallpaper just doesn't seem to work for you. Repainting doesn't quite feel right or several reincarnations have left your walls feeling tired. What you need to consider is the decorative paneling of wainscoting. A truly classic effect that provides walls with texture and geometric and color contrasts, wainscoting has become an elegant and affordable option for accenting your walls. Originally used to camouflage the wicking effect of interior walls during early home construction, it has survived long past this function because its decorative quality is so pleasing.
Installation
While some people may elect to take wainscoting on as a DIY project, there are several challenging elements for proper installation. First, most likely your floor isn't plumb and isn't at an exact right angle to the wall. This means in order to have a top edge of level wainscoting you need to find the highest place of your floor and align all the paneling to that individual panel board. Most types of decorative paneling will also undergo a minimal shrinking effect and proper installation must take this into account. As with any paneling project, precise measurements need to be made and/or the boards will have to be cut to size to fit around corners. The panels and top moldings are usually attached with tongue-and-groove fashion using nails and/or glue. If you don't have some DIY expertise, it's probably best to call a contractor.

Ready to start your
wainscoting project

?Find Pros
The Cost of Decorative Paneling
Wainscoting used to be too expensive for the average homeowner. More modern paneling has greatly reduced the cost, but it still tends to be a case of you get what you pay for. The biggest decision that's going to affect cost is whether you want to paint your paneling and go with MDF (medium density fiberboard) or select a wood paneling to stain. A basic material like MDF may be found for as little as $5 per square foot, whereas a high quality wood may top $20 per square foot. If you decide even a more basic material is out of your desired price range, you can still achieve a similar effect with faux wainscoting, which just involves chair and crown moldings to simulate the real thing.
Paneling Options
Keep in mind when selecting your wainscoting that often the stunning appearance is achieved by a contrast to the wall color. For a sharply colored wall, choose a white paneling. For white or cream walls, choose a color or wood-stained paneling. Wainscoting is also available in vertical beadboard or more modern geometric designs. Finding a paneling design and color that will match the area where the it will be installed is crucial to the success of the project.
No Comments Yet