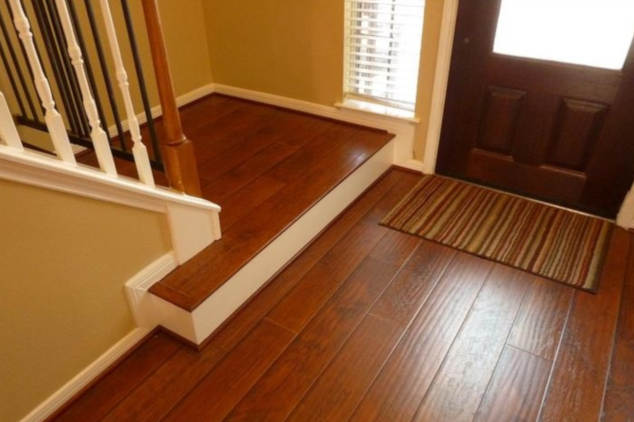 A flooring installation is one of those projects that cause homeowners all types of headaches for no better reason than they fail to plan ahead. Generally speaking, the room or rooms where a flooring installation is taking place will be entirely off-limits. Whether it's a kitchen, bathroom, bedroom, or hallway, you need to be prepared to alter your daily routine. Often, a flooring contractor will be able to complete the installation in a day, maybe two or three, but these estimates also assume every goes according to plan. The subflooring may be in such bad shape that resurfacing is needed. The manufacturer may fumble the date of delivery for your product.
If you haven't educated yourself ahead of time about what to expect from your flooring remodel or have a contingency plan, you may step right through your home without a plank to stand on. Here are some of the things you need to consider for various installations:
Laminate Floors
Laminate flooring rivals carpet for ease of installation, since it is manufactured to snap together with a minimum of adhesives. Add to that the fact that laminate can be installed over most pre-existing surfaces without having to tear them out, you can expect a relatively easy time weathering your installation. That said, you need to be patient. Most manufacturers recommend that materials spend two to three days acclimating to your home and its humidity levels before they are installed.
Many homeowners also get into trouble trying to install laminate flooring on their own. Snap together flooring is DIY-friendly, but it's not for everyone. Don't overestimate your carpentry skill or you may create a substandard floor that will have to be fixed by a contractor. It may cost more to fix the floor than it would have been to install professionally in the first place. Plus, you may need several days or even weeks to find and schedule a reputable, affordable flooring contractor.
Hardwood Floors
With hardwood flooring you'll need to expect a noisy couple of days as your contractor nails the individual planks into your substrate. Depending on the type of installation, adhesives may also be used, in which case you'll want to be prepared to deal with the odor until the adhesive is fully dried. Perhaps the largest inconvenience comes after the planks have been set and a urethane finish is applied. It will take three to four coats of urethane to finish your floor, and each coat must be allowed 4 to 12 hours to dry between applications during which time the floor cannot be used. Urethane also packs a powerful punch when it comes to odor, so you'll want to avoid the area being treated until it has fully dried in order to avoid the fumes.
Easily the biggest inconvenience is in certain climates where the wood planks need to be stored in the room where they will be laid for a week or so to adjust to the relative humidity in the house. If you are flooring an older, smaller home, this can put the pinch on your available space.
Ready to start your
Flooring Project

?Find Pros
Tile Floors
Tile flooring installation may not be the most technically challenging or expensive floor to install, but subtle problems can quickly balloon into utter chaos. Small tiles require tedious precision. Large tiles need immaculate subflooring for the setting to avoid raised edges. Even small mistakes can create huge eyesores. If the original contractor used an epoxy-based grout, re-tiling these can require the jaws of life, increasing big headaches for the homeowner.
The sealant may also need multiple coats that require various drying times. Plus, the most likely candidates for tile (kitchens and bathrooms) are also the most frequented areas of the home. Arguably, no flooring looks as good as new tile, but no flooring installation is as critical to get right the first time.
Final Note
Honestly, if you have the means and opportunity, the best plan may be to avoid that area of your altogether for the duration of the project. Eat out, order pizza, or use a different bathroom. Alternately, plan a short vacation or stay with friends or family during your installation. You'll be out of your contractor's way and by the time you get back, everything will ready to go.
No Comments Yet