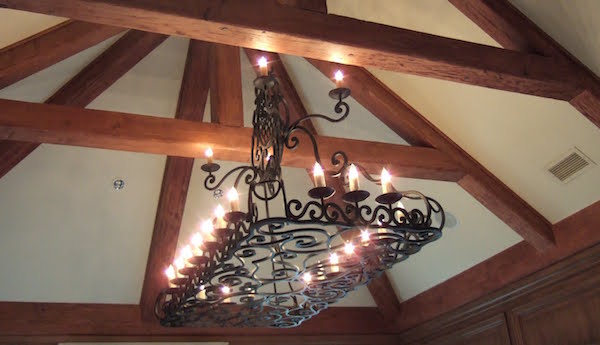 The look and feel of a chandelier gives any room a sense of luxury and history. They have been used for centuries to light some of the most elegant settings humans have ever known. In many cases, these antique chandeliers were made of wrought iron by master craftsmen. Fortunately, this material is extremely durable, and many antique chandeliers are still around and functioning today.
True Wrought Iron
The term "wrought iron" is not easily defined in modern times. In the past, "wrought iron" meant a piece of actual iron that was hand-worked by a craftsman. Today, "wrought iron" has been stamped on many pieces that have nothing to do with hand-crafting, or in some instances, nothing to do with iron, either.
Many products on the market that are sold as wrought iron are either cast (made in a mold, not by a hammer) or are actually made of mild steel. Mild steel is like iron in many ways but is a less expensive material. Make sure you know the product you are purchasing. You don't want to get silver if you're paying for gold.
Buying a Wrought Iron Chandelier
Purchasing and installing a wrought iron chandelier is often an expensive process. The material is as rare as it is heavy, its scarcity drives up the initial price, and the weight makes putting it up a big job. These pieces are, however, second-to-none when it comes to aesthetics.
Many places will say they are selling a wrought iron chandelier, but if you want the genuine article, you'll most likely have to talk to a craftsman or an antique dealer. Pieces that are made today are often composed of salvaged iron that had been used in old bridges or other industrial capacities. The metal is reworked with a hammer; the process is time-consuming and difficult.
Sometimes, online or in antique shops, you can find a wrought iron chandelier that was made decades (or even a century) ago. Purchasing one is buying not just a lamp, but also a piece of history. An antique chandelier, even if it is in pretty bad condition, can often be refurbished to look as wonderful as the day it was made. The process, while it might take some time and money, is usually well worth it. Items like this generally don't lose value.
Ready to start your
wrought iron chandelier

?Find Pros
Electrifying an Antique Chandelier
Chandeliers have been being produced for so long, the way they are lit varies by era. Newer models are wired for electricity, but the further back you go, the more likely they are to be made to hold candles or use gas.
Due to practicality and fire safety issues, most antique chandeliers used in a modern residence are converted to electrical power. Even some that were made to use electrical power might need to be rewired before they are installed. In addition to the price of purchasing and installing the piece, the cost of having it electrified should also be taken into account.
No Comments Yet